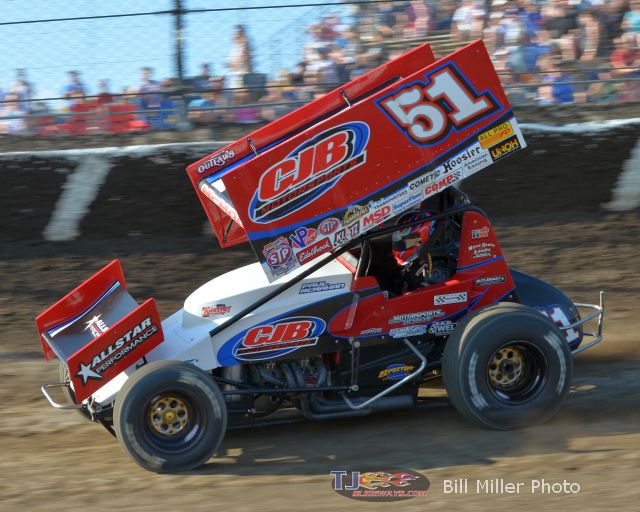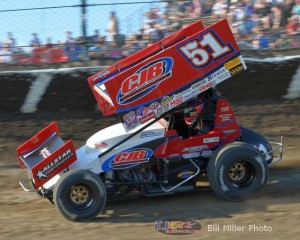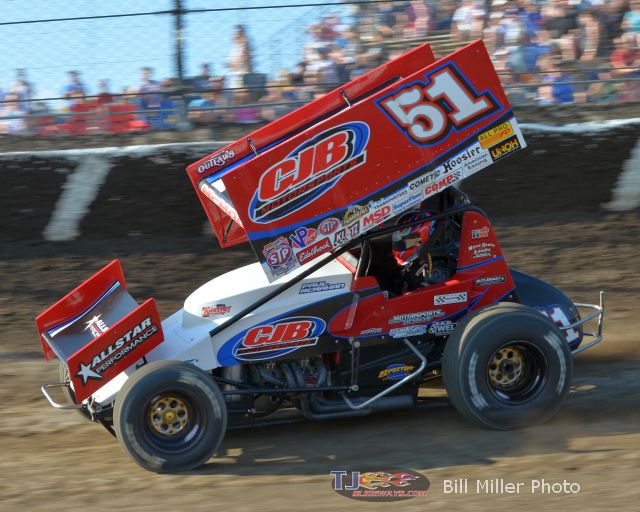 From R&R Media Services
Telford, PA – (April 30, 2014) – From coast to coast and everywhere in between, one would be hard pressed to find a schedule as daunting as the slate of races for the World of Outlaws STP Sprint Car Series.
With stops all over, swinging through the Midwest is a regular occurrence. As the "Greatest Show on Dirt," closed out the month of April, events at Salina (Oklahoma) High Banks Speedway and Federated Auto Parts Raceway at I-55 in Pevely, Missouri gave Paul McMahan and the #51 CJB Motorsports team more opportunities to solidify themselves as season-long title contenders.
"Coming back across the Midwest is always fun because there are some excellent tracks in the heartland," said McMahan. "Salina and Pevely were solid nights for us as we head to the east coast. We fought well and salvaged good finishes each night. It was good to see our buddy Joey Saldana get his second win of the year that night."
McMahan was quick out of the gate as the series tackled Salina High Banks Speedway on Friday, April 25th.
"Salina is a fun track," said McMahan. "It is very fast and we timed in fourth. From there, we kind of bounced back and forth. We were a Top-5 car all night long and the numbers show that. We started third in the feature and fell back a spot. Not the greatest result ever but very solid as the track was difficult to pass on."
After completing an overnight haul up I-44, the #51 Bairs Tree Service/ Nyce, Crete & Landis Block & Concrete/ All Star Performance sprinter was ready for action at Federated Auto Parts Raceway at I-55 in Pevely, Missouri.
"I-55 is one of my all time favorite tracks," explained McMahan. "It's so demanding and fast but so much fun from a drivers perspective. We dug ourselves a hole with qualifying ninth. From there, it was an uphill battle. We started the feature in 11th and battled up to 7th. Another solid night for us but we just put ourselves behind early on. Congratulations to Sammy Swindell and his team on the win."
The march to the east coast continues as the Outlaws make a stop at the famed Eldora Speedway near Rossburg, Ohio on Friday, May 3rd and Saturday, May 4th.
"Eldora is one of the best tracks we go to all year long," said McMahan. "There is so much history there and it is such a fun track. It is big and fast and very exciting to race at. I think we will do pretty well based on our results there last year."
CJB MOTORSPORTS 2014 STATS:
Starts: 20
Quick Times: 3
Wins: 1
Top-5's: 11
Top-10's: 18
UP NEXT:  CJB Motorsports heads for the high banks of Eldora Speedway for the first two of five events at the half-mile oval located near Rossburg, Ohio.
STAY CONNECTED WITH CJB MOTORSPORTS:
For up to the minute race updates and behind the scenes content from CJB Motorsports, please follow the team on Facebook and Twitter.