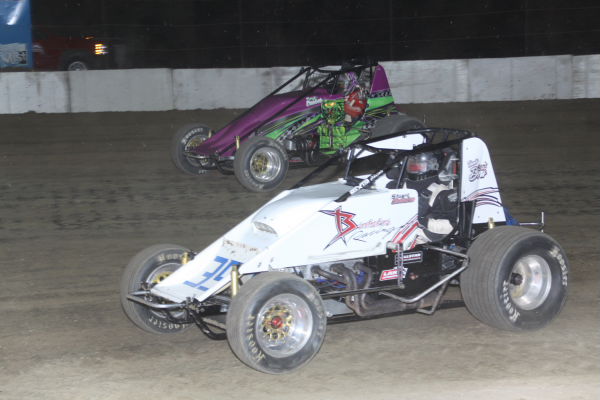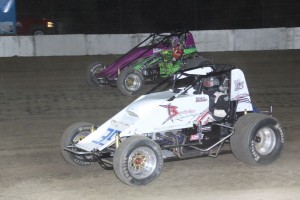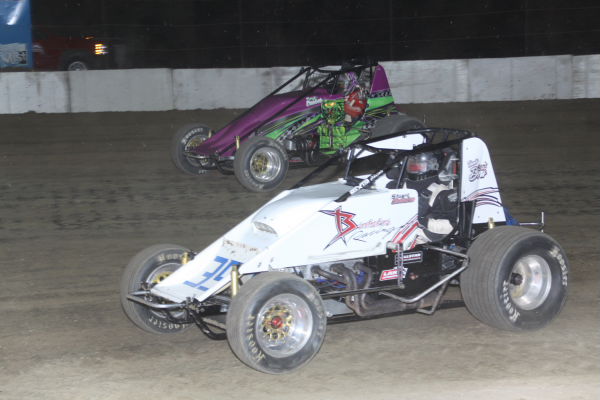 From Aaron Fry

Fremont, OH — (May 1, 2014) — In the world of sprint car racing, very few organization's kick off their season with their most prestigious event.  However, the Buckeye Machine BOSS series for traditional wingless sprint cars never has conformed to contemporary trends.  The last true "outlaw" sprint car series proudly proclaims an open tire rule and no membership or entry fees.
The series is set to embark upon its third full season this Saturday, May 3rd with the 2nd annual "Mike Hensel Memorial" at the historic Fremont Speedway in Fremont, Ohio.   This year's event will pay a whopping $5,000 to win and $300 to start the 33 lap main event.  Last year, Rocklin, California driver Robert Ballou scored the popular win defeating a stellar 40 car field that saw entries from 9 states and Canada.
Fans can expect to see all the stars of the Buckeye Machine BOSS series including both of the series' past champions, Tony Beaber of Gibsonburg, Ohio and Dustin Smith of Russiaville, Indiana.  Last year's BOSS points runner-up Brandon Spithaler of Evans City, Pennsylvania will be back in search of the title that was ripped from his grasp last season when he was the victim of someone else's crash late in the season while leading the point standings.  Wapakoneta, Ohio stalwart Mike Miller will be back chasing the title.  A year ago, Miller was one of the most consistent tour regulars and will be seeking his first tour victory at Fremont.  The entire top 10 of 2013 points is expected to return including Kirk Jeffries of Westerville, Ohio, Aaron Middaugh of Polk, Ohio, Chad Wilson of Toledo, Ohio, Michael Fischesser of Sayler Park, Ohio, Adam Miller of McDonald, Pennsylvania, Johnny Beaber of Gibsonburg, Ohio and Chuck Wilson of Perrysburg, Ohio.
In addition to the BOSS tour regulars, many Fremont regulars and Indiana wingless specialists are expected in the field.  Chris Andrews made his wingless debut in this event a year ago and scored a popular top 5 finish and is expected to be on hand along with the 3 car Marshall Motorsports stable that will field cars for Lawrenceburg Speedway wingless sprint champion Logan Hupp who is making his Fremont debut, Derek Hastings of Forest, Ohio and Fremont crowd pleaser Brian Sebetto.
In one of many ways the series is trying to bring back tradition, the Buckeye Machine BOSS series will once again pay heat race money.  For Fremont's Hensel Memorial, heat races are being sponsored by Burdette Builders of Sunman, Indiana, Lias Tire American Racer from Indiana, Pennsylvania, Ham Signs of Dayton, Ohio, The Bridge Restaurant of Sidney, Ohio and Griff's Engines of Sandusky, Ohio.  Heat races will pay the top 4 finishers in the amounts of $40, $30, $20, and $10 respectively.
Another staple of the Buckeye Machine BOSS series is the ever popular bonus award program.  This year's Mike Hensel Memorial will pay a whopping $333.33 "Hard Charger" bonus award to commemorate Hensel's #33 he campaigned at Fremont Speedway in its wingless era.  Drivers will also be in contention for the Lynn Cook "Hard Luck" Award of $50 and steel block sprint car teams will be running for the Hochstetler Truck and Auto Repair of Ashland, Ohio "Steel Block Bonus" of $50 cash.  Lias Tire and American Racer will be awarding the highest A-Main finisher with all four American Racers on their car with a free tire and Hoosier Tire Midwest will also be supplying a free tire to the highest finisher on all four Hoosier tires.  Since the series loves giving away bonus awards, they have also instituted a new "Lucky Number" bonus award at pill draw.  More details on it and some other potential bonus awards will be announced soon.
For teams traveling to Fremont, gates will open at 4 pm.   Heat racing begins at 7 pm.  General admission is $18 and pit passes are $30.   Heat races will be lined up by pill draw.  The top 2 finishers in each heat race will redraw for main event starting positions.  Teams will be paid by BOSS series checks after the A-Main.  Mufflers are required at Fremont Speedway.  For questions or more information, please contact the series director at 740-703-3768 or e-mail sprinter14@hotmail.com or check the series website at www.buckeyesprints.com
Complete A-Main purse breakdown:   $5000,  $1300,  $1000,  $775,  $650,  $550,  $500,  $450,  $425,  $410,  $390,  $375,  $350,  $335,  $325,  $320,  $315,  $310,  $300,  $300.   All cars who attempt to compete in the program and fail to start the main event will be paid $100.