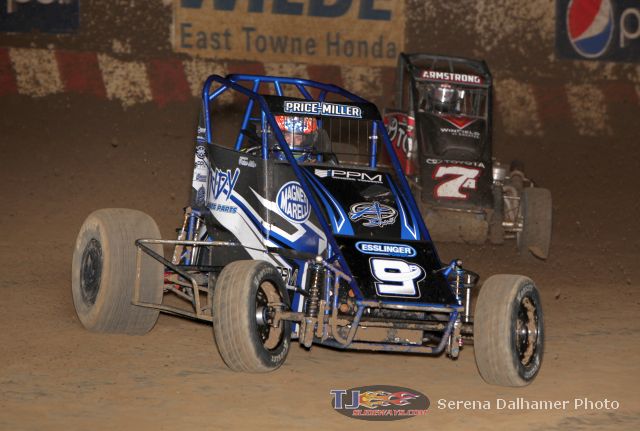 PETERSEN MEDIA
– Aboard both a midget and sprint car over the weekend, Parker Price-Miller did not let mechanical woes on Frday night hinder him, as he picked up a third place finish with the POWRi midgets on Saturday as well as picking up third with the ASCS Warrior Region on Saturday night at the Lucas Oil Raceway.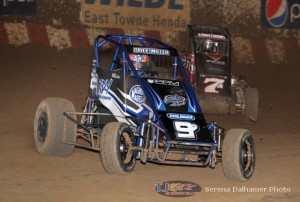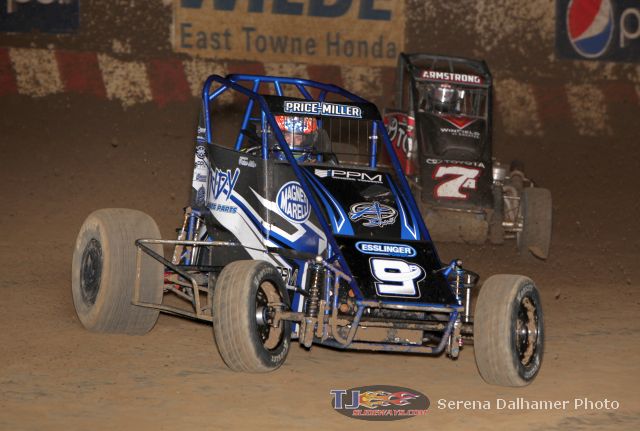 Taking to the Lucas Oil Raceway in Wheatland, MO, and competing in both the sprint car and midget events, Parker Price Miller found himself starting the second row of the midget main.
When the race went green, the Kokomo, IN driver quickly worked into the second spot as he chased after early leader, Darren Hagen.
Working the bottom of the speedway, Price-Miller was all over Hagen, and pressuring him for the lead, but Price-Miller was un aware that a group of cars behind him were working the top of the track, and as they got it cleaned off, Price-Miller quickly found himself back in the sixth spot.
Getting the late notice about the top, Price-Miller stayed hungry, and used the line to his advantage as he fought his way back up to a third place finish in a very exciting feature event.
Hopping into Donnie Cooper's famous No. 01 360ci winged sprint car for the ASCS Warrior Region event, Price-Miller lined up for his heat race in the sixth spot, and after surging his way up to a second place finish, he found himself as the night's top point earner and in the redraw.
Pulling the four, Price-Miller lined up in the second row. In what was a very competitive race that saw the youngster battle with Danny Lasoski and Randy Hibbs, Price-Miller held his own, and was able to claim the final step on the podium, continuing to have a very strong year in the winged sprint car.
"I cannot thank Donnie Cooper and his guys enough for giving me such an amazing opportunity on Saturday night, as well as working so hard to give me a great car," Price-Miller said. "On the midget side, we were also really good, and really thought we had something for Hagan until the top came in, and we had to play catch up. All in all it was a really good weekend."
Price-Miller and his team would like to thank Indy Race Parts, Keizer Wheels, CSI Shocks, Select Equipment, Wesmar Racing Engines, Toyota, Toyota TRD, and Triple X Race Components for their continued support.
2014 BY THE NUMBERS: Starts-15, Wins-1, Top 5's-3, Top 10's-7.
ON TAP: Price-Miller will be in action on Wednesday in Jacksonville, IL, Friday night in Granite City, IL and on Saturday at the Belle Clair Speedway.
STAY CONNECTED: Stay connected with Parker by following him on Twitter @Parker_PM9.
PETERSEN MEDIA: Petersen Media is a promotional agency that can handle your public relations, marketing, and any other promotional needs. Petersen Media utilizes multiple tactics to help you reach your intended audience, to boost awareness.
For more information contact sales@petersenmediainc.com, by phone at 916-342-3424, visit www.petersenmediainc.com,  www.facebook.com/PetersenMedia, or follow www.twitter.com/petersen_Media
.