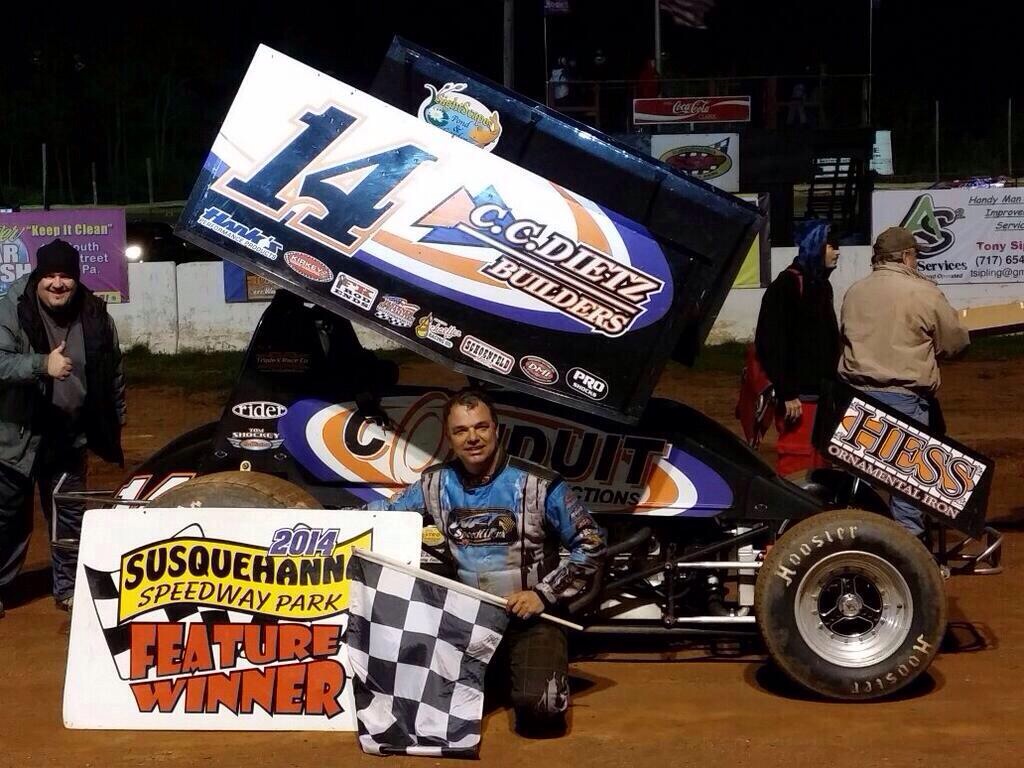 PETERSEN MEDIA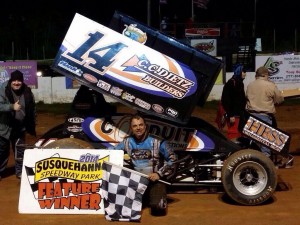 Moving to the seat of the Dietz No. 14 in 2014, Lance Dewease showed steady improvement from each race, and it all culminated on Sunday night as the Fayetteville, PA driver picked up his first win of the year at the Susquehanna Speedway Park.
"People don't realize all of the detail that go into race teams, so we have been taking it slow, and making progress each week," Dewease said. "We still aren't great, but were getting better, and are showing we are good enough to win."
Making adjustments from hot laps, to heat race, to the feature event, Dewease settled into the third spot when the 25-lap feature went green aboard his C.C. Dietz Builders/Conduit Connections/Hess Ornamental Iron machine.
Chasing after early leader, Brandon Rahmer, and second running Blaine Heimbach, Dewease took over the second spot on a lap four restart, and chased after the long time rival, Fred Rahmer's son, Brandon.
Sticking to bottom in turns one and two, Dewease was able to sneak under Rahmer on the 10th lap, and never look back.
On this night the only thing that could slow Dewease was numerous cautions, and with Danny Dietrich on his tail, Dewease was flawless on his restarts, and cruised on to pick up the win.
"We still were not great, but we were not bad by any means," he said. "We have really been improving with these Pro Shocks by LD Shocks, so this is a great benchmark for us."
Dewease and his team were also in action on Friday and Saturday night.
Friday night, Dewease was in action at the Williams Grove Speedway, where he finished in the fourth spot, and on Saturday night, Dewease and the No. 14 team were in action at the Lincoln Speedway.
In wet weather, the lightning fast speedway saw the 25-lap feature event go non-stop, and Dewease picked up a 10th place finish.
"It is all about progress with the new team, and we are not trying to rush anything, and we are trying to have some fun" he added. "I think we are accomplishing all of that, and hopefully we will continue to do that."
Dewease would like to thank C.C. Dietz Builders, Conduit Connections, Hess Ornamental Iron, Pro Shocks by LD Shocks, Triple X,  Wings Unlimited Keizer Wheels, DMI Racing Components, Schoenfeld Headers, Hanks Performance Products, FK Rod Ends, Schaeffer Racing Oils, Astro Titanium, Tom Shockey Collision, Kirkey Racing Seats, Bell Helmets, WRT Web Designs, and WRT SpeedWerx
2014 BY THE NUMBERS: Starts-10, Wins-1, Top 5's-4, Top 10's-5.
ON TAP: Dewease and his Dietz Motorsports team will be back in action on Friday night at the Williams Grove Speedway, and on Saturday in Lincoln, PA.
STAY CONNECTED: Stay up to speed with Lance by visiting his website, www.lancedewease.com, or liking his Facebook Page, Lance Dewease Motorsports.
PETERSEN MEDIA: Petersen Media specializes in motorsports media constructing news releases, as well as constructing email lists to keep sponsors, and fans up to date. Petersen Media also utilizes today's Social Media networks to provide trackside updates to fans and sponsors, and can customize packages to fit your team's needs.
For more information contact sales@PetersenMediaInc.com, by phone at 916-342-3424, visit www.petersenmediainc.com, www.facebook.com/petersenmedia or follow @Petersen_Media on twitter.