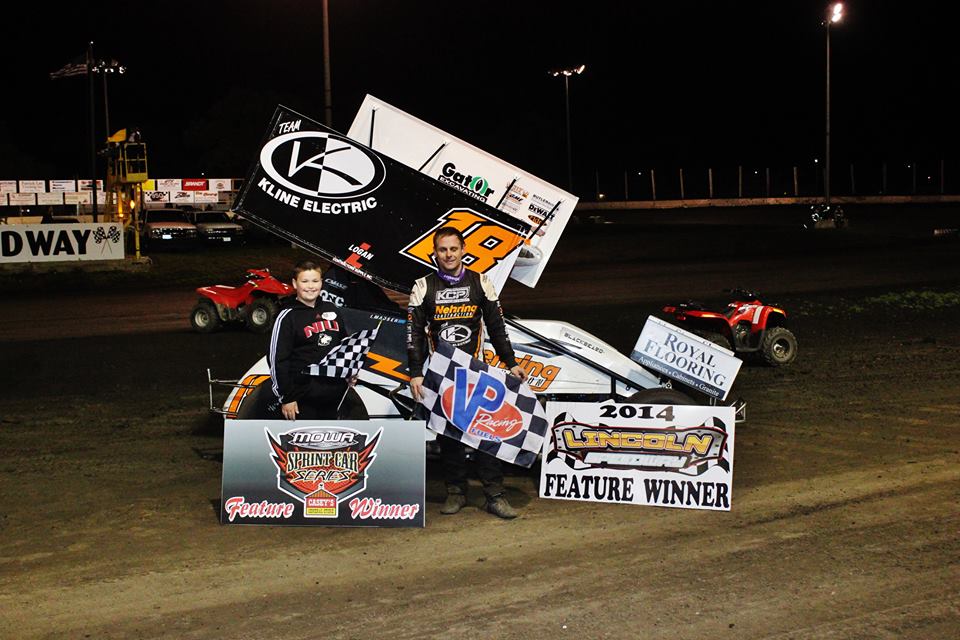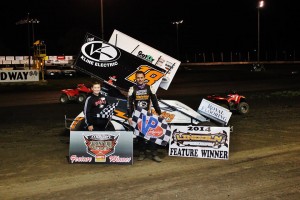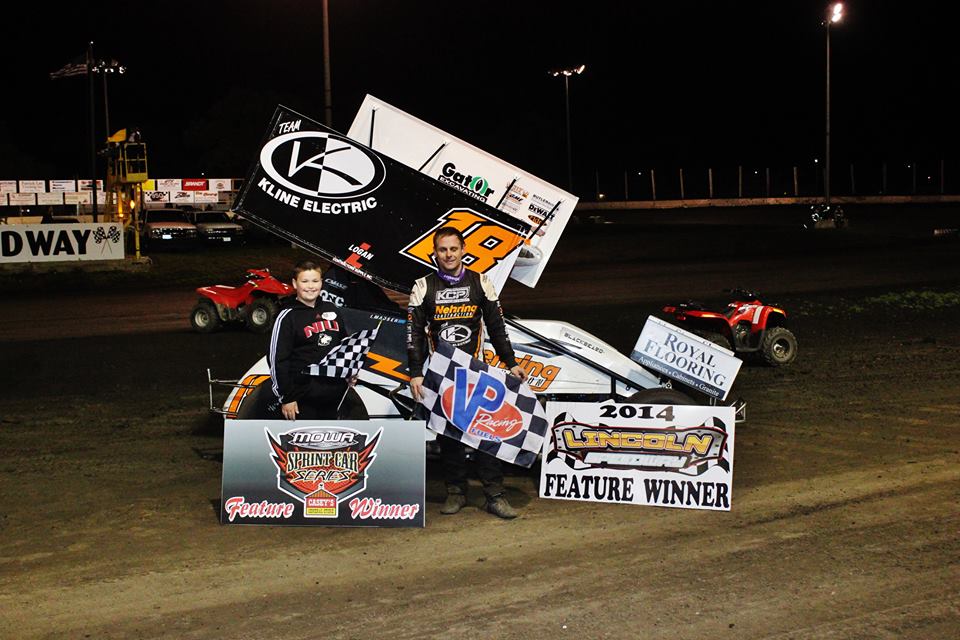 PETERSEN MEDIA
– Ian Madsen continued his strong start to the 2014 campaign as he absolutely dominated the MOWA race in Lincoln, IL on Friday night before recording a seventh place finish at the Knoxville Raceway on Saturday night.
Starting second in his heat race on Friday night, the St. Marys, NSW driver wasted to time muscling his KCP Racing/Nehring Construction/Kline Electric entry into the lead, and with the win, Madsen qualified for the Dash.
In the Dash, Madsen avoided near catastrophe as a car in front of him went flipping, and though contact was made with Madsen's machine while he was wrecking, Madsen was able to keep his machine fired, and cross the finish line in the third spot with a destroyed wing.
Lining up third in the feature event, Madsen powered his way into the lead on the third lap, and quickly distanced himself from the field.
A late restart saw a competitor attempt to slide up in front of Madsen, but Madsen was able to turn under the challenge, and drive off to pick up the very impressive victory.
At the Knoxville Raceway on Saturday night, Madsen admittedly missed the line a bit in time trials, and timed his Logan Contractor Supply/Royal Flooring/Greenland Homes of IA entry in 12th fastest.
Starting fourth in his heat, Madsen flexed his muscle, as he stomped the throttle, and picked up the top spot in his QTC/Rider Racing Engines/JRS Excavating entry, and went on to pick up the win, putting him safely in the feature event.
Lining up in the fifth row of the feature event, Madsen showed he had a very good car, as he was able to race his way up as high as the fifth spot during the race, but as he came to Doug Clark's checkered flag, he crossed the stripe in the seventh spot.
Though the result was not exactly what he was looking for, Madsen was extremely pleased with his car.
"I cannot say enough about my team," Madsen said. "We had a bad fast racecar on Friday night and picked up the win, and on Saturday, I made a little mistake in time trials that hurt us. It's stiff competition here on a weekly basis, and I think we have our car really good right now. Though we won earlier this year at Knoxville, I think Saturday was the best piece we have had, and I'm looking forward to this week."
Ian and his KCP Racing team would like to thank Nehring Construction, Team Kline Electric, Logan Contractors Supply, Royal Flooring, Greenland Homes of Iowa, Quality Traffic Control, Factory Kahne, Rider Racing Engines, JRS Excavating, Brown and Miller Racing Solutions, Kent Performance, The Stone Shop, Aspen Air Inc. Heating and Cooling, Gator Excavating, TammyHeckart.com, Kent Performance, Revolution Race Gear,  Lucas Oil, Wings Unlimited, and Kustom Concrete Pumping for their support.
2014 BY THE NUMBERS: Starts-31, Wins-4, Top-5's- 13, Top 10's-18
ON TAP: The KCP Racing team will be in action with the World of Outlaws on Wednesday night in Jacksonville, IL, and Friday in Wilmot, WI before returning to Knoxville, IA on Saturday, and taking part of the Huset's Speedway opener on Sunday night.
STAY CONNECTED: To keep up with Ian make sure you follow him on twitter by clicking over to www.twitter.com/IanMadsen. You can also visit the teams website at www.kcpracing.com.
PETERSEN MEDIA: Petersen Media is a promotional agency that can handle your public relations, marketing, and any other promotional needs. Petersen Media utilizes multiple tactics to help you reach your intended audience, to boost awareness.
For more information contact sales@petersenmediainc.com, by phone at 916-342-3424, visit www.petersenmediainc.com,  www.facebook.com/PetersenMedia, or follow www.twitter.com/petersen_Media
.