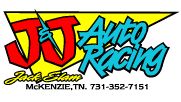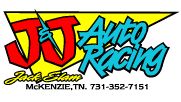 From J&J
McKENZIE, TN (May 7) – It was another successful week of racing for drivers utilizing race cars from J&J Auto Racing. Derek Hagar picked up his sixth feature win of 2014 in thrilling style, while Brad Haudenschild and Jordan Ryan made it two straight in Ohio. Terry Gray picked up his first USCS triumph of 2014 and Lee Grosz scored a UMSS victory. Fifteen year-old Chase Ridenour was the class of the field at Butler and Tommy Barber was a recent winner in South Dakota.
DEREK HAGAR
After scoring Saturday's ASCS Rock 'N Roll 50 at Riverside International Speedway, Derek Hagar was all smiles. He raced his No. 9jr Dyno-tech powered J&J to victory in the 50-lap race that included a number of challenges for the lead. Hagar started on the pole and fended off Tim Crawley to score the win.
"That was definitely the most exciting race I've been a part of," Hagar said. "There wasn't a time when you could rest. There was something about Saturday night that I really wasn't too bothered. For every other ASCS National show when I start up front I get the butterflies. Saturday night I just had a real good feeling. I just kept my cool."
BRAD HAUDENSCHILD
Brad Haudenschild has had an exciting start to his 2014 campaign Tony Papa's Kempthorn Auto Mall/Medi Taxi sponsored No. 38k J&J. He raced into the lead early in Saturday's main event at NAPA Auto Parts Wayne County Speedway. He was passed midway through the race, but kept battling and spent the final four laps racing wheel to wheel with Broc Martin. On the final lap, the two left turn four side by side and Haudenschild had just enough momentum to score his second straight victory.
TERRY GRAY
Ten-time USCS champion Terry Gray picked up his first victory of the season last Friday night in the 30-lap "Thunder in the Smokies" Round #1 USCS main eventat 411 Motor Speedway. Gray raced his familiar No. 10 J&J around fellow J&J racer Eric Riggins, Jr. (No. 47t J&J) on lap 15 and led the rest of the way to pick up the victory.
"This one means a whole lot tonight," admitted the winner to the crowd following his win. "Especially after what happened to (Morgan Turnpen, his teammate who crashed hard early in the race). I wanted to win this bad for her. For both of us, really. I lost one earlier this season at Hohenwald (Tennessee National Raceway) and I wasn't gonna let that happen again."
Johnny Bridges gave J&J two racers on the podium as he drove his No.07 J&J to a third-place finish. Riggins made it three J&J's in the top-five by finishing fifth.
LEE GROSZ
North Dakota racer Lee Grosz was perfect in the Upper Midwest Sprintcar Series opener at Cedar Lake Speedway in Somerset, Wisc. Grosz wheeled his No. 4j J&J to a clean sweep winning his heat, the challenge race and then raced from eighth to first in the 25-lap main event.
"I was paying attention to where (race leader Chris) Graf was running down low, so I knew I needed to go up top to get by him. The track was pretty good for early season with a couple of racing grooves to choose from. We're happy to get this win."
Graf finished third in the Midwest Power Equipment sponsored No. 20 J&J.
JORDAN RYAN
Jordan Ryan's earned his second straight win at Fremont Speedway in the Fremont Federal Credit Union 305 Sprints division. Ryan raced his Frosty Frog/Village Pizza House/J&J Automotive/Griff's Engines sponsored No. 5t J&J to victory after a race-long duel with Nate Dussel. Ryan pulled into victory lane with a flat left front tire.
"I hit an infield tire and nothing has ever happened when I've done that before but this time a tire went flat. The rain helped me out a little bit."
CHASE RIDENOUR
Fifteen year-old Chase Ridenour was impressive in Butler Speedway's 410 Sprint car main event. Ridenour raced to the victory with his ASCS 360 power plant.
Tommy Barber
Tommy Barder picked up his first victory of 2014 winning the main event at I-90 Speedway in Hartford, S.D. on May 3.