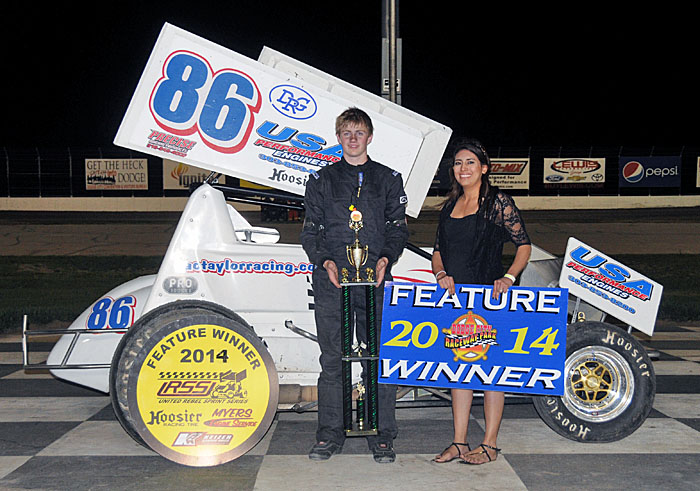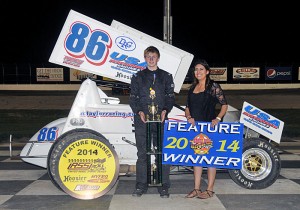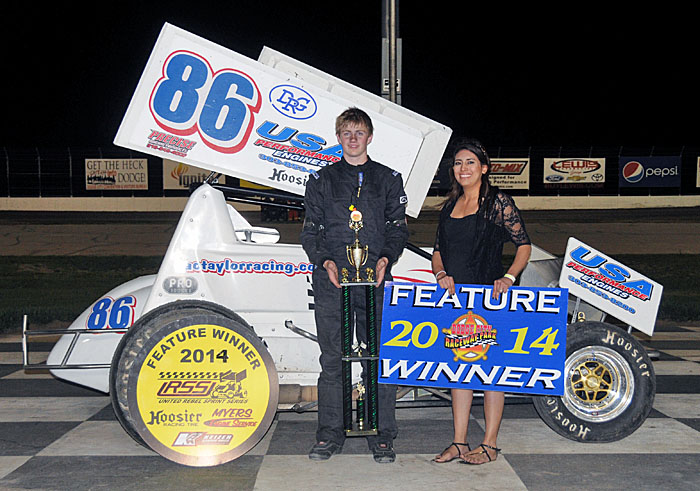 From Lonnie Wheatley
Dodge City, KS — (May 10, 2014) — Coming off Rookie of the Year honors in 2013, Zac Taylor kicked off the United Rebel Sprint Series season by taking victory honors in Saturday night's 25-lap feature atop the 3/8-mile Dodge City Raceway Park clay oval.
The 15-year-old from Green River, WY, was awarded his third career URSS Sprint Car win after apparent winner Brian Herbert weighed in five pounds below the 1,550 pound weight limit, becoming the tenth different winner in as many series events at DCRP dating back to 2009.
With 28 cars on hand for the URSS opener, Herbert and Ty Williams led the feature field to the green flag. Herbert gunned into the early lead and set sail until the first of four cautions flew after seven laps when Kirby Hagans came to a stop in turn two. Williams slid past Herbert for the lead on the ensuing restart with Herbert battling back on the low side. The duo battled for several laps before Herbert reclaimed the point on the 11th round with Williams surrendering second to Taylor Velasquez the next time around before a caution flew for Craig Jecha's encounter with the turn one wall.
After a Velasquez pass of Herbert for the lead was waved off due to a caution, Herbert maintained the top position as Taylor took third from Williams on the 13th lap and then made what proved to be the race-winning pass of Velasquez on the 16th circuit.
Following one final caution with seven laps to go, Herbert slipped away from Taylor and took the checkered flag with a half straightaway advantage only to roll across the scales too light.
"It sucks to win it this way," the young Taylor commented in victory lane.
Velasquez took runner-up honors behind Taylor, with reigning URSS Kansas champion Luke Cranston taking the show position. Williams slipped to fourth with defending URSS National champion Jake Bubak rounding out the top five. Steven Richardson and Zach Blurton raced from the sixth row after winning "B" Mains to finish sixth and seventh, respectively, with 14th-starter Tyler Knight, Koby Pearce and 19th-starter Kaden Taylor completing the top ten and also earning the Keizer Wheels Hard Charger award.
Cody Caldwell, Cranston, Bubak and Velasquez topped heat race action.
A feature
1 Zac Taylor 2 Taylor Velasquez 3 Luke Cranston 4 Ty Williams 5 Jake Bubak 6 Steven Richardson 7 Zach Blurton 8 Tyler Knight 9 Coby Pearce 10 Kaden Taylor
11 Koby Walters 12 Kade Hagan 13 Jordan Randles 14 Lance Davis DNF 15 Tron Stegman DNF 16 Cody Caldwell DNF 17 Craig Jecha DNF 18 Kris Moore DNF
19 Kirby Hagan DNF 20 Brian Herbert DQ
B Feature #1
1 Steven Richardson, 2 Tron Stegman, 3 Kris Moore, 4 Kade Hagan, 5 Kaden Taylor, 6 Jeremy Huisch, 7 Steve Dalton, 8 Jared Kern DNF, 9 Ray Seemann DNF
B Feature #2
1 Zach Blurton, 2 Tyler Knight, 3 Kirby Hagan, 4 Craig Jecha, 5 Jordan Randles, 6 Jed Werner, 7 Jerry Caldwell, 8 John Webster, 9 Austin Mclean