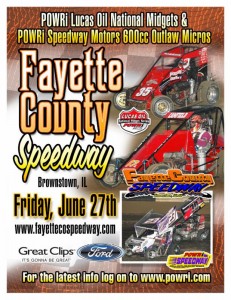 From POWRi
Millstadt, IL – (May 15, 2014) – Due to the excessive amount of rainfall this week and the predicted rain through Friday, the Fayette County Speedway event in Brownstown, IL has been postponed. Officials from Fayette County Speedway are disappointed, but the pit area is inaccessible for racecar haulers to make it through the pit area. The race has been rescheduled for Friday, June 27th.
The POWRi Lucas Oil National Midgets and POWRi Speedway Motors 600cc Outlaw Micro Series will run their next event at Macon Speedway on Saturday, May 17th where fans will be treated to a double dose of action. In addition to a full regular show, both the midgets and micros will run make-up features in order to complete the portion of events that were rained out on April 26th. For drivers who make it into both feature events, the double features will be a test of endurance as Macon Speedway is traditionally elbows up all night.
For more information, visit www.powri.com.