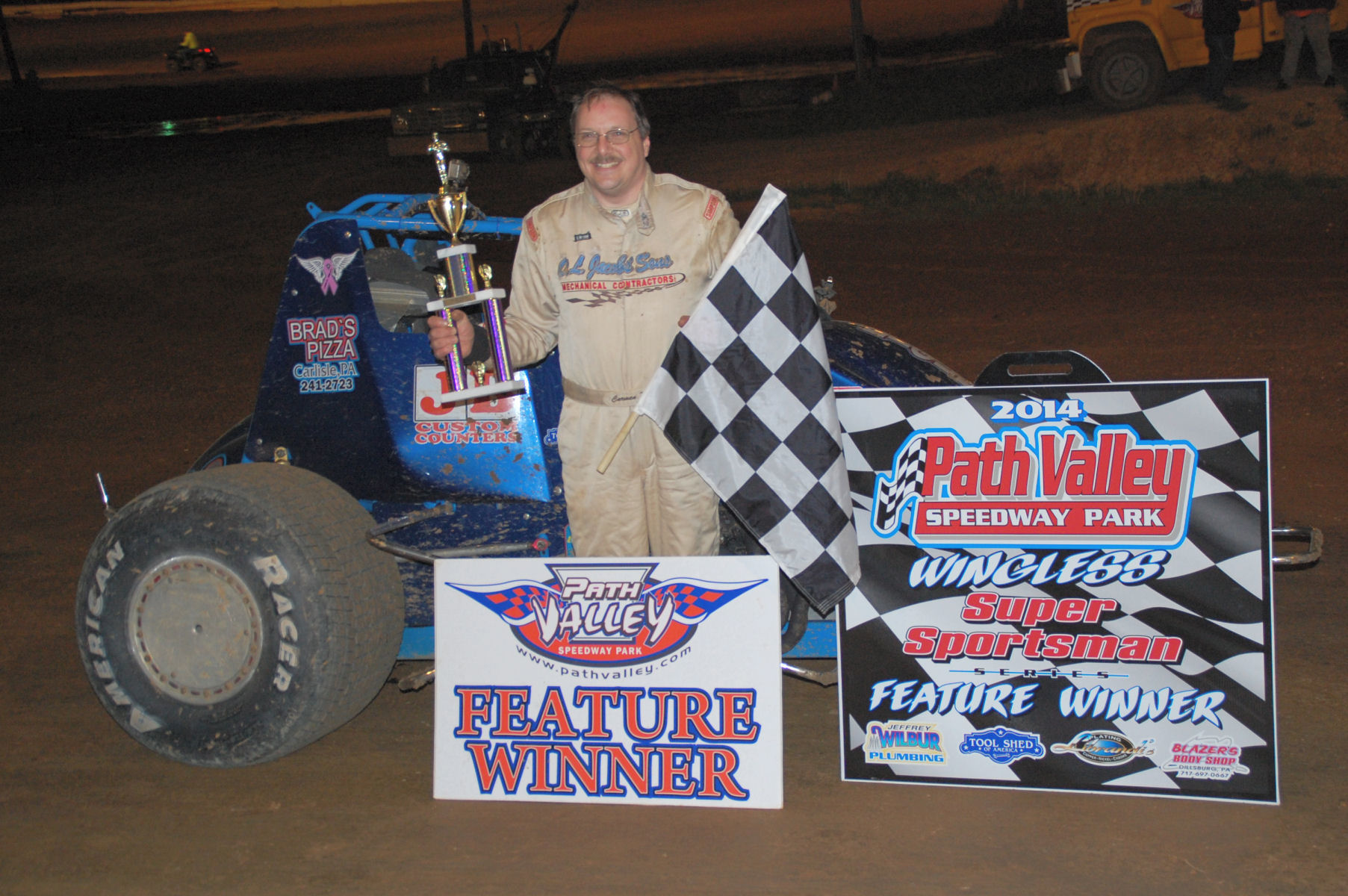 From Path Valley
Three inches or more of rain doused most of the area Thursday night, so many were concerned whether Path Valley Speedway would be able to race Friday night.  The track prep crew was ready for the heavy rain.  The infield had a small pond at one end, but the track surface was on the dry side.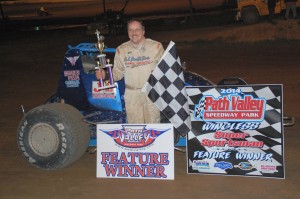 Charles Stallman returned to victory lane in the 4-Cylinder Thunder Car feature.  Stallman led Kyle Martin by five car lengths at the finish with Justin Williamson third and Tony Hampton fourth.
The Super Stock feature turned into a three way battle for the lead the last half of the race.  Bill Powell started on the pole and set the early pace.  Shawn Shoemaker quickly closed the gap and began to look for a way by.  Meanwhile, Brad McGinnis was running third and able to catch the two leaders.  Shoemaker and McGinnis swapped second place back and forth while still running right behind Powell.  At the checkered flag it was still Powell in the lead, followed by Shoemaker and  McGinnis.  Fourth went to Troy Eckenrode and Austin Johnson finished fifth driving Joey Burdge's car.  Johnson made heavy contact with the turn three wall in warm-ups, actually breaking thru the guardrail which caused a lengthy delay for repairs.
Stan Wanner drew the number one inversion pill for the Wingless Super Sportsman feature and set the early pace followed by Joey Biasi.  Carmen Perigo was one of the few drivers in the field to attempt using the high line.  About three laps in Perigo brushed the outside wall on the backstretch and dropped back to sixth when he went high in turns three and four.  But Perigo knew he had found something and continued to work the outside and started to work his way back toward the front.  Every few laps he would gain another position until he was chasing Wanner for the lead.  Perigo again went to the outside lane and drove around Wanner for the winning pass.  Wanner dropped a few spots near the end, losing second to Biasi and third to Rick Barr.  Steve Wilbur rounded out the top five.
Andy Fries parlayed a pole position starting spot into a flag-to-flag win in the twenty-five lap Late Model feature.  Fries was never under pressure, leading Steve Bailor by over a full straightaway when the caution waved just past halfway.  After the restart Wes Bonebrake took second when Bailor slipped in turn four, but Bonebrake could only stay within a few car lengths of Fries to finish second.  Bailor held on to third, ahead of Eric Irvin and Dave Dunkle.
Jeremy Ott dominated the Mini Stock feature, taking the lead from Kurt Knepper on lap two and pulling away the remaining twenty laps to score the victory.  Chris Anderson also worked past Knepper to finish second and Knepper in third.  Fourth went to Bill Kennedy and Shaun Linn was fifth.
Path Valley results 5/16
Mini Stock (make-up from 5/9): 1.Chris Anderson, 2.Bill Kennedy, 3.Lyle Barnes   DNS: Brian Neff, Mark Grove, Shaine Sixeas
4-Cyl. Thunder Car: 1.Charles Stallman, 2.Kyle Martin, 3.Justin Williamson, 4.Tony Hampton
Super Stock: 1.Bill Powell, 2.Shawn Shoemaker, 3.Brad McGinnis, 4.Troy Eckenrode, 5.Austin Johnson, 6.Michael Benton, 7.Shyann Bard, 8.Alex Boozel, 9.Curt Dunn
Wingless Super Sportsman: 1.Carmen Perigo, 2.Joey Biasi, 3.Rick Barr, 4.Stan Wanner, 5.Steve Wilbur, 6.Doug Dodson, 7. Bob Gutshall, 8.Devin Beidel, 9.John Wolfe, 10.Duaine Smith, 11.Eric Walker, 12.Dave Conrad, 13.Brian Gontz