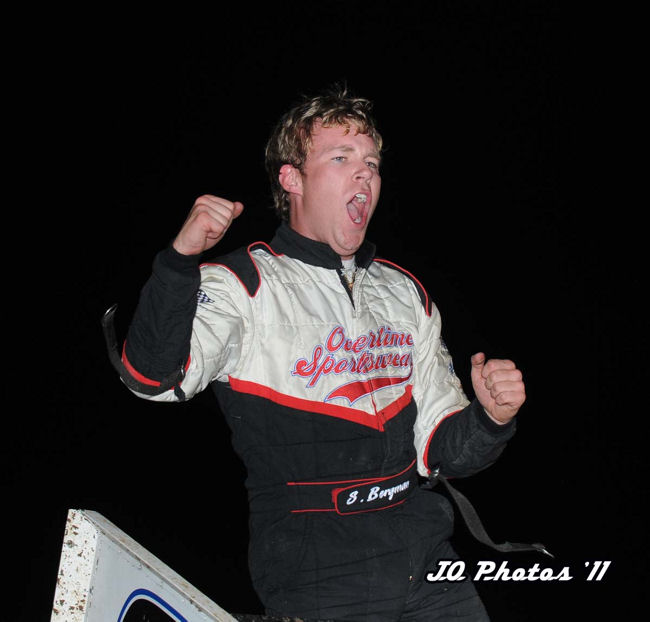 Inside Line Promotions
– ALGER, Wash. (May 19, 2014) – Seth Bergman's return to his home state opened with a trip to Victory Lane on Saturday at Skagit Speedway.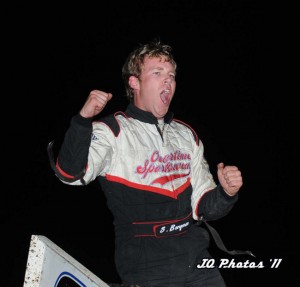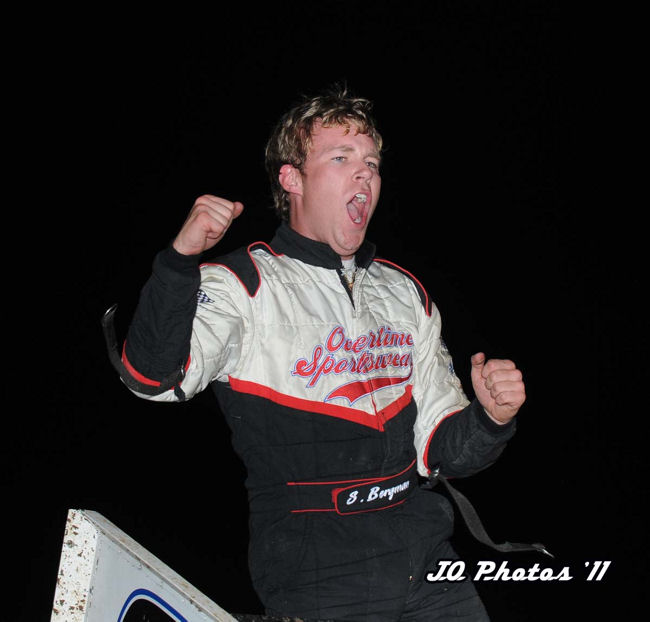 Bergman charged from ninth to record his first win in Washington since 2010, which was also the year of his most recent visit to Skagit Speedway.
"It was nice coming home and being able to win with family and friends there," he said. "I felt like everybody was out to beat me because I've been out traveling. There's a little bit of pressure. I just tried to go there and do what I do. I haven't been here in a while and haven't raced at Skagit in years. It felt refreshing to come home and win."
The night didn't start off as fast with Bergman qualifying 10th quickest around the 3/10-mile oval.
"I went out late and it seemed like everybody was running the top," he said. "I thought maybe I'd try the bottom. I think I got caught a little bit free. I didn't make as good of laps as I wanted to."
However, Bergman's qualifying effort was good enough to make the heat race inversion. He started his heat race on the pole and led all eight laps despite an engine issue midway through.
"We led every lap there, but the motor started laying down with about four laps to go," he said. "So I finished the heat with seven cylinders."
The team swapped engines prior to the main event, which Bergman started on the inside of the fifth row.
"It wasn't normal Skagit," he said. "It was slick. We tightened the race car up. You always have to get after it right at the beginning. I knew I was going to have to go everywhere. I searched the track out the first quarter of the race. Then I started picking them off one by one. Before you knew it I was racing (Austen) Wheatley for the lead."
Bergman took the top spot with a handful of laps remaining and cruised to his third triumph of the season.
This weekend he will compete in the ASCS Northwest Region season-opening Triple Track Challenge, which has races on Thursday at Southern Oregon Speedway in White City, Ore.; on Friday at Willamette Speedway in Lebanon, Ore.; and on Saturday and Sunday at Cottage Grove Speedway in Cottage Grove, Ore.
"Anytime you can hit four races in four days I love doing that," he said. "I love racing every day, traveling and getting to the next track. I want to try to go win all four of them."
Bergman has victories at Southern Oregon Speedway and at Cottage Grove Speedway, but will make his bid for a first career win at Willamette Speedway.
QUICK RESULTS –
May 17 – Skagit Speedway in Alger, Wash. – Qualifying: 10; Heat race: 1 (1); Feature: 1 (9).
SEASON STATS –
15 races, 3 wins, 7 top fives, 10 top 10s, 12 top 15s, 15 top 20s
UP NEXT –
Thursday at Southern Oregon Speedway in White City, Ore.; Friday at Willamette Speedway in Lebanon, Ore.; Saturday and Sunday at Cottage Grove Speedway in Cottage Grove, Ore., for the Triple Track Challenge with the ASCS Northwest Region
LIVE COVERAGE –
To keep up to speed with Bergman at every Lucas Oil ASCS National Tour event, visit http://www.RacinBoys.com for free, live audio. Additionally, RacinBoys will provide live Pay-Per-View video at select races.
MEDIA LINKS –
Website: http://www.SethBergmanRacing.com
Twitter: https://twitter.com/BergmanRacing
Facebook: https://www.facebook.com/SethBergmanRacing
APPAREL –
Bergman has men's and women's t-shirts available for sale at his race trailer during events he competes in this season.
SPONSOR SPOTLIGHT – Young Tools
Young Tools is a company within the oil industry that is located in Drumright, Okla.
"I'm glad to be associated with Tim and have him and everyone from Young Tools on board," Bergman said. "He's a great guy and is passionate about racing. He's a good friend of mine and it's nice to have him as part of the race team."
Bergman would also like to thank Oilfield Equipment & Manufacturing, Corridor Electric, ASI Racing Engines, Print Place, SpeedMart and CSI Shocks for their continued support.
INSIDE LINE PROMOTIONS –
Inside Line Promotions specializes in affordable public relations and media management for motor sports drivers, teams, sponsors, tracks, series, events, organizations and manufacturers. ILP Founder Shawn Miller leverages professional journalism with new media technologies and social networking to improve your exposure and the return on investment for your sponsors.
To meet the media relations needs of your program and to join Team ILP, contact Shawn at 541-510-3663 or InsideLinePromotions@gmail.com. For more information on Inside Line Promotions, visit http://www.InsideLinePromotions.com.