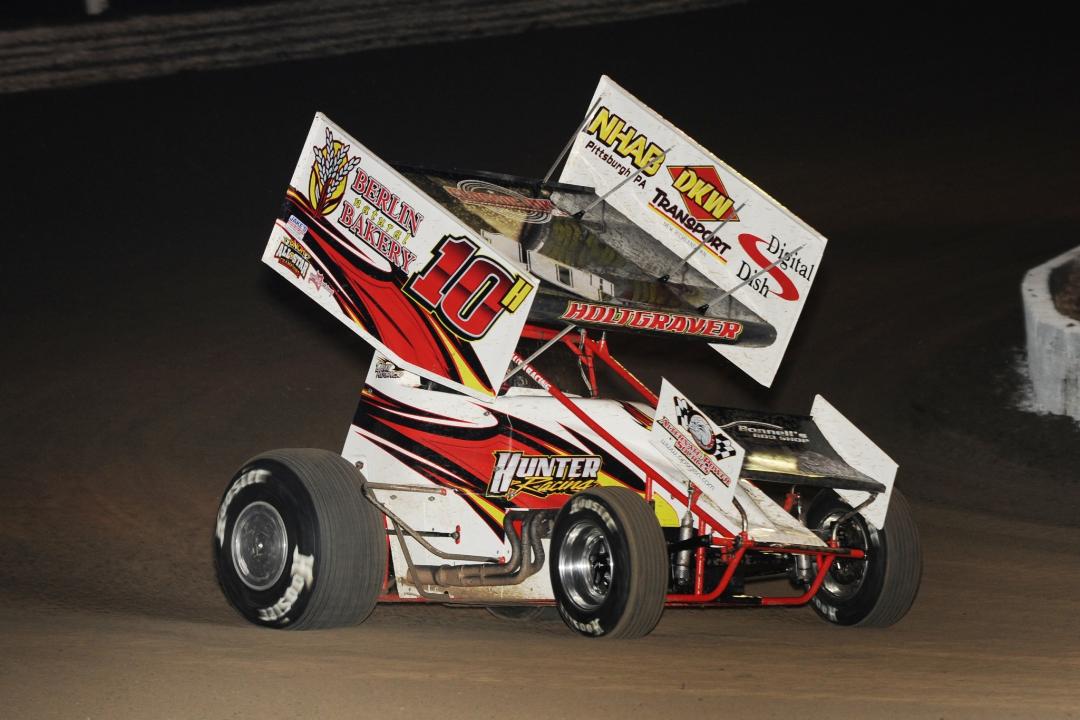 From Lernerville Speedway
Sarver, PA — (May 23, 2014) — With a press box full of Diehl Automotive employees and families, Defending Diehl Mods Track Champion Mat Williamson scored the first win of his title defense.  The Precise Late Models stole the show, though, with a thrilling race that saw Mike Pegher Jr. prevail over John Garvin Jr., Alex Ferree, Russ King and Chub Frank in what can only be described as a barnburner!  Danny Holtgraver took advantage of a night off from the All Star tour for some home cooking at the Action Track and scored his second Peoples TWP Sprint win of the season.  Finally, Chris Schneider climbed into Terry Young's #28Y for the night and swept his heat and feature for the 21st Sportsman/Stock win of his career; tying him for fifth all time with Rick Robinson.
A fan redraw set the starting lineup for the Diehl Auto Group DIRTcar Northeast Big Block Modifieds A-Main and Tom Winkle led the field to the green flanked by Mike Turner.  Winkle jumped out to the early lead and endured a handful of cautions to pace the first nine circuits.  But Mat Williamson rocketed off the bottom of turn two and passed Winkle for the lead down the back straightaway.  Once at the helm, Williamson powered away to his first feature win of the season and a return trip to Sheetz Victory Lane where he was met by Ms. Firecracker 2012 Makayla Guidace who was filling in for an ailing Mindy Norris who should be back next week for the Trophy Girl Reunion.
Winkle went on to wage a great battle with Jeremiah Shingledecker for second, but eventual contact between the two sent Winkle spinning into the infield jersey barrier.  He would recover to finish eighth, but had a much better car than that!  Shingledecker endured the contact and went on to a second place finish, while Steve Feder joined them on the podium for his best finish since a pair of second place runs in 2012.  Dave Murdick had a strong run to fourth ahead of Rex King Jr. in fifth, followed by Dr. Brad Rapp, Bud Points leader Rex King Sr., Tom Winkle, Mike Turner and Rick Regalski.  Rapp and Shingledecker checkered their respective heat races.
As teased above, the Precise Late Models put on the race of the year so far with what that looked for a long time like a two-horse race between John Garvin Jr. and Mike Pegher Jr.; recall that Garvin and Pegher ended their nights on wreckers a few weeks ago after contact at the flagstand.  But Friday Night was a clean, hard fought battle that eventually became a three and then wild five car affair along with Defending Track Champion Alex Ferree, incumbent Bud Points leader Russ King and World of Outlaws star Chub Frank.
Garvin brought the Precise Racing Products DIRTcar Late Model field to green alongside fellow Sarver native Michael Norris and led Norris for the first six circuits until eighth starting Pegher took second on lap seven.  Pegher was reeling in Garvin until Ferree got around him for second.  Ferree pulled inside Garvin and drag raced him down the back straightaway.  Ferree appeared to have taken the lead, but a caution for Brian Swartzlander in turns one & two negated the move.   Garvin and Ferree brought the field back to green, but Pegher made it three-wide coming through turns three and four by splitting them and taking the lead at the flag stand.  On the following lap, Chub Frank got around Ferree for third.  Garvin tried a wicked slide job in turns one & two with two to go, but slid off the top of turn two.  Thankfully for Garvin, Swartzlander brought out another caution and gave Garvin his spot back on a final restart.   A leader seldom likes to see a caution flag so late in a race, but Pegher was unfazed and used a terrific restart to seal his first win of the season in the iconic #1 Cochran Late Model.  With two Super Late Model feature wins, three Crate Late Model wins and 11 Pure Stock wins, Pegher now has 16 Lernerville Speedway wins on his resume.
Garvin held on for second, followed by Alex Ferree and Russ King who made a hard charge through turn three & four coming to the checkers to steal fourth away from Chub Frank who finished fifth.  The Precise Top Ten rounded out with Colton Flinner, Garrett Krummert, Gary Lyle, Dave Murdick and Chuck Sarver.  Ferree, Swartzlander and Garvin were heat race victors.
Danny Holtgraver started tenth on the Peoples TWP DIRTcar Sprint feature grid due to winning the Opening Night feature on April 18, but started off slow allowing the field to string out before making his assault to the front.  For the second week in a row, it appeared that Jack Sodeman Jr. was on his way to Sheetz Victory Lane, but after a lap seven restart, Holtgraver methodically made his way to the front; taking third on lap eight from Billy Dietrich, second from Brandon Matus on lap 10 and then the lead from Sodeman on the back straightaway on lap 13.  To be fair, Sodeman lost all of his momentum at the flagstand trying to avoid a lapped car and Holtgraver pounced to the lead.  Once at the point, Holtgraver checked out as Sodeman and Matus sliced and diced their way through lapped traffic for second.  Holtgraver's second win of the season was his ninth career Lernerville feature win.
Sodeman held off Matus for second and Eric Williams held off a late charging Carl Bowser for fourth.  Mike Lutz, Dan Shetler, Brent Matus, AJ Flick and Billy Dietrich rounded out the Peoples TWP Top Ten.  Bowser and Lutz scored heat race wins.
But the fun wasn't over yet . . . the Millerstown Pic-A-Part DIRTcar Sportsman put on another whale of a show, with Chris Schneider stealing away a win from Two-Time Defending Track Champion Corey McPherson and held off last week's feature winner Jimmy Fosnaught who came from 12th on the grid to challenge for the lead late in the race.   Schneider led the first lap from the pole, but gave way to front row mate Rob Shook on lap two before regaining the lead on lap three.  But McPherson was charging from the outside of row four, took the lead on the lap seven restart and then appeared to be on the way to another feature win.  Instead, Schneider came charging back to retake the lead on lap 14 followed by Fosnaught in second shuffling McPherson back to third.  As Fosnaught and McPherson battled for second, Schneider drove away with his 21st career feature win.
Fosnaught appeared to have second in the bag, but Dave Betush came to a stop in turn two which resulted in the caution flag waving after the leader (Schneider) plus one (a lapped car) took the checkered flag.  As such, the rest of the field reverted back to lap 19 for the official finishing order which gave second back to McPherson and relegated Fosnaught to third.  Rob Shook finished fourth ahead of Mike Miller in fifth, Mark Sanders in sixth, Pat Hanley in seventh, Aaron Easler in eighth, Brett McDonald in ninth and Joey Zambotti in tenth.  Schneider won his heat, as did Joe Kelley and Paul Schreckengost, but neither of which finished the feature.