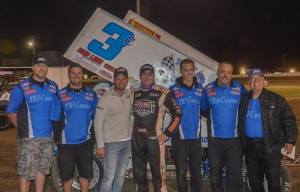 From Gary Thomas
Watsonville, CA — (May 30, 2014) — A near non-stop 30-lap main event on Friday night saw Chico, California's Jonathan Allard put on a dominating performance to earn his first ever Ocean Sprints presented by Taco Bravo victory at Watsonville's Ocean Speedway.
The first 27-laps in the feature were ultimately clicked off caution free, with the action fast & furious throughout the field. Despite Allard having his way up front for the majority of the main event, a number of exciting and intense battles were seen behind him throughout the duration of the contest.
For Allard it was his fourth career win at the quarter-mile bullring, going along with a pair of triumphs in the last two KWS sanctioned Howard Kaeding Classic's, along with a victory during the finale of Trophy Cup when the event was held at Ocean Speedway in the year 2000. Allard also began the night on Friday by earning the Ray Scheidt's Electric Fast Time Award.
"I can't say enough about my team and my car owner's Clyde & Marion Lamar for sticking with me and never giving up," Allard said. "The year didn't start how we wanted, but we're clicking on all cylinders right now and it's coming at the right time. This car was absolutely perfect tonight and I could put it anywhere. We love coming down here to Ocean Speedway, because it's a great venue and a fun place to race. We'll hope to continue this momentum at Placerville tomorrow."
Allard lined up on the pole in the feature, by way of drawing the number one envelope during the re-draw and when flagman Ed Entz waved the green flag, the three-time King of the West 410 Series champion jumped into the lead. Lemoore's Carson Macedo tried to keep pace with the fast moving Allard early on, but after a while "JA" kicked it into overdrive and pulled away to a comfortable advantage.
With the long green flag run it created some thrilling action through lapped traffic, as drivers diced it up on the well prepared surface. Current Ocean Sprints point leader Shane Golobic of Fremont started eighth on the grid and made some tremendous pinpoint moves to carve his way forward. At the midway point of the feature Golobic was locked in a crowd pleasing battle with Hanford's DJ Netto, as the pair exchanged the third spot on multiple occasions.
When the race wound down it appeared that we'd have a non-stop 30-lapper on our hands, but during the 27th circuit a couple of cars would slow and bring the party to a stop. The upcoming double-file restart then saw Allard & Macedo on the front row, with Golobic & Netto in row two. Golobic had taken third for good on lap 21 and when the green lights flashed on for the final time he would fight his way by Macedo for second. Up front Allard hit his marks however, and crossed the checkered flag for victory by just over a second aboard the Tri-C Manufacturing/ Red Line Oil No. 3c machine.
Golobic's runner up finish continued his string of solid runs over the last few weeks. Dating back to the May 17 King of the West 410 event in Tulare, he hasn't finished worse than second in his last four starts, which includes a win at Silver Dollar Speedway during Civil War Series competition on May 25. "That was definitely an exciting main event and it got good in traffic with that green flag run," said the driver of the Keith Day Trucking/ Gabilan Ag No. 22 mount. "We had a great car tonight and I can't thank my team enough. I wish we could have gotten up there and battled with Jonathan, but it was a good point night for us."
Macedo came home third in the main event to keep up his consistent start to the season at the helm of the WFO Apparel/ Tarlton & Son Inc. No. 21x sprinter. The now 19-year-old has finished among the top-four in each of the five Ocean Sprints presented by Taco Bravo events held so far this year. "It was a good finish for us tonight and I really have to thank Tom Tarlton and everyone with this team," commented Macedo. "We've been consistent and I know the wins are going to start coming. It was also great to have Tommy Tarlton back tonight behind the wheel and I'm glad to see he had a great run."
After not competing since April 12, Tommy Tarlton returned to action on Friday and showed that he hasn't skipped a beat. The Easton driver qualified second fastest to begin the night, but had issues in turn two during his heat, which caused a dnf. He then lined up 16th in the main event and drove the wheels off his Elite Landscape Construction No. 21 to earn the High Five Pizza Hard Charger Award, claiming fourth at the finish. Completing the top-five in the 30-lapper was DJ Netto in the Netto Agriculture No. 88n sprinter. Rounding out the top-10 was 13th starter Justin Sanders, Brad Furr, Mitchell Faccinto, Andy Forsberg and Bud Kaeding.
The three eight-lap heat races during the night were captured by Fresno's Koen Shaw, DJ Netto & Shane Golobic. Jonathan Allard blistered the Ocean Speedway quarter-mile in qualifying by turning a time of 11.480 to claim the Ray Scheidts Electric Fast Time Award in the 24-car field. Jerry Bonnema will go home with the Beer Optics Hard Luck Award for the night.
A-main finish: 1. 3c Jonathan Allard, 2. 22 Shane Golobic, 3. 21x Carson Macedo, 4. 21 Tommy Tarlton, 5. 88n DJ Netto, 6. 17 Justin Sanders, 7. 2 Brad Furr, 8. 37 Mitchell Faccinto, 9. 7c Andy Forsberg, 10. 0 Bud Kaeding, 11. 88 Koen Shaw, 12. 72w Kurt Nelson, 13. 3t Nicholas Ringo, 14. 21b Dillon Black, 15. 4 Burt Foland Jr., 16. 8 Jeremy Chisum, 17. 79 Heath Duinkerken, 18. 25z Jason Chisum, 19. 10 Anthony Simone, 20. 39n Nathan Washam, 21. 7m Ethan Myatt, 22. 11 Nick Rescino Jr., 23. 58 Jerry Bonnema, 24. 7 Nick Ringo Jr.
The Ocean Sprints presented by Taco Bravo will have next weekend off, before resuming action on Friday night June 13 for round number six at the Ocean Speedway.
Ocean Speedway & the Ocean Sprints would like to thank Taco Bravo, High Five Pizza, Nobel Construction, Ray Scheidt's Electric, Beer Optics, B Scadden Designs, Hoosier Tires West and Kaeding Performance for their support.
For more information on the Ocean Sprints presented by Taco Bravo log onto http://www.oceansprints.com/ and for more on the Ocean Speedway check out http://www.oceanspeedway.com/