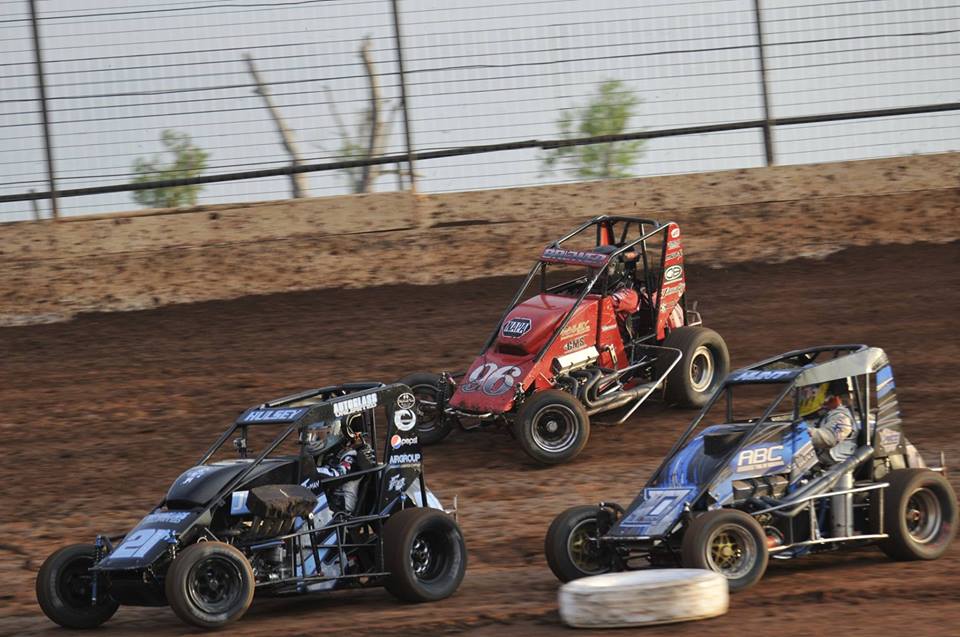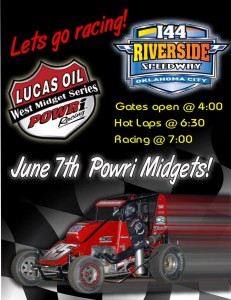 From POWRi West
Fresh of announcing the addition of another delightful serving of POWRi West Midgets to hearty Sooner State open wheel fans, the Lucas Oil POWRi West Midget forces assemble to serve a tasty appetizer this coming Saturday, June 7th to Oklahoma City's hungry race fans.
POWRi West point man Eric Fenton and I-44 Riverside promoter Mark Banister collaborated via mutual public relations last week to add another Midget event for Saturday, June 21st as well.
Which creates a three set wingless serving of the highest order over the next five weeks as POWRi West Midgets will now invade southwest Oklahoma City this coming Saturday, followed by thunderous appearances on June 21st and July 12th.
The coming serving this Saturday holds high promise to be the best yet as approximately 22 teams have confirmed their entries for this weekend's outing.
Broken Arrow's young gun Alex Sewell steers the Esslinger powered Sewell Mechanical #8 Stealth entry at the head of a league of extraordinary pilots coming from 4 states. Owasso's Matt Sherrell currently trails Sewell by just ten points, but will be joined by 10th place POWRi West point man Jason McDougal in pursuit of POWRi Speedweek glory.
While we wish glory for our West reps in National action, focus swiftly shifts back to the premier open wheel event in the region this weekend and the warriors assembling for the showdown at OKC Corral.
Choctaw's Cody Brewer enters third in points and with an April 26th POWRi West score at I-44 to his credit. Brewer's proven mettle will be on high display in the Chevy powered Napa Auto Parts #96 Spike Chassis this weekend.
Bixby's Kevin Bayer has been a force to be reckoned with, leading laps in four separate POWRi West main events this season, but a win still eludes the Ecotec powered JET Motorsports #91B. Bayer enters Saturday's Showdown fourth in West points.
Tulsa's Johnathon Halford scored an April 12th POWRi West win at I-44 in his Ecotoec powered National Bus Sales, Jet Motorsports #83 Spike Chassis, and enters the weekend duel fifth in POWRi West points.
The balance of the field is incredibly deep with Guthrie, Oklahoma native, but Oklahoma City fan favorite Michelle Decker entering Saturday's action sixth in West points. A three-time sprint car champion at Oklahoma City's State Fair Speedway, Michelle has improved her finish in each of the three West contests at I-44, most recently placing 4th in the Esslinger powered Royal Purple #4m Spike Chassis back on May 10th.
Owasso's Ty Hulsey also has three championships to his credit, all three coming in micro sprint action at Tulsa's Port City Raceway. Hulsey enters with hopes for his first career Midget win aboard the Ecotec powered Dirty Knuckly Tavern #21H Spike Chassis.
If descriptions continue for each entrant, this will achieve encyclopedia status. Hurricane Hannah Adair will continue her impressive rookie campaign, and be joined by series promoter and Jenks, Oklahoma resident Eric Fenton who recently earned the Factor One Racing Hard Charger Award on May 10th when he took his Chevy powered Southside Mowers #14E from 14th to sixth. Yes, better mention the boss!
The "local" west siders on hand to defend OKC turf include Washington, Oklahoma's Travis Scott, a sprint car veteran with multiple wins in ASCS and State Fair Speedway action. Pauls Valley native and dominant micro sprint force Steven Shebester will rep the OKC contingency, albeit in Texas equipment courtesy one of the best car owners in the region, Burleson, Texan Rick Bailey.
The Sooner One Racing #1ou Midget will be on hand, not sure yet of pilot as OU Engineering student, by way of Running Springs, California, AJ Burns is out west. Lawton, Oklahoma's Brandon Boggs piloted the Sooner One Racing entry back on April 11th at Creek County (Sapulpa, Oklahoma), and should be a likely favorite to do so once again as the University of Oklahoma Freshman has a non wing micro win to his credit at I-44 Riverside this season and is leading points in that class, as well.
Piedmont's Grady Chandler will join west side forces also. Chandler has multiple wins in micro sprint action at I-44 Riverside and made his Midget debut on May 10th, turning in a highly impressive run from 13th to finish 8th. Look for the young 14 year old to make some noise this Saturday.
A slew of competitors aim to make their POWRi West debuts this Saturday, led by Olathe, Kansas' Tyler Nelson. It will be young pilots' return trip to OKC since he competed in Midget action there for the first at the Inaugural Twister Nationals last October.
Tulsa's Evan Sewell will make his first POWRi West trip to OKC this Saturday, with a 2nd Sewell entry piloted by Late Model veteran Glen Bratti. Collinsville, Oklahoma pilot (literally, an airplane pilot) Coby Hughes will make his first POWRi West visit to OKC as well.
Atoka's Austin Shores will make his POWRi West debut, while chance remains that Anadarko's Ryan Padgett will as well.
Fort Worth's Doug McCune will lead the charge of the Texans, joined Haslet's Jordan McPherson, who will be piloting the slick Focus powered RNC Motorsports #7x Twister Chassis.
Midget veteran Bobby Brewer reps Cabot, Arkansas and Glen Bratti will as well in Evan Sewell's 2nd ride.
If micro sprint standout Tucker Klaasmeyer makes it down the Turnpike, then add a Show Me State rep to the roster. Hopes are with Tucker that they solve some recent rear end woes.
Come out this Saturday to see the stars of the Lucas Oil POWRi West Midget Series on full display this Saturday night at OKC's I-44 Riverside Speedway.
General admission is $12, pit admission $20. Gates open at 4pm, hot laps at 6pm, with POWRi West driver introduction following conclusion of hot laps and an official program start time of 7pm.
POWRi West trading cards will also be available for all race fans courtesy Fenton Graphics.
B-POWRi West trading cards.jpg
The Lucas Oil POWRi West Midget Series extends our heartfelt thanks to our partners that have supported us in becoming the premier wingless open wheel series in the region, special thanks to Factor One Racing, Fenton Graphics, Boss Chassis, MudX, Rod End Supply, KBR Performance, Tulsa Gas Technologies, The Dirty Knuckle Tavern, and of course our premier sponsor Lucas Oil.
For more information regarding the Lucas Oil POWRi West Midget Series, Find, Like and Follow POWRi West on Facebook and Twitter, or visit www.powri.com
For more information regarding I-44 Riverside Speedway, check em out on Facebook or at www.i44riversidespeedway.com
THE Lucas Oil POWRi West Midget Series extends an invitation to all sports fan who are open to an action packed night of high speed, wheel to wheel entertainment that is fun for the family and all ages!
When the engines comes to life, we hope to see you there!