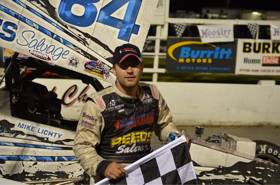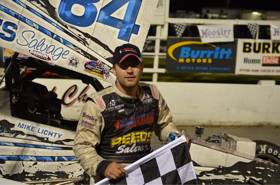 From Bradon Paul
Oswego, NY — (June 7, 2014) —  Oswego Speedway is considered by many to be the home of the Supermodifieds. It's also proving to be Mike Lichty's personal playground.
Mike Lichty celebrates the season-opening ISMA win at Oswego. (Speed51.com photo)
The Canadian racer, who won the prestigious King of the Wings and Oswego ISMA Super Nationals in 2013, scored his fourth career ISMA Supermodified victory at the "Steel Palace" Saturday night in the 2014 season opener. Lichty, who narrowly missed setting a track record in qualifying, started ninth and took the lead from his teammate, Rob Summers, on lap 22 and never looked back in the 50-lap affair.
Lichty's path to victory may not have been easy, as contact with a lapped car allowed Summers and Perley to stay close, but Lichty would not be denied.
"I got to third by lap 15, but then I got a little aggressive down there in lapped traffic," said Lichty. "I knew with the way Robbie (Summers) was running, and how good Perley was all afternoon, that I had to go."
With Rob Summers all but running away with the lead from the start of the 50-lap feature, second-place Chris Perley was attempting to get around the outside of lapped car Ryan Gath. Admittedly being overly aggressive, Lichty saw that as possibly his only shot to capitalize and made it three-wide to the inside in turn one. Gath held his line, causing Lichty to ride up and over Gath's left-rear tire. Lichty's car got two wheels completely off the ground before landing hard on the track.
Lichty was able to drive away, but admitted later to not really knowing what condition his car was in before the green flag flew again after the incident.
"I thought we bent the torsion bar to be honest with you," added LIchty of the incident that could've spelled disaster. "I kind of knew after the red flag (that flew after the incident on lap 16) that we weren't going to get into heavy lapped traffic again. I just set (Summers) up on the outside and it worked."
Lichty took the lead from Summers on lap 22. Summers was able to hang on to the second position over Perley at the checkered flag.
"It's tough in these things with no mirrors and no radios," said Summers of his battle with Lichty for the lead. "Once (Lichty) got his wheel in there, I didn't want to wreck us so we had to just go hard, side by side. In lapped traffic I was able to catch back up and thought I may have a shot, but he drove a heck of a race. He always does."
Summers wasn't the only one impressed with the recent strength of Lichty at Oswego Speedway. Perley, a six-time ISMA champion, feels the Oswego torch is being passed to Lichty.
"I think Mike Lichty is the new man to beat here," said Perley. "He's been running really consistent here."
Perley started in the fifth spot and thought from the start he may be in trouble.
"I was sideways through (turns) one and two actually on the first lap. And the next lap I did it again. And I'm thinking, 'Oh this is going to be a long race. Top three is top three. We had a good enough car to run with them. We've got some things to work on but I'm happy with it."
Moe Lilje and Mark Sammut rounded out the top five in the Oswego 50-lap ISMA opener. Alison Cumens, Justin Belfiore, Eddie Witkum, Jr., Dave Shullick, Jr. and Ben Seitz completed the top 10.
Quallifying heats for the 28 cars in attendance were won by Mark Sammut, Moe Lilje and Lou Cicconi. Keith Gilliam and Lou LeVea Jr. were ofn after practice sessions.
The ISMA Supermodifieds will return to action on Friday, June 20 at Oxford Plains Speedway in Oxford, Maine.
For more information on ISMA, visit www.ismasupers.com, "Like" ISMA on Facebook by searching "ISMA" and follow @ISMASupers on Twitter.
INTERNATIONAL SUPERMODIFIED ASSOCIATION
Oswego Speedway
Oswego, NY
June 7, 2014
Pos.
No.
Driver
1
84
Mike Lichty
2
74
Rob Summers
3
11
Chris Perley
4
8
Moe Lilje
5
78
Mark Sammut
6
39
Alison Cumens
7
98
Justin Belfiore
8
21
Eddie Witkum, Jr.
9
94
Dave Shullick, Jr.
10
17
Ben Seitz
11
37
Jeff Locke
12
55
Mike Keeler
13
97
Ryan Gath
14
46
Ryan Coniam
15
79
Jon McKennedy
16
40
Bobby Magner
17
94
Craig Rayvals
18
83
Lou LeVea, Jr.
19
14
John Gambuti
20
25
Dan Bowes
21
01
Dan Connors, Jr.
22
02
Brandon Bellinger
23
28
Eric Lewis
24
61
Lou Cicconi