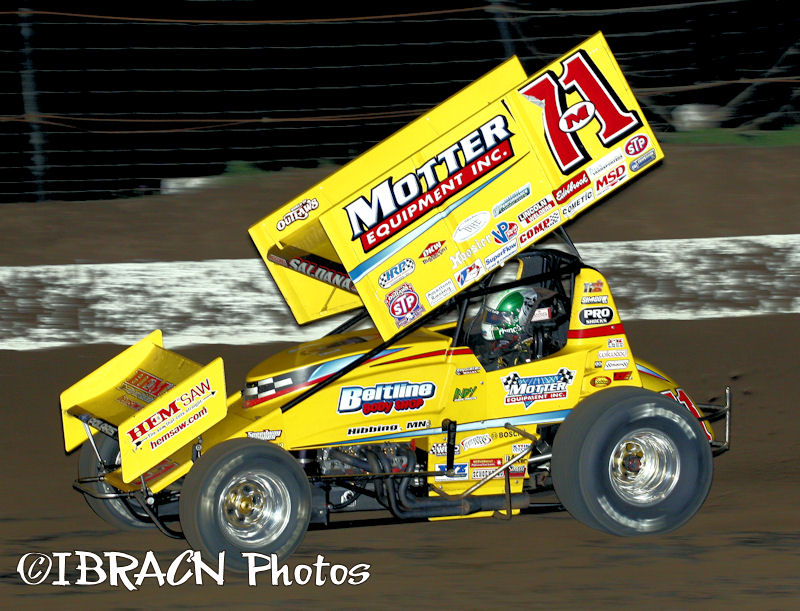 By Susab Arnold
GREENWOOD, Neb. (June 6, 2014) – The World of Outlaws returned to I-80 Speedway for the first time in 11 years for the NAPA Auto Parts Outlaw Showdown.
This track brought Joey Saldana, driver of the Motter Equipment HE&M Saw Beltline Body Shop 71M, back to his family's roots.  His father and two sisters were born in nearby Lincoln.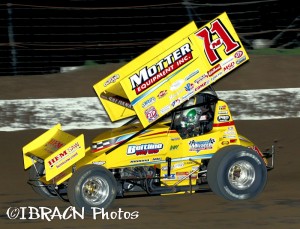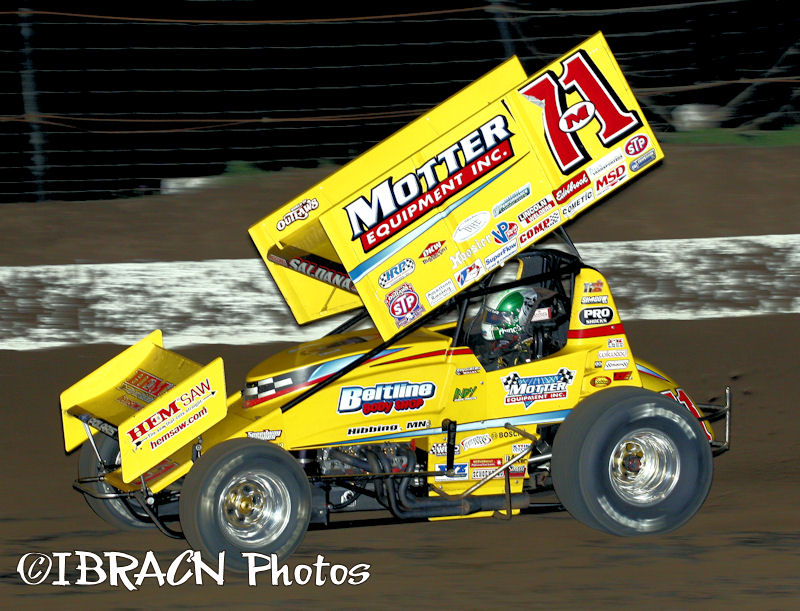 Saldana describes I-80 as an 'awesome facility' and the Brownsburg Bullet put on a tremendous show of driving skills for the hometown fans.
The Brownsburg Bullet was the No. 2 qualifier in preliminary action, rounding the high-banked 4/10-mile oval in 14.082 seconds.
After applying the World of Outlaws qualifying to heat race conversion formula, Saldana
was assigned the fourth starting position in the second heat.  Polesitter Craig Dollansky took the early lead while Saldana and Cody Darrah spent the opening laps engaged in a side-by-side, wheel-to-wheel battle for second place.  Saldana timed a perfect pass on the outside of Darrah to solidify second place. Saldana began to gain on Dollansky but ran out of time to run him down.  Dollansky won and Saldana finished second in the heat, both drivers earning a starting berth in the dash.
After the inversion draw, Saldana rolled to the dash starting line in third position. Donny Schatz led lap one followed by Sammy Swindell, Kerry Madsen and Saldana.  Only one lap was completed before a tumbling Jordan Boston brought out the red flag.  Boston was able to walk away.  On the restart, there was a three-wide drag race between Swindell, Schatz and Saldana for the lead.  Schatz and Swindell traded the lead but Schatz finally took command.  Saldana, riding in third, slid into second place passing Swindell.  At the checkered flag it was Schatz with the win and Saldana second.
Those two drivers would lead the field down to the green flag in the 30-lap A-Main. After one failed attempt, the field came down to the starting line once again.  Saldana went to the top, forcing Schatz to the bottom.  Saldana took the lead, Paul McMahan moved into second, and Schatz followed in third.  McMahan came up to challenge Saldana but
despite squeezing the Bullet, he couldn't get past.  Schatz moved in to challenge McMahan and the two drivers traded positions on the race track as well as in the running order.  While Schatz and McMahan were busy with their own wheel to wheel combat, Saldana began to pull away. Schatz commandeered second place and then came after Saldana.  Lap after lap, Saldana had to fight off Schatz or McMahan as they traded second and third position.  Just past the half way point, Saldana encountered lapped traffic.  It appeared that Schatz might be able to maneuver into the lead, but Saldana miraculously maintained command of the field.  The battle between the top three drivers raged to the checkered flag with Saldana coming home victorious for the fourth time this season.  It was a wire-to-wire win for the hometown boy.
It was his first victory at I-80 Speedway.  Prior to tonight his best finish was fourth.
Schatz finished second and McMahan was third.
"I don't know if I had the best car but I had track position and I could move around," said Saldana. "I think that one lapped car helped me block either Paul or Donny.  This is a great team effort. This is a track I haven't raced on forever.  One of the last races my Grandfather got to come to before he passed away was this track. It is a pretty special place to win.
"Shell Shock just brought me a new helmet with all my Dad's numbers and it's a pretty cool Lil' Joe helmet. It is very fitting to win here for my Mom and Dad and sisters who are all from Lincoln.
"This track actually raced exactly the way I envisioned it and when I watched races on youtube. It didn't race any different around the top or bottom.  If you were going to run the bottom you had to hit your marks.
"This is a great track. This track is perfect for 410 sprint cars.  I am glad all the fans came out to support us tonight."
"To hold Donny Schatz and Paul McMahan off for 30 laps was something," said team owner Dan Motter. "We were so happy to bring home another victory for HE&M Saw and Beltline Body Shop. And we are very proud of everyone on our team.  Joey did a spectacular job of driving and the team gave him a great horse to ride!"