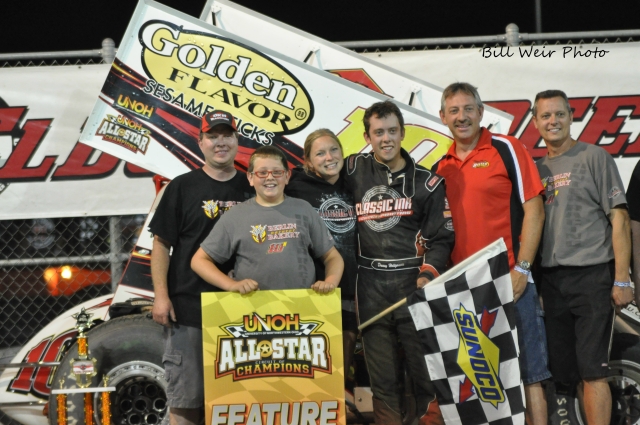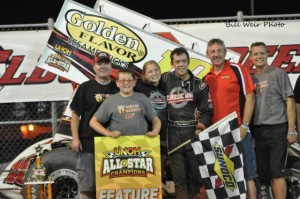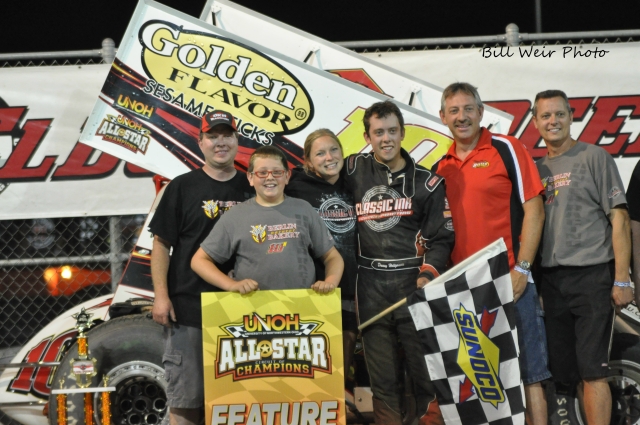 From Eldora Speedway
Rossburg, OH — (June 21, 2014) — Danny Holtgraver turned a wish into reality Saturday night at Eldora Speedway when he kicked off Ohio Sprint Speedweek in grand style by besting a 44-car UNOH All Star Sprint field for his first-ever Eldora win. Joining Holtgraver as victors on the NKTelco sponsored tripleheader card were Matt Westfall (UMP DIRTcar Modifieds) and Paul Pardo (Stock Cars).
"I told Rob (Hunter, car owner) this week, I didn't care if we won anywhere else, I wanted to win Eldora – so I got it", shouted an enthusiastic young Holtgraver from victory lane. "This is unbelievable, I couldn't ask for more, this is amazing."
What made the stage presence even more sweeter for the Pittsburgh, PA native was the route taken to get there.
He had inherited the lead from fellow PA standout Tim Shaffer in a bold lap five pass. With strong rhythm he turned that into a near straightaway lead over the field, as Shaffer became engulfed with Randy Hannagan and Lee Jacobs in a battle for runner-up positioning. Hannagan disposed of Shaffer on lap nine.
The scenery changed quickly. A lap 15 spin by Derek Hagar brought out the first caution of the 30-lap chase and bunched up the field on Holtgraver's tail. As the green flag reappeared, Hannagan tried an unsuccessful Eldora 'slide job' on Holtgraver. That was coupled with strong restarts by eighth and ninth place starters Dale Blaney and Jac Haudenschild respectively.
With the clean air out front, Holtgraver again opened a margin as Hannagan and Blaney swapped high-speed slide jobs up and down the high banks, while Haudenschild was thrilling the crowd with his bounces off the concrete wall.
With ten laps to go, Blaney was successful in getting by Hannagan; a move that was duplicated by Haudenschild three laps later. The chase was on.
Blaney reeled in Holtgraver with four laps to go and just as he was mounting a charge for the pass, Rob Chaney shredded a tire in turn two to bring out the caution flag.
That was something Holtgraver definitely didn't need or want. Haudenschild darted into the pit area with a rapidly deflating right rear tire to end his hopes on the night.
Undaunted, Holtgraver was able to hold Blaney at bay for the final three tours of Eldora, as Hannagan, Shaffer and Shane Stewart (from 24th) completed the top five.
Understandly, Holtgraver summed it up with, "I could race here seven nights a week; this is great."
Westfall's second Eldora win of the season was a study of patience. Weasel Phlipot was turning in his best performance of the season to grab the early lead of the Modified main event and was in command through lap three when his engine expired in a puff of smoke.
That moved Jonathan Taylor into the top spot with Jeff Koz and Jonathan's brother, Evan, running close behind, while Westfall was in fifth behind Josh Morton.
While Jonathan Taylor able to increase his margin out front, Westfall got by Morton on lap six to set his sights on Koz and Evan Taylor. He picked off Evan on lap nine and one lap later did the same to Koz to set up a three-lap battle for the lead.
After trading slide jobs with Taylor for two laps, Westfall finally took the lead he was to hold through the checkered flag on lap thirteen. The Taylor's (Jonathan and Evan) crossed the line second and third, while Koz and Zach Schroeder completed the top five.
The luck of the inversion draw found Pardo starting out front, but holding on to the lead was challenge through the checkered. A trio of drivers, Nick Bowers, Dean Pitts and Barney Craig, all took their turns at trying to unseat Pardo. None were successful and they crossed the finish line in that order behind Pardo, while Jeff Koz completed a successful double-duty night with a fifth place finish.
Eldora returns to action July 11 and 12 with the heralded Kings Royal weekend. Race tickets and campsites for the Kings Royal weekend or any other exciting Eldora event, are available by going online to www.EldoraSpeedway.com. Additionally, tickets and campsites may be purchased through the Eldora offices during normal business hours by calling (937) 338-3815 or on race day.
Race fans and race teams can get behind-the-scenes access by following @EldoraSpeedway on Twitter, hitting 'Like' at Facebook.com/EldoraSpeedway and view video highlights at YouTube.com/EldoraSpeedwayInc. Mobile device users can access the Eldora Speedway app for the iPhone, iPad and Android which are available for download via iTunes and Google Play.
– ES –
All Star Sprint
TIME TRIALS – 1. 45-Tim Shaffer [13.504]; 2. 10H-Danny Holtgraver [13.631]; 3. 83X-Jason Meyers [13.696]; 4. 11N-Randy Hannagan [13.709]; 5. 83-Stevie Smith [13.724]; 6. 63-Chad Kemenah [13.839]; 7. 3G-James Mcfadden [13.868]; 8. 81-Lee Jacobs [13.899]; 9. 40-Caleb Helms [13.903]; 10. 48-Danny Dietrich [13.944]; 11. 14K-Dale Blaney [13.945]; 12. 9W-Jac Haudenschild [13.949]; 13. 71-Kevin Swindell [13.950]; 14. 00-Jim Nier [13.953]; 15. 9X-Rob Chaney [13.965]; 16. 49-Cole Duncan [13.976]; 17. 98-Dave Blaney [13.976]; 18. 5T-Travis Philo [13.979]; 19. 93-Sheldon Haudenschild [13.986]; 20. 1ST-Gary Taylor [14.007]; 21. 97-Dean Jacobs [14.016]; 22. 24H-Brandon Wimmer [14.029]; 23. 4-Danny Smith [14.049]; 24. 70-Derek Hagar [14.085]; 25. 9Z-Duane Zablocki [14.114]; 26. 60C-Kory Crabtree [14.142]; 27. W20-Greg Wilson [14.212]; 28. 35AU-Jamie Veal [14.229]; 29. 44W-Austen Wheatley [14.264]; 30. 57X-Andrew Palker [14.281]; 31. 35-Ron Blair [14.307]; 32. 21-Dallas Hewitt [14.357]; 33. 96AU-Bruce White [14.581]; 34. 46AU-Stuart Williams [14.748]; 35. 2-Shane Stewart [14.801]; 36. 5-Jordon Harble [14.946]; 37. 25AU-Jack Lee [15.117]; 38. 6N-Cody Gardner [15.257]; 39. 35M-Wes Mcglumphy [15.477]; 40. 77AU-Darren Mollenoyux [15.630]; 41. 71AU-Ryan Davis [15.630]; 42. 17H-Jared Horstman [99.992]; 43. 15H-Mitch Harbaugh [99.993]; 44. 4X-Shawn Petersen [99.999];
HEAT 1 – 1. 98-Dave Blaney [2]; 2. 45-Tim Shaffer [6]; 3. 97-Dean Jacobs [1]; 4. 71-Kevin Swindell [3]; 5. 40-Caleb Helms [4]; 6. 83-Stevie Smith [5]; 7. 9Z-Duane Zablocki [7]; 8. 77AU-Darren Mollenoyux [11]; 9. 44W-Austen Wheatley [8]; 10. 25AU-Jack Lee [10]; 11. 96AU-Bruce White [9];
HEAT 2 – 1. 5T-Travis Philo [2]; 2. 48-Danny Dietrich [4]; 3. 24H-Brandon Wimmer [1]; 4. 10H-Danny Holtgraver [6]; 5. 00-Jim Nier [3]; 6. 63-Chad Kemenah [5]; 7. 60C-Kory Crabtree [7]; 8. 57X-Andrew Palker [8]; 9. 6N-Cody Gardner [10]; 10. 46AU-Stuart Williams [9]; 11. 4X-Shawn Petersen [11];
HEAT 3 – 1. 4-Danny Smith [1]; 2. 14K-Dale Blaney [4]; 3. W20-Greg Wilson [7]; 4. 2-Shane Stewart [9]; 5. 83X-Jason Meyers [6]; 6. 9X-Rob Chaney [3]; 7. 3G-James Mcfadden [5]; 8. 93-Sheldon Haudenschild [2]; 9. 35-Ron Blair [8]; 10. 35M-Wes Mcglumphy [10];
HEAT 4 – 1. 9W-Jac Haudenschild [4]; 2. 11N-Randy Hannagan [6]; 3. 1ST-Gary Taylor [2]; 4. 70-Derek Hagar [1]; 5. 81-Lee Jacobs [5]; 6. 35AU-Jamie Veal [7]; 7. 49-Cole Duncan [3]; 8. 21-Dallas Hewitt [8]; 9. 71AU-Ryan Davis [10]; 10. 5-Jordon Harble [9];
DASH – 1. 45-Tim Shaffer [1]; 2. 10H-Danny Holtgraver [2]; 3. 11N-Randy Hannagan [4]; 4. 81-Lee Jacobs [5]; 5. 83X-Jason Meyers [3]; 6. 40-Caleb Helms [6];
B-FEATURE – 1. 83-Stevie Smith [1]; 2. 9X-Rob Chaney [4]; 3. 63-Chad Kemenah [2]; 4. 3G-James Mcfadden [3]; 5. 93-Sheldon Haudenschild [6]; 6. 35AU-Jamie Veal [9]; 7. 49-Cole Duncan [5]; 8. 44W-Austen Wheatley [10]; 9. 9Z-Duane Zablocki [7]; 10. 60C-Kory Crabtree [8]; 11. 57X-Andrew Palker [11]; 12. 46AU-Stuart Williams [15]; 13. 35-Ron Blair [12]; 14. 77AU-Darren Mollenoyux [21]; 15. 71AU-Ryan Davis [20]; 16. 35M-Wes Mcglumphy [19]; 17. 96AU-Bruce White [14]; 18. 6N-Cody Gardner [18]; 19. 4X-Shawn Petersen [22]; 20. 21-Dallas Hewitt [DNF]; 21. 5-Jordon Harble [DNF]; 22. 25AU-Jack Lee [DNF];
A FEATURE – 1. 10H-Danny Holtgraver [2]; 2. 14K-Dale Blaney [8]; 3. 11N-Randy Hannagan [3]; 4. 45-Tim Shaffer [1]; 5. 2-Shane Stewart [24]; 6. 71-Kevin Swindell [10]; 7. W20-Greg Wilson [23]; 8. 63-Chad Kemenah [12]; 9. 48-Danny Dietrich [7]; 10. 3G-James Mcfadden [13]; 11. 83X-Jason Meyers [5]; 12. 81-Lee Jacobs [4]; 13. 9W-Jac Haudenschild [9]; 14. 1ST-Gary Taylor [18]; 15. 00-Jim Nier [14]; 16. 5T-Travis Philo [17]; 17. 40-Caleb Helms [DNF]; 18. 70-Derek Hagar [DNF]; 19. 9X-Rob Chaney [DNF]; 20. 83-Stevie Smith [DNF]; 21. 4-Danny Smith [DNF]; 22. 24H-Brandon Wimmer [DNF]; 23. 97-Dean Jacobs [DNF]; 24. 98-Dave Blaney [DNF];
UMP DIRTcar MODIFIED
HEAT 1 – 1. 54-Matt Westfall [4]; 2. 20-Josh Morton [1]; 3. 23J-Jeff Koz [3]; 4. 55S-Zach Schroeder [8]; 5. 36-Brandon Vaughan [6]; 6. 05-David Smith [7]; 7. 4S-Rob Starkey [5]; 8. 5JB-Jerry Bowersock [2];
HEAT 2 – 1. 7-Evan Taylor [3]; 2. 26L-Casey Luedeke [2]; 3. 52-John Phlipot, Jr [4]; 4. 10-Scott Bowersock [6]; 5. 11MH-Mike Hohlbein [1]; 6. 21T-Tom Treon [5]; 7. 4J-David Treon, Jr [7];
HEAT 3 – 1. 18-Ryan Sutter [2]; 2. 5-Jonathan Taylor [4]; 3. 5X-Tim Richardson [5]; 4. 79-Shane Unger [6]; 5. 1SW-Scott Williams [7]; 6. 0A-Derrick Austin [3]; 7. 51-Cody Timmerman [1];
A FEATURE – 1. 54-Matt Westfall [9]; 2. 5-Jonathan Taylor [4]; 3. 7-Evan Taylor [8]; 4. 23J-Jeff Koz [3]; 5. 55S-Zach Schroeder [10]; 6. 5JB-Jerry Bowersock [22]; 7. 4S-Rob Starkey [19]; 8. 10-Scott Bowersock [11]; 9. 18-Ryan Sutter [7]; 10. 5X-Tim Richardson [1]; 11. 26L-Casey Luedeke [5]; 12. 1SW-Scott Williams [15]; 13. 11MH-Mike Hohlbein [14]; 14. 21T-Tom Treon [17]; 15. 36-Brandon Vaughan [13]; 16. 0A-Derrick Austin [18]; 17. 4J-David Treon, Jr [20]; 18. 79-Shane Unger [12]; 19. 20-Josh Morton [DNF]; 20. 52-John Phlipot, Jr [DNF]; 21. 05-David Smith [DNF]; 22. 51-Cody Timmerman [DNS];
STOCK CAR
HEAT 1 – 1. 410-Paul Pardo [1]; 2. 71C-Barney Craig [2]; 3. 16-Jeff Koz [8]; 4. 5G-Anthony Goode [3]; 5. 9-Dave Keysor [7]; 6. 01-Earnie Woodard [4]; 7. 61-Rob Trent [6]; 8. 82-Chris Douglas [DNF]; 9. 7D-Dan Wooten [DNF];
HEAT 2 – 1. 00-Dean Pitts [3]; 2. 27-Frank Paladino [4]; 3. 23-Casey Barr [1]; 4. 49-Eric Sandlin [6]; 5. 36-Adam Schaeff [8]; 6. 1B-Kenny Brady Jr. [DNF]; 7. 1W-Mark Wooten [DNF]; 8. 58-Alex Peace [DNF]; 9. 17-Corey Wooten [DNF];
HEAT 3 – 1. 25-Nick Bowers [8]; 2. 7-Jordan Conover [1]; 3. 19-Wayne Williams [6]; 4. 55A-Brandon Archey [2]; 5. 53-Jan Launder [7]; 6. 55-Bradley Caudill [4]; 7. 99-Andy King [5]; 8. J7-John Jones [DNF];
A FEATURE – 1. 410-Paul Pardo [1]; 2. 25-Nick Bowers [3]; 3. 00-Dean Pitts [2]; 4. 71C-Barney Craig [4]; 5. 16-Jeff Koz [7]; 6. 9-Dave Keysor [13]; 7. 27-Frank Paladino [5]; 8. 5G-Anthony Goode [10]; 9. 19-Wayne Williams [9]; 10. 61-Rob Trent [19]; 11. 55A-Brandon Archey [12]; 12. 01-Earnie Woodard [16]; 13. 23-Casey Barr [8]; 14. 53-Jan Launder [15]; 15. 99-Andy King [21]; 16. 58-Alex Peace [23]; 17. 7-Jordan Conover [6]; 18. 7D-Dan Wooten [DNF]; 19. 1B-Kenny Brady Jr. [17]; 20. 49-Eric Sandlin [11]; 21. 55-Bradley Caudill [DNF]; 22. 17-Corey Wooten [DNF]; 23. 82-Chris Douglas [DNF]; 24. 1W-Mark Wooten [DNF]; 25. 36-Adam Schaeff [DNF]; 26. J7-John Jones [DNF];