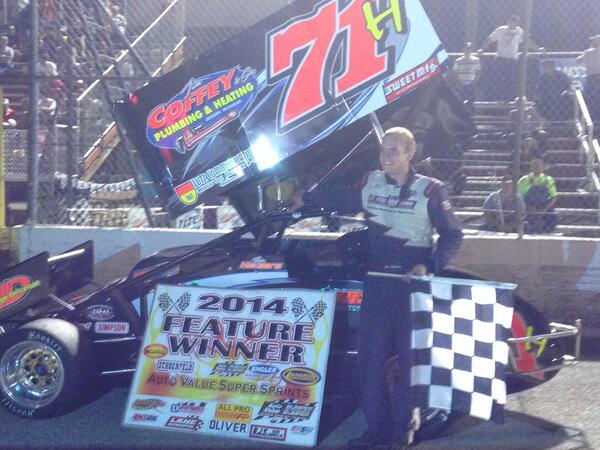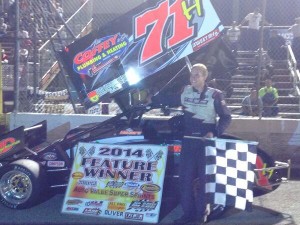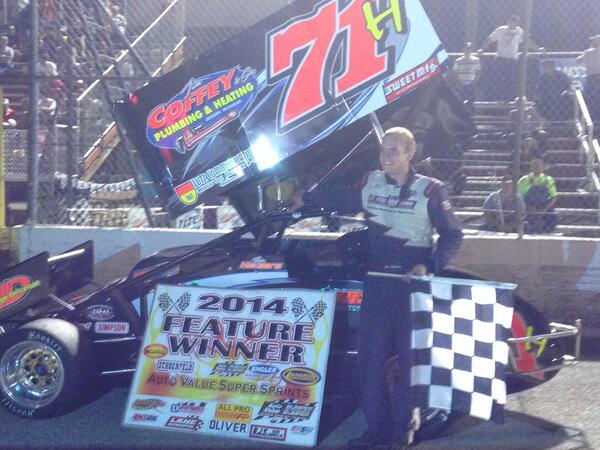 By Kyle Larson
BIRCH RUN, Mich. (June 27, 2014) – Jo Jo Helberg, of Rohnert Park, Calif., earned his second Auto Value Bumper to Bumper Super Sprints (AVBBSS) victory in three starts after taking the checkers at Dixie (MI) Motor Speedway on Friday, June 27.
At the conclusion of the 30-lap event, Helberg was followed across the finish line by a hard-charging Jason Blonde with eighth-place starter Jacob Wilson completing the podium finishes. Fast Qualifier Ryan Litt placed fourth with John Turnbull Jr. in fifth.
"In the heat race I was trying out different lines and figured out the top was working really good for me," said Helberg. "I'm really happy to get another win for Steve Smith Motorsports. We started off some good with win at Kalamazoo and then quick time and finishing fourth at M-40 was a little disheartening. It's great to bounce back with a win tonight."
After a feature inversion of nine, John Turnbull Jr. and Mike Astraukas led the field to the green flag. Turnbull was able to clear Astraukas for the first position exiting turn 2 with third-place starter Helberg then powering inside of Turnbull to take command of the event.
Once out front, Helberg was able to build a sizeable margin. At the lap four mark, Wilson advanced to the second spot with Turnbull, Dustin Daggett and Blonde completing the top five.
Daggett's night ended two laps later with engine troubles and he came to a stop in turn 4.
When racing resumed, Blonde bypassed Turnbull to take the third position behind Helberg and Wilson with Litt moving to the fourth spot. The top four cars separated from the field as Blonde continued to be on the move. He was challenging Wilson for the runner-up spot.
The second yellow flag waved on lap 21 for debris. On the restart, Helberg was able to build another healthy margin as Blonde challenged Wilson for second and then completed the pass.
At the finish, Helberg finished ahead of Blonde, Wilson with Litt the final car on the lead lap. John Turnbull Jr, who made his season debut, completed the top five-finishers.
Heat race victories went to Blonde and Tim Cox while Litt was the Hamilton Trucking Fast Qualifier with a lap of 12.826 seconds at 112.272 mph.
The Auto Value Bumper to Bumper Super Sprints returns to action as part of the King of the Wing Series next week. The opening three rounds are scheduled for Toledo (OH) Speedway on Wednesday, July 2, Winchester (IN) Speedway on Friday, July 4 and Grundy County (IL) Speedway on Saturday, July 5.
For more series information on the Auto Value Bumper to Bumper Super Sprints, visit www.SuperSprints.com.
– www.SuperSprints.com –
Feature:
1. Jo Jo Helberg
2. Jason Blonde
3. Jacob Wilson
4. Ryan Litt
5. John Turnbull Jr.
7. Kevin Feeney
8. Teddy Alberts
9. Tom Geren
10. Scott O'Connor
11. Dustin Daggett
12. Phil Rutledge
13. Tim Cox
14. Davey Hamilton Jr.