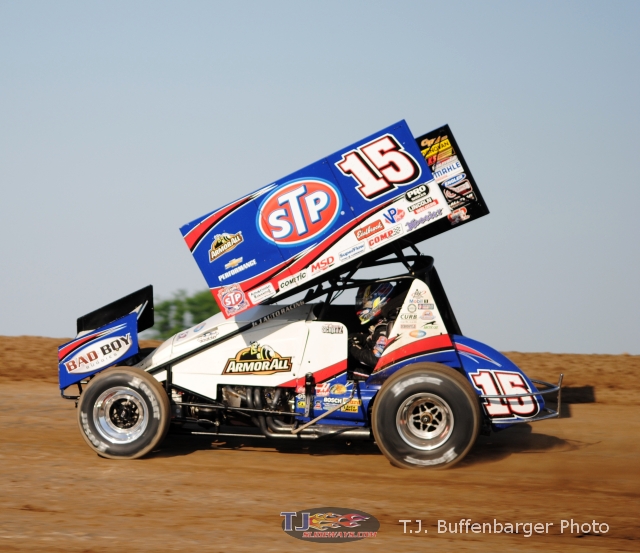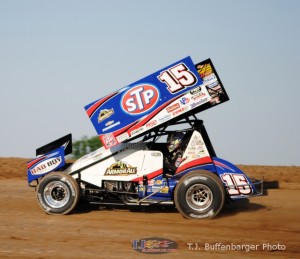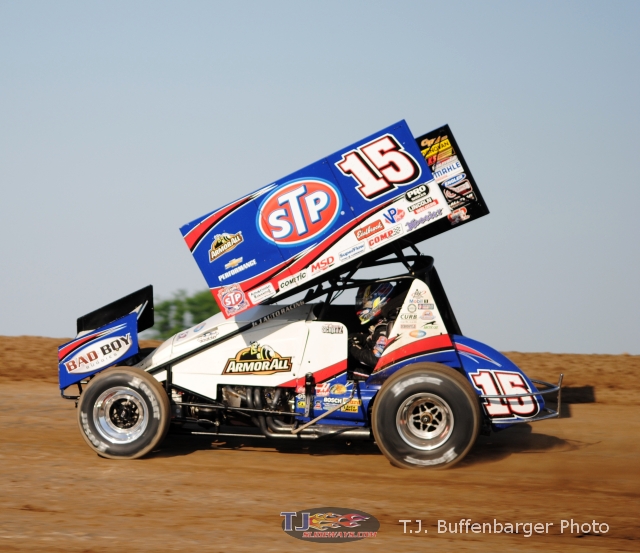 From the World of Outlaws
Sarver, PA — (July 15, 2014) — Donny Schatz went back-to-back at Lernerville Speedway's Don Martin Memorial Silver Cup Tuesday night, winning his second Silver Cup in as many World of Outlaws STP Sprint Car Series seasons and scoring his fifth overall.
Schatz, the third winningest driver in Outlaws history, tied with two-time champion Mark Kinser for the most Silver Cup wins all-time.
"I've had a lot of good runs here," Schatz said. "I've won this race several times – it's always good to get the win. I've always had a lot of fun here."
In addition to winning the $10,000 to win first feature, the five-time champion won a $5,000 bonus for taking home the Don Martin Memorial Silver Cup XXIII. This was Schatz's ninth win of the season.
As the green flag flew on the first of the twin 30-lap features, Paul McMahan led early as Ed Lynch Jr. challenged for the lead. By lap five, both Daryn Pittman and Schatz, who started fifth, got around Lynch and set their sights on McMahan. Schatz took over the second place spot in his STP/Armor All car a lap later and began to reel in McMahan. Schatz briefly took over the lead on lap 12 before taking it over for good on lap 16.
As McMahan faded through the waning laps of the first feature, Kerry Madsen charged forward, trying to catch Schatz. He had one last shot following an open red with three to go, but he wasn't able to close the gap.
Schatz said that his success at Lernerville Speedway comes in part from the fact that track fits his driving style.
"The surface has always been great here," Schatz said. "It's tough to get hold of. You have to have some finesse but yet be aggressive. That fits me."
Madsen's second place finish was his eighth straight podium finish. He won the Kings Royal last weekend at Eldora Speedway.
Cody Darrah won the second feature of the night, his first win at Lernerville and his second Outlaws win of the season. Darrah finished the first feature in 17th and through the inversion, started from the pole for the second.
As the green flag flew, the Pennsylvania Posse's Danny Dietrich jumped out to an early lead. For the first ten laps, Darrah looked for a way around Dietrich in Ollie's Bargain Outlet car and finally found it. Darrah took the lead on lap 11 and never looked back. As the two battled through lapped cars, Dietrich looked for opportunities and closed the gap several times, but was not able to make a move.
"[Getting the win] feels awesome," Darrah said. "The way this race plays out doing the full invert, that's the biggest thing that gets you into that second race to get you up front. I'd like to say I was sandbagging the first one but honestly I was racing as hard as I could for that last spot. We worked on our cars, we went off our teammates to capitalize on that front row spot."
Schatz finished seventh in the second feature, taking home the KSE Hard Charger Award after advancing ten positions through the field.
As the Outlaws continue their swing through Pennsylvania, the stiff competition presented by the Posse showed up Tuesday night at Lernerville. In addition to Dietrich, Tim Shaffer, a native of Aliquippa, Pa. finished third in the second feature.
"It's just a real good feeling to come out here and run second. I thought we had a fast car, fast enough to win. It just wasn't our night," Dietrich said. The driver of the Sandoes Fruit Market/Hickory Run Orchards car said he and his team will go fix some of the problems they had tonight and hope to take him wins at Lincoln Speedway and Williams Grove Speedway in the coming days.
Schatz added slightly to his lead in the race for the World of Outlaws STP Sprint Car Series Championship. He now has an 80 point lead on second place Daryn Pittman and a 99 point lead on third place Paul McMahan.
The World of Outlaws STP Sprint Car Series continues its swing through Pennsylvania this week, stopping next at Lincoln Speedway on Thursday before two nights, Friday and Saturday, at Williams Grove Speedway for the Summer Nationals. After that, the Outlaws head to Lebanon Valley Speedway and Fulton Speedway in New York.
LERNERVILLE SPEEDWAY NOTES: Tonight's win was Donny Schatz's ninth win of the season and his fifth Silver Cup… David Gravel, Paul McMahan, Kerry Madsen and Jason Sides all won their heat races at Lernerville Speedway… Brad Sweet took the quick time of the night… Donny Schatz received his tenth KSE Hard Charger Award of the season Tuesday night, the most of any driver… Kerry Madsen scored his eighth podium finish in a row with his second place finish in the first feature.
SEASON WINNERS: Daryn Pittman – 9 (Thunderbowl Raceway on March 14, Calistoga Speedway on April 6, Devil's Bowl Speedway on April 19, Williams Grove Speedway on May 16 and May 17, Orange County Fair Speedway, May 18, New Egypt Speedway, May 20 and Dodge City Raceway Park on July 4 and 5); Donny Schatz – 9 (Volusia Speedway Park on Feb. 15, The Dirt Track at Las Vegas on March 6, Devil's Bowl Speedway on April 19, Lawrenceburg Speedway on May 27, I-96 Speedway on May 31, River Cities Speedway on June 20, 34 Raceway on June 27, Cedar Lake Speedway on June 29 and Lernerville Speedway in July 15); Joey Saldana – 5 (Perris Auto Speedway on April 12, Salina Highbanks on April 25, The Dirt Track at Charlotte on May 23, I-80 Speedway on June 6 and Jackson Speedway on June 13); Brad Sweet – 5 (Volusia Speedway Park on Feb. 14, Tucson International Raceway on March 8, Calistoga Speedway on April 5, Knoxville Raceway on June 14 and Beaver Dam Raceway on June 28); Kerry Madsen – 4 (Stockton Dirt track on March 22, El Paso Speedway Park on April 15, Lakeside Speedway on June 7 and Eldora Speedway on July 12);David Gravel – 3(Merced Speedway on March 28, Eldora Speedway on May 3, and Wilmot Raceway on May 9); Paul McMahan – 3(The Dirt Track at Las Vegas on March 5, Tri-State Speedway on May 10 and Limaland Motorsports Park on July 9); Cody Darrah – 2(Kings Speedway on April 11 and Lernerville Speedway on July 15); Rico Abreu – 1(Thunderbowl Raceway on March 15); Sammy Swindell – 2(Federated Auto Parts Raceway at I-55 on April 26 and Eldora Speedway on July 11); Dale Blaney – 1 (Attica Raceway Park on May 30); Christopher Bell – 1(Jacksonville Speedway on May 7); Roger Crockett – 1(I-94 Speedway on June 21); Mark Dobmeier – 1 (Huset's Speedway on July 2); Steve Kinser – 1 (Volusia Speedway Park on Feb. 16); Stevie Smith – 1 (Lincoln Speedway on May 14); Shane Stewart – 1(Eldora Speedway on May 2) .
World of Outlaws STP Sprint Car Series Statistical Report; Lernerville Speedway; Sarver, Pa.; July 15, 2014
A-Main – One – (30 Laps) – 1. 15-Donny Schatz [5] [$10,000]; 2. 29-Kerry Madsen [4] [$5,500]; 3. 14K-Dale Blaney [17] [$3,200]; 4. 51-Paul McMahan [1] [$2,800]; 5. 9-Daryn Pittman [3] [$2,500]; 6. 49-Brad Sweet [6] [$2,300]; 7. 7S-Jason Sides [7] [$2,200]; 8. 11-Steve Kinser [23] [$2,100]; 9. 83-David Gravel [8] [$2,050]; 10. 45-Tim Shaffer [16] [$2,000]; 11. 81-Lee Jacobs [9] [$1,500]; 12. 2-Shane Stewart [13] [$1,200]; 13. 1s-Logan Schuchart [20] [$1,100]; 14. 2L-Ed Lynch Jr [2] [$1,050]; 15. 48-Danny Dietrich [14] [$1,000]; 16. 10X-Carl Bowser [19] [$900]; 17. 4-Cody Darrah [12] [$800]; 18. 35-Jared Zimbardi [18] [$800]; 19. RG3-Logan Wagner [24] [$800]; 20. 63-Chad Kemenah [21] [$800]; 21. 71M-Joey Saldana [22] [$800]; 22. 11K-Kraig Kinser [25] [$]; 23. 10H-Danny Holtgraver [11] [$800]; 24. 23JR-Jack Sodeman [10] [$800]; 25. 49X-Cole Duncan [15] [$800]; 26. 13-Brandon Matus [26] [$]; 27. 33-Gerald (Brent) Matus [27] [$]. Lap Leaders: Paul McMahan 1-11, 13-15; Donny Schatz 12, 16-30. KSE Hard Charger Award: 11-Steve Kinser [+15].
A-Main – Two – (30 Laps) – 1. 4-Cody Darrah [1] [$10,000]; 2. 48-Danny Dietrich [3] [$5,500]; 3. 45-Tim Shaffer [8] [$3,200]; 4. 2-Shane Stewart [6] [$2,800]; 5. 1s-Logan Schuchart [5] [$2,500]; 6. 9-Daryn Pittman [13] [$2,300]; 7. 15-Donny Schatz [17] [$2,200]; 8. 7S-Jason Sides [11] [$2,100]; 9. 14K-Dale Blaney [15] [$2,050]; 10. 51-Paul McMahan [14] [$2,000]; 11. 81-Lee Jacobs [7] [$1,500]; 12. 49-Brad Sweet [12] [$1,200]; 13. 10X-Carl Bowser [2] [$1,100]; 14. 83-David Gravel [9] [$1,050]; 15. 2L-Ed Lynch Jr [4] [$1,000]; 16. 29-Kerry Madsen [16] [$900]; 17. 63-Chad Kemenah [20] [$800]; 18. 71M-Joey Saldana [21] [$800]; 19. 35-Jared Zimbardi [18] [$800]; 20. 11K-Kraig Kinser [22] [$]; 21. RG3-Logan Wagner [19] [$800]; 22. 49X-Cole Duncan [25] [$800]; 23. 13-Brandon Matus [26] [$]; 24. 11-Steve Kinser [10] [$800]; 25. 33-Gerald (Brent) Matus [23] [$800]; 26. 23JR-Jack Sodeman [24] [$800]. Lap Leaders: Danny Dietrich 1-10, Cody Darrah 11-30. KSE Hard Charger Award: 15-Donny Schatz [+10]
Qualifying – 1. 49-Brad Sweet, 13.580; 2. 15-Donny Schatz, 13.597; 3. 29-Kerry Madsen, 13.630; 4. 9-Daryn Pittman, 13.703; 5. 2L-Ed Lynch Jr, 13.713; 6. 81-Lee Jacobs, 13.737; 7. 23JR-Jack Sodeman, 13.813; 8. 10H-Danny Holtgraver, 13.826; 9. 4-Cody Darrah, 13.826; 10. 51-Paul McMahan, 13.848; 11. 2-Shane Stewart, 13.864; 12. 7S-Jason Sides, 13.900; 13. 83-David Gravel, 13.902; 14. 48-Danny Dietrich, 13.956; 15. 49X-Cole Duncan, 13.982; 16. 45-Tim Shaffer, 13.992; 17. 14K-Dale Blaney, 14.002; 18. 35-Jared Zimbardi, 14.048; 19. 10X-Carl Bowser, 14.080; 20. 11K-Kraig Kinser, 14.082; 21. 1s-Logan Schuchart, 14.087; 22. 63-Chad Kemenah, 14.092; 23. 13-Brandon Matus, 14.115; 24. 71M-Joey Saldana, 14.135; 25. 5W-Lucas Wolfe, 14.135; 26. 11-Steve Kinser, 14.159; 27. 24-Rico Abreu, 14.168; 28. 22-Brandon Spithaler, 14.175; 29. 93-Sheldon Haudenschild, 14.221; 30. RG3-Logan Wagner, 14.294; 31. 19M-Brent Marks, 14.324; 32. 1A-Jacob Allen, 14.332; 33. 33-Gerald (Brent) Matus, 14.649; 34. 2AJ-A.J. Flick, 14.881; 35. 4K-William Kiley, 15.896
Heat 1 – (8 Laps – Top 5 finishers transfer to the A-feature) – 1. 83-David Gravel [1]; 2. 4-Cody Darrah [2]; 3. 49-Brad Sweet [4]; 4. 2L-Ed Lynch Jr [3]; 5. 14K-Dale Blaney [5]; 6. 5W-Lucas Wolfe [7]; 7. 93-Sheldon Haudenschild [8]; 8. 1s-Logan Schuchart [6]; 9. 33-Gerald (Brent) Matus [9]
Heat 2 – (8 Laps – Top 5 finishers transfer to the A-feature) – 1. 51-Paul McMahan [2]; 2. 48-Danny Dietrich [1]; 3. 15-Donny Schatz [4]; 4. 81-Lee Jacobs [3]; 5. RG3-Logan Wagner [8]; 6. 63-Chad Kemenah [6]; 7. 11-Steve Kinser [7]; 8. 35-Jared Zimbardi [5]; 9. 2AJ-A.J. Flick [9]
Heat 3 – (8 Laps – Top 5 finishers transfer to the A-feature) – 1. 29-Kerry Madsen [4]; 2. 2-Shane Stewart [2]; 3. 49X-Cole Duncan [1]; 4. 23JR-Jack Sodeman [3]; 5. 10X-Carl Bowser [5]; 6. 24-Rico Abreu [7]; 7. 19M-Brent Marks [8]; 8. 13-Brandon Matus [6]; 9. 4K-William Kiley [9]
Heat 4 – (8 Laps – Top 5 finishers transfer to the A-feature) – 1. 7S-Jason Sides [2]; 2. 9-Daryn Pittman [4]; 3. 45-Tim Shaffer [1]; 4. 10H-Danny Holtgraver [3]; 5. 71M-Joey Saldana [6]; 6. 11K-Kraig Kinser [5]; 7. 22-Brandon Spithaler [7]; 8. 1A-Jacob Allen [8]
Dash – (6 Laps, finishing order determined first 8 starting positions of A-feature) – 1. 51-Paul McMahan [1]; 2. 2L-Ed Lynch Jr [2]; 3. 9-Daryn Pittman [3]; 4. 29-Kerry Madsen [4]; 5. 15-Donny Schatz [5]; 6. 49-Brad Sweet [6]; 7. 7S-Jason Sides [7]; 8. 83-David Gravel [8]
B-Main – (12 Laps – Top 4 finishers transfer to the A-feature) – 1. 1s-Logan Schuchart [3] [-]; 2. 11-Steve Kinser [7] [-]; 3. 35-Jared Zimbardi [1] [-]; 4. 63-Chad Kemenah [4] [-]; 5. 13-Brandon Matus [5] [$200]; 6. 19M-Brent Marks [11] [$180]; 7. 93-Sheldon Haudenschild [10] [$175]; 8. 5W-Lucas Wolfe [6] [$160]; 9. 24-Rico Abreu [8] [$150]; 10. 1A-Jacob Allen [12] [$150]; 11. 33-Gerald (Brent) Matus [13] [$150]; 12. 2AJ-A.J. Flick [14] [$150]; 13. 4K-William Kiley [15] [$150]; 14. 11K-Kraig Kinser [2] [$150]; 15. 22-Brandon Spithaler [9] [$150]
World of Outlaws STP Sprint Car Series Championship Standings