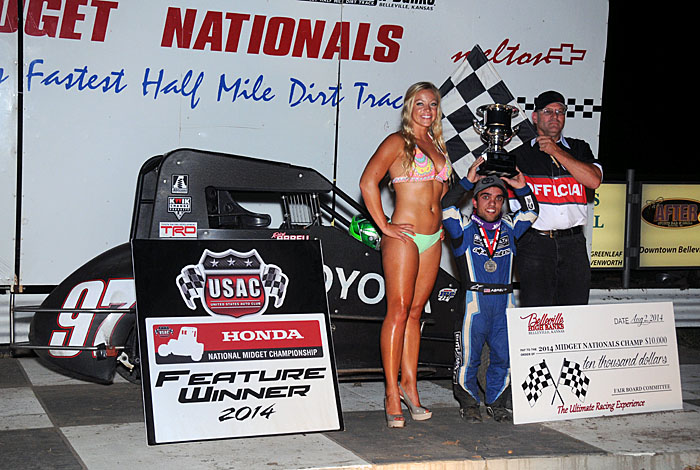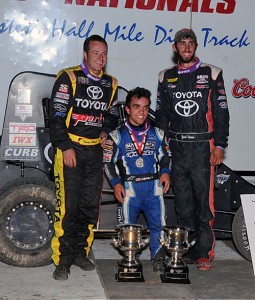 From USAC and Bryan Gapinski
Belleville, KS — (August 1, 2014) — Rico Abreu captured Saturday's 37th annual Belleville Midget Nationals on the Belleville High Banks. The victory increased the USAC Honda National Midget Series points lead for the St. Helena, Calif. Driver.
Zach Daum, Thursday Night's feature winner jumped into the lead at the start followed by Abreu. The caution was displayed on Lap 5 when Chris Windom slowed on the track. Windom changed a tire and eventually finished in the fifth position.
Daum led Abreu, Tracy Hines and defending winner Christopher Bell at the completion of the tenth lap. Abreu closed on the back of Daum, and passed Daum for the lead entering Turn 1 on Lap 13. At the midway point Abreu continued to lead Daum, and Hines increasing his lead each lap. A caution appeared with nine laps remaining, erasing Abreu's advantage over the field.
On the restart Abreu again pulled away driving the Kunz/Curb-Agajanian owned Bullet/Toyota No. 97. Daum trailed Abreu at the finish followed by Hines, Bell and Windom. The victory marked the third in four years for Kunz/Curb-Agajanian, and was the fifth overall for Keith Kunz.
"This is special for me, I've wanted to win here since I first showed up here" commented Abreu who finished second in the two previous events.
Luke Cranston won the URSS sprint car feature.
HONDA USAC NATIONAL DIRT MIDGET RACE RESULTS: August 2, 2014 – Belleville, Kansas – Belleville High Banks – 37th "Belleville Midget Nationals"
FIRST HEAT: (8 laps) 1. Zach Daum (#5D Daum), 2. Christoper Bell (#71 Kunz/Curb-Agajanian), 3. Jerry Coons Jr. (#2 Lein), 4. Michael Pickens (#3F RFMS), 5. Stu Snyder (#2s Rhoten), 6. Jeff Stasa (#91 Stasa), 7. Tanner Thorson (#67 Kunz/Curb-Agajanian). 2:18.03
SECOND HEAT: (8 laps) 1. Rico Abreu (#97 Kunz/Curb-Agajanian), 2. Bryan Clauson (#63 Kunz/Curb-Agajanian), 3. Chris Windom (#3 RFMS), 4. Garrett Hood (#11H Hoods), 5. Don Droud Jr. (#44 Smith), 6. Johnny Murdock (#0 Murdock), 7. Tyler Dunkle (#0A Murdock). 2:19.95
THIRD HEAT: (8 laps) 1. Tracy Hines (#24 Parker), 2. Dave Darland (#17 RW/Curb-Agajanian), 3. Cody Brewer (#96 Central Motorsports), 4. Isaac Chapple (#52 Chapple), 5. Matt Johnson (#85 Johnson), 6. Ty Williams (#19 Stasa), 7. Robert Bell (#0z Murdock). 2:21.11
POLE DASH: (6 laps) 1. Daum, 2. Abreu, 3. Bell, 4. Hines, 5. Darland, 6. Clauson. 1:48.87
B DASH: (6 laps) 1. Windom, 2. Pickens, 3. Brewer, 4. Chapple, 5. Hood. 1:48.25
FEATURE: (40 laps) 1. Rico Abreu, 2. Zach Daum, 3. Tracy Hines, 4. Christoper Bell, 5. Chris Windom, 6. Dave Darland, 7. Bryan Clauson, 8. Jerry Coons Jr., 9. Michael Pickens, 10. Cody Brewer, 11. Stu Snyder, 12. Jeff Stasa, 13. Matt Johnson, 14. Isaac Chapple, 15. Garrett Hood, 16. Johnny Murdock, 17. Robert Bell, 18, Tyler Dunkle, 19. Don Droud Jr., 20. Ty Williams. NT
——————————–
FEATURE LAP LEADERS: Laps 1-13 Daum, Laps 14-40 Abreu.
NEW HONDA NATIONAL DIRT MIDGET POINTS: 1-Abreu-60, 2-Hines-677, 3-Bell-653, 4-Clauson-621, 5-Daum-549, 6-Windom-538, 7-Thorson-500, 8-Pickens-455, 9-Darland-418, 10-Andrew Felker-332,
NEXT HONDA NATIONAL DIRT MIDGET RACE: August 17 – Sun Prairie, WI – Angell Park Speedway