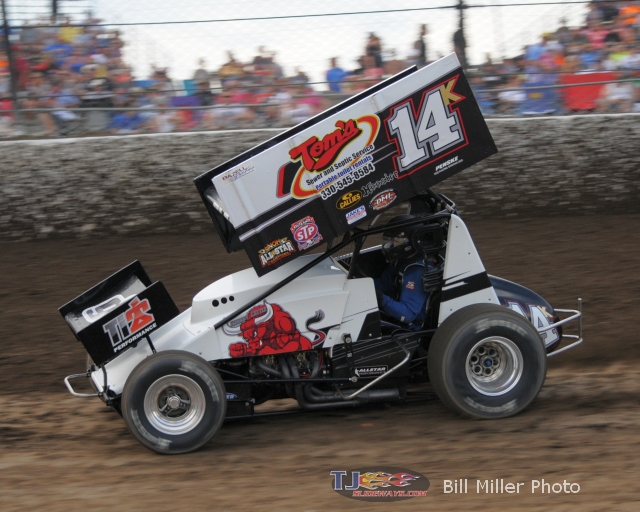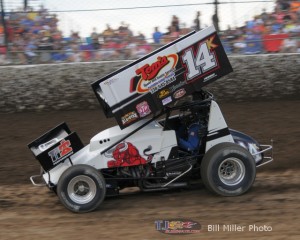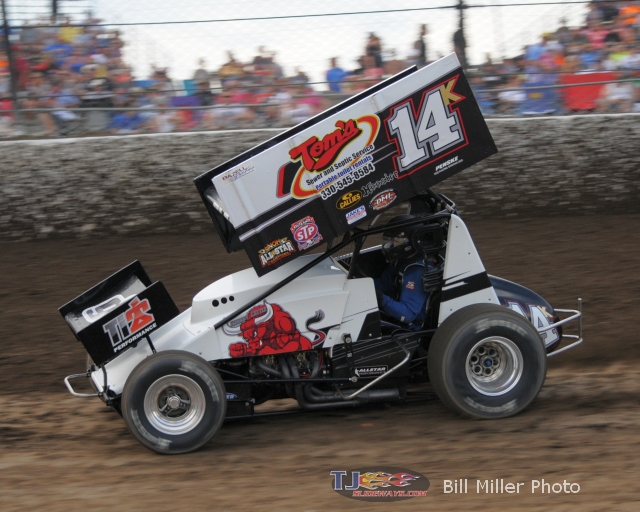 From Brian Liskai
Mercer, PA — (August 23, 2014) – It's hard to believe with all the success Dale Blaney has had across the country that he had never won a sprint car race at Mercer Raceway Park. That all changed Saturday.
Blaney would drive around Jac Haudenschild late in the race to score his 12th University of Northwestern All Star Circuit of Champions win of 2014 and the 111th series win of his career. It's the third All Star win in a row for "The Low Rider." The victory came on the first night of the 25th Annual Western Pennsylvania Sprint Car Championship Presented by Bonnell's Rod Shop.
To get the victory Blaney had to follow Haudenschild and learn which groove he had to take to get around "The Wild Child."
"My brother won his first ever sprint car race over here, and dad won quite a few, so I was hoping that I was going to get one sooner or later," Blaney said beside his Kennedy Cattle/Ti22 Performance/Penske Shocks/GF1 Chassis/Tom's Sewer and Septic Service backed #14K. "Dad won a lot of races her and he ran every Saturday for a long, long time. It took me a long time to learn something, I guess. But, I've never run hear unless it was an All Star show."
"When Jac got by me I thought it was over. But, he showed me the high side was the best way in three and four and I started running a little harder and we got by him," added Blaney.
Blaney blasted out to the lead at the drop of the green, with pole-sitter Rod George nipping at his heels. Before George could mount a counter-attack, a caution was displayed for Dennis Wagner and Francis Sesco, who go together at the top of turn one. On the restart, Haudenschild made a big move, sweeping past George for the second spot. George was then under pressure from Lee Jacobs. Brandon Spithaler and Brandon Matus were in pursuit.
In his normal rim-riding fashion, Haudenschild was able to close on the four-time All Star champion as they closed on lapped traffic. Haudenschild led by a front bumper on lap 10 with George in third and Jacobs close behind.
At the half-way point Blaney had regained the lead by a nose with the caution slowing the action soon thereafter when Scott Priester spun off the top of turn three.
On the restart, Blaney surged ahead of Haudenschild while Jacobs rolled the outside in turns one and two to grab third away from George. Danny Holtgraver was on the move, battling George for fourth. Brandon Matus, Brandon Spithaler and Tim Shaffer were locked in a battle within the top ten.
Once in clean air, Blaney was able to maintain a comfortable lead over Haudenschild all the way to the finish. Jacobs, who scored a runner-up with the All Stars earlier this year at Mercer, would continue his great season with a third place run. Holtgraver, George, Shaffer, Brandon Spithaler, Sheldon Haudenschild, Matus and Adam Kekich would round out the top 10.
"I thought I had him tonight. I'm tired of running second to Dale," said a smiling Haudenschild beside his Rick Rogers owned machine.
"We've been picking it up though and we're so close. We just have to search for more speed," added Haudenschild of his Mondak Portables/Rick Rogers Construction/Triple X Racing/Renegade Rentals/Champion Oil backed #9w.
Jacobs' third place finish has him excited about Sunday's event at Mercer.
"This track has been very good to me. I had an okay car tonight but I could move around and make the car better and we were able to grab third," said Jacobs beside his Simcox Grinding and Steel/Amanda J. Lewis Attorney at Law/Crown Investment Services/New Leaf Tree Service/HP Engines/OC Shocks backed #81.
The UNOH All Stars will compete for $5,000 to win on night #2 of the 25th Annual Western Pennsylvania Sprint Car Championship Presented by Bonnell's Rod Shop at Mercer Raceway Park.
Mercer Raceway Park – 8/23/2014
UNOH Night
All Star Circuit of Champions (21 Cars)
[#]-Starting Position
Qualifying – Kistler Engines
1. 14K-Dale Blaney, 13.771; 2. 9W-Jac Haudenschild, 13.859; 3. 45-Tim Shaffer, 13.956; 4. 5K-Adam Kekich, 13.958; 5. 10H-Danny Holtgraver, 13.958; 6. 81-Lee Jacobs, 13.971; 7. 10-Carl Bowser, 14.047; 8. 22-Brandon Spithaler, 14.107; 9. 23-Jimmy Light, 14.135; 10. 15-Scott Priester, 14.144; 11. 8-Rod George, 14.174; 12. 13-Brandon Matus, 14.183; 13. 38-Dennis Wagner, 14.261; 14. 93-Sheldon Haudenschild, 14.321; 15. 56-Ralph Spithaler, 14.321; 16. O-Andy McKisson, 14.477; 17. 46-Michael Bauer, 14.500; 18. O8-Dan Kuriger, 14.573; 19. 33-Brent Matus, 14.882; 20. 2S-Francis Sesco, 15.295; 21. 7-Eric Williams, 99.999
Heat 1 – Kears Speed Shop (8 Laps – Top 7 finishers transfer to the A-feature)
1. 15-Scott Priester[1] ; 2. 14K-Dale Blaney[4] ; 3. 10-Carl Bowser[2] ; 4. O-Andy McKisson[6] ; 5. 5K-Adam Kekich[3] ; 6. 38-Dennis Wagner[5] ; 7. 33-Brent Matus[7]
Heat 2 – All Pro Aluminum Heads (8 Laps – Top 7 finishers transfer to the A-feature)
1. 22-Brandon Spithaler[2] ; 2. 8-Rod George[1] ; 3. 10H-Danny Holtgraver[3] ; 4. 9W-Jac Haudenschild[4] ; 5. 93-Sheldon Haudenschild[5] ; 6. 46-Michael Bauer[6] ; 7. 2S-Francis Sesco[7]
Heat 3 – Dragon Racing Fuels (8 Laps – Top 7 finishers transfer to the A-feature)
1. 13-Brandon Matus[1] ; 2. 81-Lee Jacobs[3] ; 3. 23-Jimmy Light[2] ; 4. 45-Tim Shaffer[4] ; 5. 56-Ralph Spithaler[5] ; 6. O8-Dan Kuriger[6] ; 7. 7-Eric Williams[7]
Dash – Howard Johnson Hotel – Lima, OH (6 Laps, finishing order determined first 6 starting positions of A-feature
1. 8-Rod George[2] ; 2. 14K-Dale Blaney[3] ; 3. 15-Scott Priester[1] ; 4. 81-Lee Jacobs[5] ; 5. 13-Brandon Matus[4] ; 6. 22-Brandon Spithaler[6]
A-Main – University of Northwestern Ohio (30 Laps)
1. 14K-Dale Blaney[2]; 2. 9W-Jac Haudenschild[7]; 3. 81-Lee Jacobs[4]; 4. 10H-Danny Holtgraver[10]; 5. 8-Rod George[1]; 6. 45-Tim Shaffer[8]; 7. 22-Brandon Spithaler[6]; 8. 93-Sheldon Haudenschild[14]; 9. 13-Brandon Matus[5]; 10. 5K-Adam Kekich[9]; 11. O-Andy McKisson[16]; 12. 10-Carl Bowser[11]; 13. 56-Ralph Spithaler[15]; 14. 15-Scott Priester[3]; 15. 46-Michael Bauer[17]; 16. 33-Brent Matus[18]; 17. 23-Jimmy Light[12]; 18. 38-Dennis Wagner[13]; 19. 2S-Francis Sesco[19]
Hard Charger: 10H-Danny Holtgraver[+6]