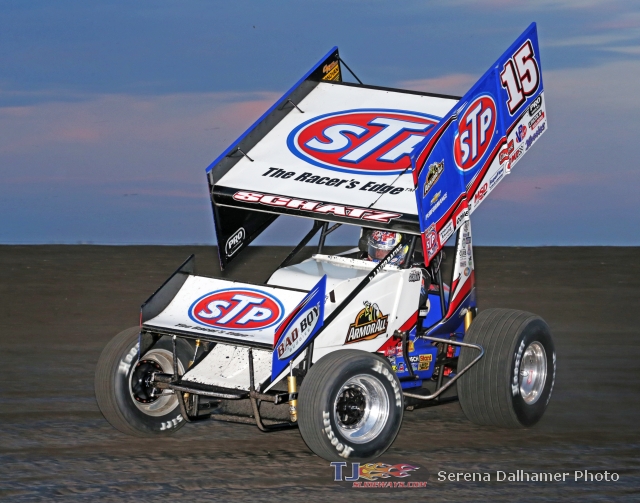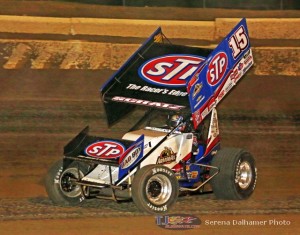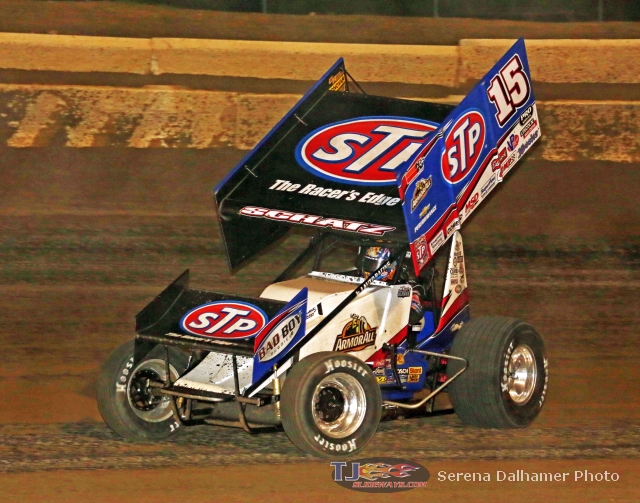 From Aaron Fielder
Alger, WA — (August 30, 2014) — On the way to winning his fifth World of Outlaws STP Sprint Car Series feature in a row, Donny Schatz has had easier nights than Saturday's Monster Energy Meltdown at Skagit Speedway. After first fighting his way past Joey Saldana, he had to battle through lapped traffic and then hold off a hard charging Brad Sweet.
In the end though the result was the same as it had been 18 other times this season – Donny Schatz stood in victory lane as the winner.
"I'm just very fortunate to be around great people from my race team to my family, car owner, everyone that's surrounding us, our marketing partners with STP and Armor All," Schatz said. It just fits all together. It's pretty amazing what these guys all do. They give me an awesome racecar every night and I get to do a lot of fun things and I got to do another fun one tonight."
Schatz started the feature on the pole but it was Saldana who led the first lap and the 11 that followed. Through early cautions and battles farther back, including one between Schatz and Paul McMahan for second, Schatz kept his sights on the lead.
On lap 11, as the Outlaws were just four laps back from a caution, Schatz made his move on Saldana. After a battle down the front stretch, he cleared Saldana coming out of turn two.
"The racetrack changed a lot during that feature I was kind of surprised," Schatz said. "I thought it would be around the top but it got pretty good on the bottom too. So that's when having a great STP race team comes in and those guys just had a flawless racecar."
As the race progressed and Sweet, who moved into the second position after getting around Saldana in lapped traffic, bore down on him, Schatz fought his way through lapped traffic.
"You've always got to assume that there's someone coming behind you and be racing ahead of you," Schatz said. "You've got to be smart and know who it is and kind of read the racetrack."
With one more win, Schatz, who now has 19 on the season, becomes the first driver since Steve Kinser in 2002 and 2003 to have back-to-back seasons with 20 wins or more. He extended his championship points lead over second place Daryn Pittman to 214.
Sweet, the Outlaws' leading rookie, started the feature in fourth and was able to take advantage of the cautions to move into the top-three. In the middle of the feature as he worked his way through lapped traffic, he was able to close the gap on Saldana and get around him for second.
As the feature moved into its closing laps, Sweet tried different lines to catch Schatz as the two continued to maneuver through lapped traffic. Sweet was not able to make it happen.
"Donny just made all the right moves," Sweet said. "He's tough to beat right now. He's got a lot of confidence and that's why he wins so many races. We had a car capable of competing with him tonight which is really nice. And we had chances there but he never left the door open and made all the right moves through traffic and we came up a little short."
Sweet, who is leading the Kevin Gobrecht Rookie of the Year presented by ButlerBuilt standings, said the season has been up and down for his SureTest Supplies team.
"It's a long grueling tour out here on the World of Outlaws and this is my first full year under my belt and I think I underestimated a little bit of the traveling and some of the places we go… I just wish we could be a little more consistent. If we can end the year on a high note I think that would be good."
Saldana led the first 12 laps of the feature in his Motter Equipment car. As the A main wore on, Saldana said he didn't adjust quickly enough to changing conditions.
"You're never really happy with third but we've been struggling of late so I'll take it," Saldana said. "When I got to lapped traffic I needed to get my wing back faster. Once I did get my wing back I was a lot better – I just did it too late."
Saldana credited Schatz for his adeptness in maneuvering through lapped traffic. He said that skill is really the key to winning on short tracks like Skagit.
The World of Outlaws STP Sprint Car Series heads south to Grays Harbor Raceway in Elma, Wash. on Mon., Sept. 1. The Outlaws then race at Willamette Speedway in Lebanon, Ore. on Sept. 2 and Southern Oregon Speedway in Medford, Ore. on Sept. 3 before heading to California for a three race swing.
SKAGIT SPEEDWAY NOTES: Donny Schatz scored his 19th win of the season and fifth in a row… With just one more win, Donny Schatz will become the first driver since Steve Kinser in 2002 and 2003 to have back-to-back seasons with more than 20 wins… Schatz has not finished outside the top-three since July 18… Joey Saldana scored his 22nd quick time of the season… Jason Solwold was the KSE Hard Charger recipient of the night after winning the Last Chance Showdown and advancing ten positions in the A main to finish in 10th.
SEASON WINNERS: Donny Schatz – 19 (Volusia Speedway Park on Feb. 15, The Dirt Track at Las Vegas on March 6, Devil's Bowl Speedway on April 19, Lawrenceburg Speedway on May 27, I-96 Speedway on May 31, River Cities Speedway on June 20, 34 Raceway on June 27, Cedar Lake Speedway on June 29, Lernerville Speedway on July 15, Autodrome Drummond on July 26, Cornwall Motor Speedway on July 27, Ohsweken Speedway on July 29, Knoxville Raceway on Aug. 9, Junction Motor Speedway on Aug. 12, Nodak Speedway on Aug. 17, Castrol Raceway on Aug. 22 and Aug. 23 and Skagit Speedway on Aug. 29 and Aug. 30); Daryn Pittman – 12(Thunderbowl Raceway on March 14, Calistoga Speedway on April 6, Devil's Bowl Speedway on April 19, Williams Grove Speedway on May 16 and May 17, Orange County Fair Speedway, May 18, New Egypt Speedway, May 20, Dodge City Raceway Park on July 4 and 5, Lincoln Speedway on July 17, Fulton Speedway on July 23 and River Cities Speedway on Aug. 15); Kerry Madsen – 5(Stockton Dirt track on March 22, El Paso Speedway Park on April 15, Lakeside Speedway on June 7, Eldora Speedway on July 12 and Federated Auto Parts Raceway at I-55 on Aug. 3); Joey Saldana – 5(Perris Auto Speedway on April 12, Salina Highbanks on April 25, The Dirt Track at Charlotte on May 23, I-80 Speedway on June 6 and Jackson Speedway on June 13); Brad Sweet – 5 (Volusia Speedway Park on Feb. 14, Tucson International Raceway on March 8, Calistoga Speedway on April 5, Knoxville Raceway on June 14 and Beaver Dam Raceway on June 28); David Gravel – 4(Merced Speedway on March 28, Eldora Speedway on May 3, Wilmot Raceway on May 9 and Lebanon Valley Speedway on July 20); Paul McMahan – 4(The Dirt Track at Las Vegas on March 5, Tri-State Speedway on May 10, Limaland Motorsports Park on July 9 and Federated Auto Parts Raceway at I-55 on Aug. 1); Cody Darrah – 2(Kings Speedway on April 11 and Lernerville Speedway on July 15); Sammy Swindell – 2(Federated Auto Parts Raceway at I-55 on April 26 and Eldora Speedway on July 11); Rico Abreu – 1(Thunderbowl Raceway on March 15); Christopher Bell – 1 (Jacksonville Speedway on May 7); Dale Blaney – 1 (Attica Raceway Park on May 30); Lance Dewease – 1 (July 20 at Williams Grove Speedway); Greg Hodnett – 1 (July 18 at Williams Grove Speedway);Roger Crockett – 1(I-94 Speedway on June 21); Mark Dobmeier – 1 (Huset's Speedway on July 2);Steve Kinser – 1 (Volusia Speedway Park on Feb. 16); Stevie Smith – 1 (Lincoln Speedway on May 14); Shane Stewart – 1(Eldora Speedway on May 2).
World of Outlaws STP Sprint Car Series Statistical Report; Skagit Speedway; Alger, Wash.; Aug. 30, 2014
A-Main – (35 Laps) – 1. 15-Donny Schatz [1] [$12,000]; 2. 49-Brad Sweet [4] [$5,700]; 3. 71M-Joey Saldana [2] [$3,500]; 4. 2-Shane Stewart [9] [$3,000]; 5. 51-Paul McMahan [3] [$2,600]; 6. 9-Daryn Pittman [6] [$2,400]; 7. 29-Kerry Madsen [5] [$2,300]; 8. 7S-Jason Sides [11] [$2,200]; 9. 83-David Gravel [7] [$2,150]; 10. 18-Jason Solwold [20] [$2,100]; 11. 11K-Kraig Kinser [8] [$1,600]; 12. 4-Cody Darrah [14] [$1,350]; 13. 55-Trey Starks [19] [$1,300]; 14. 1s-Logan Schuchart [10] [$1,200]; 15. 3C-Jonathan Allard [15] [$1,100]; 16. 26-Tayler Malsam [12] [$1,000]; 17. 7SX-Brock Lemley [16] [$900]; 18. 66-Barry Martinez [22] [$850]; 19. 11-Steve Kinser [13] [$800]; 20. 39C-Travis Rilat [18] [$800]; 21. 88-Jesse Whitney [23] [$800]; 22. 99-Skylar Gee [24] [$800]; 23. 7-Kevin Smith [21] [$800]; 24. 2J-Jonathan Jorgenson [17] [$800]. Lap Leaders: Joey Saldana 1-12, Donny Schatz 13-35. KSE Hard Charger Award: 18-Jason Solwold [+10]
Qualifying – 1. 71M-Joey Saldana, 11.227; 2. 15-Donny Schatz, 11.255; 3. 49-Brad Sweet, 11.275; 4. 51-Paul McMahan, 11.282; 5. 9-Daryn Pittman, 11.289; 6. 2-Shane Stewart, 11.314; 7. 29-Kerry Madsen, 11.315; 8. 1s-Logan Schuchart, 11.400; 9. 11K-Kraig Kinser, 11.409; 10. 7S-Jason Sides, 11.435; 11. 83-David Gravel, 11.478; 12. 26-Tayler Malsam, 11.495; 13. 11-Steve Kinser, 11.529; 14. 4-Cody Darrah, 11.539; 15. 3C-Jonathan Allard, 11.554; 16. 7SX-Brock Lemley, 11.559; 17. 2J-Jonathan Jorgenson, 11.597; 18. 39C-Travis Rilat, 11.605; 19. 55-Trey Starks, 11.631; 20. 18-Jason Solwold, 11.652; 21. 88-Jesse Whitney, 11.783; 22. 7-Kevin Smith, 11.790; 23. 66-Barry Martinez, 11.801; 24. 99-Skylar Gee, 11.821; 25. 1A-Jacob Allen, 11.880; 26. 98-Matt Jensen, nt
Heat 1 – (10 Laps – Top 6 finishers transfer to the A-feature) – 1. 29-Kerry Madsen [2]; 2. 7S-Jason Sides [1]; 3. 71M-Joey Saldana [4]; 4. 51-Paul McMahan [3]; 5. 11-Steve Kinser [5]; 6. 7SX-Brock Lemley [6]; 7. 55-Trey Starks [7]; 8. 7-Kevin Smith [8]; 9. 1A-Jacob Allen [9]
Heat 2 – (10 Laps – Top 6 finishers transfer to the A-feature) – 1. 83-David Gravel [1]; 2. 15-Donny Schatz [4]; 3. 1s-Logan Schuchart [2]; 4. 9-Daryn Pittman [3]; 5. 2J-Jonathan Jorgenson [6]; 6. 4-Cody Darrah [5]; 7. 18-Jason Solwold [7]; 8. 66-Barry Martinez [8]; 9. 98-Matt Jensen [9]
Heat 3 – (10 Laps – Top 6 finishers transfer to the A-feature) – 1. 11K-Kraig Kinser [2]; 2. 26-Tayler Malsam [1]; 3. 49-Brad Sweet [4]; 4. 2-Shane Stewart [3]; 5. 39C-Travis Rilat [6]; 6. 3C-Jonathan Allard [5]; 7. 88-Jesse Whitney [7]; 8. 99-Skylar Gee [8]
Dash – (8 Laps, finishing order determined first 8 starting positions of A-feature) – 1. 15-Donny Schatz [2]; 2. 71M-Joey Saldana [1]; 3. 51-Paul McMahan [4]; 4. 49-Brad Sweet [3]; 5. 29-Kerry Madsen [6]; 6. 9-Daryn Pittman [5]; 7. 83-David Gravel [8]; 8. 11K-Kraig Kinser [7]
Last Chance Showdown – (12 Laps – Top 6 finishers transfer to the A-feature) – 1. 18-Jason Solwold [2] [-]; 2. 55-Trey Starks [1] [-]; 3. 7-Kevin Smith [4] [-]; 4. 66-Barry Martinez [5] [-]; 5. 88-Jesse Whitney [3] [-]; 6. 99-Skylar Gee [6] [-]; 7. 1A-Jacob Allen [7] [$200]; 8. 98-Matt Jensen [8] [$180]

World of Outlaws STP Sprint Car Series Championship Standings
| | | | | | | | | |
| --- | --- | --- | --- | --- | --- | --- | --- | --- |
| Pos. | Car | Driver | Total | Diff | Wins | Top 5's | Top 10's | QT |
| 1 | 15 | Donny Schatz | 9511 | 0 | 19 | 48 | 61 | 6 |
| 2 | 9 | Daryn Pittman | 9297 | -214 | 12 | 36 | 59 | 2 |
| 3 | 51 | Paul McMahan | 9253 | -258 | 4 | 37 | 61 | 9 |
| 4 | 71M | Joey Saldana | 9092 | -419 | 5 | 30 | 48 | 22 |
| 5 | 29 | Kerry Madsen | 9076 | -435 | 5 | 35 | 55 | 6 |
| 6 | 49 | Brad Sweet | 8892 | -619 | 5 | 24 | 47 | 2 |
| 7 | 4 | Cody Darrah | 8539 | -972 | 2 | 15 | 37 | 2 |
| 8 | 11 | Steve Kinser | 8414 | -1097 | 1 | 8 | 33 | 0 |
| 9 | 11k | Kraig Kinser | 8251 | -1260 | 0 | 6 | 26 | 0 |
| 10 | 83 | David Gravel | 7943 | -1568 | 4 | 18 | 40 | 8 |
| 11 | 7s | Jason Sides | 7659 | -1852 | 0 | 2 | 17 | 0 |
| 12 | 1S | Logan Schuchart | 7180 | -2331 | 0 | 5 | 12 | 0 |
| 13 | 1A | Jacob Allen | 6166 | -3345 | 0 | 0 | 1 | 0 |
| 14 | 1 | Sammy Swindell | 5990 | -3521 | 2 | 11 | 19 | 1 |
| 15 | 5W | Lucas Wolfe | 3442 | -6069 | 0 | 2 | 8 | 1 |
| 16 | 59 | Tim Kaeding | 3410 | -6101 | 0 | 3 | 13 | 0 |
| 17 | 2 | Shane Stewart | 3000 | -6511 | 1 | 7 | 14 | 4 |
| 18 | 21 | Brian Brown | 2778 | -6733 | 0 | 3 | 9 | 0 |
| 19 | 77X | Wayne Johnson | 2614 | -6897 | 0 | 0 | 0 | 0 |
| 20 | W20 | Greg Wilson | 2481 | -7030 | 0 | 0 | 2 | 0 |