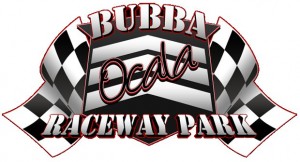 From Bubba Raceway Park
Ocala, FL — (August 30, 2014) — After the completion of all heat races this evening the skies opened and features were unfortunately unable to be run. As a result we will be accepting armbands and general admission tickets for their face value for any race in the month of September. The only exception to this September deadline will be Top Gun Sprint Teams who will be able to redeem their arm bands for the next scheduled show which is October 25th.
We thought we had missed the rain but unfortunately the last possible cell got us and saturated the track making any further racing impossible. We would like to thank all of our fans and race teams for coming out tonight as we had a great night of racing going until Mother Nature spoiled the party!!!!
We will be posting the make up date for the 2nd race of the $1,000 to win Limited Late Model series in partnership with East Bay Raceway Park as soon as we can coordinate schedules to ensure all teams can participate. Thank you to all the participating teams and we hope this is the first of many series races in partnership with East Bay Raceway Park.
Next week we have Open Practice on Friday and the 4th annual PJ Wiggins Memorial for Open Wheel Modifieds on Saturday so don't miss this great show!!!!!
For schedule and all other information please go to www.bubbaracewaypark.com