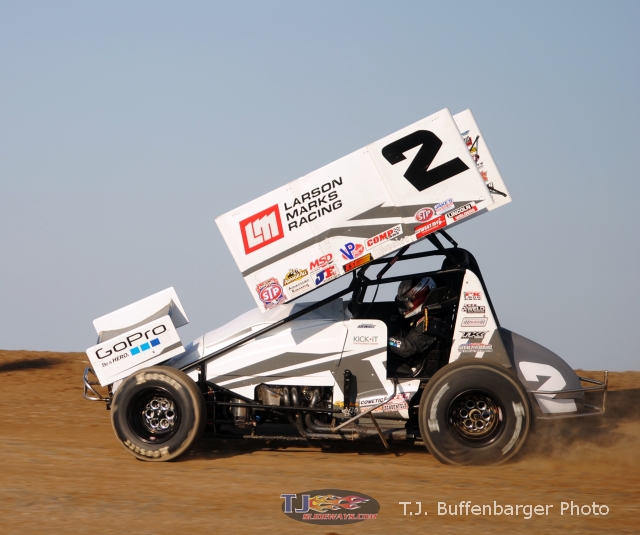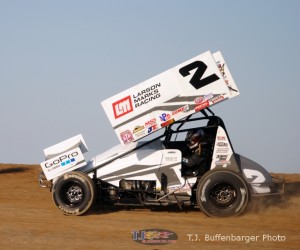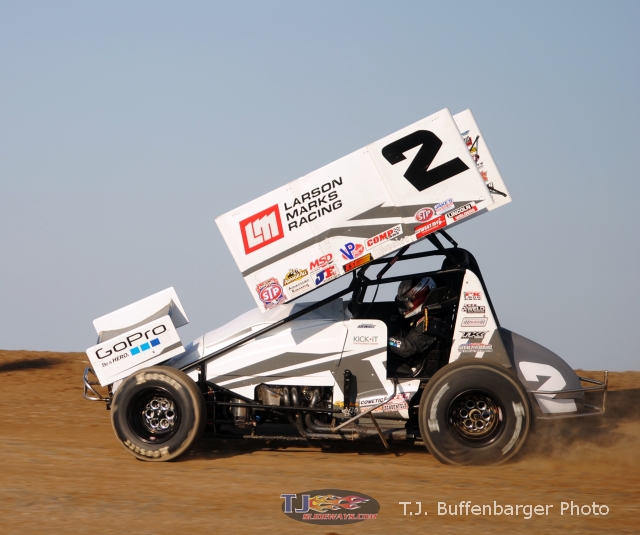 From Aaron Fielder
Lebanon, OR — (September 2, 2014) — It took seven races across three states and two countries, but Donny Schatz's six race win streak was snapped Tuesday night by Shane Stewart at Willamette Speedway. Stewart battled Joey Saldana and held off a late race challenge from Daryn Pittman to score his second World of Outlaws STP Sprint Car Series win of the season.
"I knew Donny was starting fourth and I knew the track was getting pretty slick – you just never can count the guy out," Stewart said. "He just does not make mistakes. I know personally it makes me and it makes my crew guys work even harder to beat him. I can't thank (my crew) enough."
This was Stewart's second points win with the Outlaws this season and third with the series overall. Earlier this season he won the Knight Before the Kings Royal at Eldora Speedway and the first qualifying night at Knoxville Raceway (a non-points event).
Stewart, who started on the outside pole, battled Saldana through the opening laps as Schatz moved into the top three following a red flag just as the green flag flew. Saldana first hit lapped traffic on lap five. As he worked his way through Stewart was able to close the gap in his Go Pro / Kick-It for Children's Cancer car.
"I knew Joey was going to be pretty good against the curb and sometimes leading you just don't know where to go," Stewart said. "We were able to get by him in lapped traffic and that caution actually helped me a lot getting out of lapped traffic. The car got pretty tight when you were getting behind cars against that big curb."
Saldana led the first 14 laps in his Motter Equipment car before Stewart took over the lead.
Farther back, a battle was underway between the reigning Outlaws champion Daryn Pittman and the current points leader, Schatz, for the third position. Like Stewart, Pittman was able to use lapped traffic to his advantage, eventually finding his way around Schatz on lap nine. Pittman then set his sights on the second.
As Saldana slipped back, Pittman caught and passed the 71M on lap 17, again using lapped traffic to his advantage.
A caution flag flew on lap 23 as Stewart led Pittman, Saldana, Schatz and McMahan. The restart that followed gave Saldana the shot he needed to retake his position in the top-three but Pittman was able to slide Saldana through turns three and four and maintain the position by the time the field made the first lap following the restart.
"I didn't want to see that yellow," Pittman said. "I'm not sure that it would have changed the outcome of the race at all but I definitely didn't want to see that yellow. I thought we were coming to (Stewart) and there were some good lapped cars there in front of us that were going to mix things up."
With laps winding down, Schatz too found his way around Saldana, retaking his position in the top-three. Stewart took the checkered flag and the win in the 30-lap A main.
"I've just got to thank Justin Marks and Kyle Larson, (co-owners of Larson Marks Racing) for believing in us," Stewart said. "We've been meshing lately and it feels good to be here."
For Pittman, this was his 38th top-five finish in his Great Clips car this season.
"I've got to take my hat off to my guys – Kale, Kolten and Carber," Pittman said of his Kasey Kahne Racing team. "We had a really solid night. We were really fast and we just made good changes all night long and that's all you can ask. We put ourselves in position to win a race. We had a great car. My crew guys did a great job watching the track and making really good smart decisions to keep up with the track."
Following the race, Schatz said he knew what he needed to do differently pull out the win. He said his Tony Stewart Racing team tried something a little different tonight but it did not work like they had hoped.
"We haven't made very many mistakes lately – tonight was one of those nights. I had a great car throughout the heat and the dash. I made up a lot of ground. In the feature I thought we had a really good chance but there were a couple of cars that were a little better.
While his win streak has come to an end, Schatz's 18 race podium finish streak that began on July 19 at Williams Grove Speedway continues after he finished in third.
"Hats off to this STP / Armor All team – they did a phenomenal job," Schatz said. "They worked as hard tonight as they have over the last 20 nights and we didn't win but we've got tomorrow night."
Paul McMahan set a new track record during qualifying after running a lap of 11.595.
Pittman made up a few points in the battle for the World of Outlaws championship, bringing his deficit to first place Schatz to 215 points. Third place McMahan sits 281 points out of the lead.
The World of Outlaws STP Sprint Car Series returns to action on Wednesday at Southern Oregon Speedway in Medford, Ore. before heading to California for a three race swing.
WILLAMETTE SPEEDWAY NOTES: Shane Stewart scored his second win of the season at Willamette… Donny Schatz's podium streak extended to 18 races… Donny Schatz, Cody Darrah and Joey Saldana all won their heat races Tuesday night… Paul McMahan scored his 10th quick time of the season, the second most of any driver… Paul McMahan set a new track record of 11.595… Kerry Madsen was the KSE Hard Charger Award recipient after advancing eight positions in the A main to finish in 12th.
SEASON WINNERS: Donny Schatz – 20 (Volusia Speedway Park on Feb. 15, The Dirt Track at Las Vegas on March 6, Devil's Bowl Speedway on April 19, Lawrenceburg Speedway on May 27, I-96 Speedway on May 31, River Cities Speedway on June 20, 34 Raceway on June 27, Cedar Lake Speedway on June 29, Lernerville Speedway on July 15, Autodrome Drummond on July 26, Cornwall Motor Speedway on July 27, Ohsweken Speedway on July 29, Knoxville Raceway on Aug. 9, Junction Motor Speedway on Aug. 12, Nodak Speedway on Aug. 17, Castrol Raceway on Aug. 22 and Aug. 23, Skagit Speedway on Aug. 29 and Aug. 30 and Grays Harbor Raceway on Sept. 1); Daryn Pittman – 12(Thunderbowl Raceway on March 14, Calistoga Speedway on April 6, Devil's Bowl Speedway on April 19, Williams Grove Speedway on May 16 and May 17, Orange County Fair Speedway, May 18, New Egypt Speedway, May 20, Dodge City Raceway Park on July 4 and 5, Lincoln Speedway on July 17, Fulton Speedway on July 23 and River Cities Speedway on Aug. 15); Kerry Madsen – 5 (Stockton Dirt track on March 22, El Paso Speedway Park on April 15, Lakeside Speedway on June 7, Eldora Speedway on July 12 and Federated Auto Parts Raceway at I-55 on Aug. 3); Joey Saldana – 5(Perris Auto Speedway on April 12, Salina Highbanks on April 25, The Dirt Track at Charlotte on May 23, I-80 Speedway on June 6 and Jackson Speedway on June 13); Brad Sweet – 5 (Volusia Speedway Park on Feb. 14, Tucson International Raceway on March 8, Calistoga Speedway on April 5, Knoxville Raceway on June 14 and Beaver Dam Raceway on June 28); David Gravel – 4(Merced Speedway on March 28, Eldora Speedway on May 3, Wilmot Raceway on May 9 and Lebanon Valley Speedway on July 20); Paul McMahan – 4(The Dirt Track at Las Vegas on March 5, Tri-State Speedway on May 10, Limaland Motorsports Park on July 9 and Federated Auto Parts Raceway at I-55 on Aug. 1);Cody Darrah – 2(Kings Speedway on April 11 and Lernerville Speedway on July 15); Shane Stewart – 2 (Eldora Speedway on May 2 and Willamette Speedway on Sept. 2); Sammy Swindell – 2(Federated Auto Parts Raceway at I-55 on April 26 and Eldora Speedway on July 11); Rico Abreu – 1(Thunderbowl Raceway on March 15); Christopher Bell – 1(Jacksonville Speedway on May 7); Dale Blaney – 1 (Attica Raceway Park on May 30); Lance Dewease – 1 (July 20 at Williams Grove Speedway); Greg Hodnett – 1 (July 18 at Williams Grove Speedway); Roger Crockett – 1(I-94 Speedway on June 21); Mark Dobmeier – 1 (Huset's Speedway on July 2); Steve Kinser – 1 (Volusia Speedway Park on Feb. 16); Stevie Smith – 1 (Lincoln Speedway on May 14) .
World of Outlaws STP Sprint Car Series Statistical Report; Willamette Speedway; Lebanon, Ore.; Sept. 2, 2014
A-Main – (30 Laps) – 1. 2-Shane Stewart [2] [$6,000]; 2. 9-Daryn Pittman [3] [$3,500]; 3. 15-Donny Schatz [4] [$2,000]; 4. 71M-Joey Saldana [1] [$1,800]; 5. 51-Paul McMahan [8] [$1,500]; 6. 83-David Gravel [5] [$1,400]; 7. 49-Brad Sweet [6] [$1,350]; 8. 7S-Jason Sides [12] [$1,300]; 9. 18-Jason Solwold [15] [$1,250]; 10. 1s-Logan Schuchart [9] [$1,200]; 11. 3C-Jonathan Allard [16] [$900]; 12. 29-Kerry Madsen [20] [$800]; 13. 4-Cody Darrah [7] [$700]; 14. 11-Steve Kinser [13] [$650]; 15. 33V-Henry VanDam [19] [$600]; 16. 44W-Austen Wheatley [18] [$550]; 17. 66-Barry Martinez [21] [$500]; 18. 88N-DJ Netto [11] [$500]; 19. 1A-Jacob Allen [22] [$500]; 20. 7-Kevin Smith [23] [$500]; 21. 22-Mike Romig [24] [$500]; 22. 2J-Jonathan Jorgenson [17] [$500]; 23. 11K-Kraig Kinser [14] [$500]; 24. 55-Trey Starks [10] [$500]. Lap Leaders: Joey Saldana 1-14, Shane Stewart 15-30. KSE Hard Charger Award: 29-Kerry Madsen [+8]
Qualifying – 1. 51-Paul McMahan, 11.595; 2. 83-David Gravel, 11.713; 3. 49-Brad Sweet, 11.783; 4. 9-Daryn Pittman, 11.787; 5. 2-Shane Stewart, 11.805; 6. 1s-Logan Schuchart, 11.813; 7. 55-Trey Starks, 11.831; 8. 71M-Joey Saldana, 11.853; 9. 4-Cody Darrah, 11.906; 10. 88N-DJ Netto, 11.923; 11. 7S-Jason Sides, 11.934; 12. 11-Steve Kinser, 11.942; 13. 15-Donny Schatz, 11.983; 14. 11K-Kraig Kinser, 12.017; 15. 18-Jason Solwold, 12.024; 16. 3C-Jonathan Allard, 12.055; 17. 2J-Jonathan Jorgenson, 12.098; 18. 44W-Austen Wheatley, 12.115; 19. 33V-Henry VanDam, 12.152; 20. 29-Kerry Madsen, 12.206; 21. 66-Barry Martinez, 12.297; 22. 1A-Jacob Allen, 12.301; 23. 7-Kevin Smith, 12.348; 24. 22-Mike Romig, 12.792; 25. 7K-Kyle Mehner, 12.907
Heat 1 – (8 Laps – Top 6 finishers transfer to the A-feature) – 1. 15-Donny Schatz [5]; 2. 88N-DJ Netto [1]; 3. 51-Paul McMahan [4]; 4. 55-Trey Starks [2]; 5. 3C-Jonathan Allard [6]; 6. 9-Daryn Pittman [3]; 7. 33V-Henry VanDam [7]; 8. 1A-Jacob Allen [8]; 9. 7K-Kyle Mehner [9]
Heat 2 – (8 Laps – Top 6 finishers transfer to the A-feature) – 1. 71M-Joey Saldana [2]; 2. 2-Shane Stewart [3]; 3. 7S-Jason Sides [1]; 4. 29-Kerry Madsen [7]; 5. 83-David Gravel [4]; 6. 2J-Jonathan Jorgenson [6]; 7. 11K-Kraig Kinser [5]; 8. 7-Kevin Smith [8]
Heat 3 – (8 Laps – Top 6 finishers transfer to the A-feature) – 1. 4-Cody Darrah [2]; 2. 11-Steve Kinser [1]; 3. 49-Brad Sweet [4]; 4. 1s-Logan Schuchart [3]; 5. 18-Jason Solwold [5]; 6. 44W-Austen Wheatley [6]; 7. 66-Barry Martinez [7]; 8. 22-Mike Romig [8]
Dash – (6 Laps, finishing order determined first 8 starting positions of A-feature) – 1. 71M-Joey Saldana [1]; 2. 2-Shane Stewart [2]; 3. 9-Daryn Pittman [3]; 4. 15-Donny Schatz [8]; 5. 83-David Gravel [5]; 6. 49-Brad Sweet [4]; 7. 4-Cody Darrah [7]; 8. 51-Paul McMahan [6]
Last Chance Showdown – (12 Laps – Top 6 finishers transfer to the A-feature) – 1. 11K-Kraig Kinser [1] [-]; 2. 66-Barry Martinez [3] [-]; 3. 33V-Henry VanDam [2] [-]; 4. 1A-Jacob Allen [4] [-]; 5. 7-Kevin Smith [5] [-]; 6. 22-Mike Romig [6] [-]; 7. 7K-Kyle Mehner [7] [$200]

World of Outlaws STP Sprint Car Series Championship Standings
| | | | | | | | | |
| --- | --- | --- | --- | --- | --- | --- | --- | --- |
| Pos. | Car | Driver | Total | Diff | Wins | Top 5's | Top 10's | QT |
| 1 | 15 | Donny Schatz | 9807 | 0 | 20 | 50 | 63 | 6 |
| 2 | 9 | Daryn Pittman | 9592 | -215 | 12 | 38 | 61 | 3 |
| 3 | 51 | Paul McMahan | 9526 | -281 | 4 | 38 | 62 | 10 |
| 4 | 71M | Joey Saldana | 9370 | -437 | 5 | 31 | 50 | 22 |
| 5 | 29 | Kerry Madsen | 9340 | -467 | 5 | 35 | 56 | 6 |
| 6 | 49 | Brad Sweet | 9149 | -658 | 5 | 24 | 48 | 2 |
| 7 | 4 | Cody Darrah | 8809 | -998 | 2 | 16 | 38 | 2 |
| 8 | 11 | Steve Kinser | 8680 | -1127 | 1 | 9 | 34 | 0 |
| 9 | 11k | Kraig Kinser | 8488 | -1319 | 0 | 6 | 27 | 0 |
| 10 | 83 | David Gravel | 8209 | -1598 | 4 | 18 | 41 | 8 |
| 11 | 7s | Jason Sides | 7907 | -1900 | 0 | 2 | 18 | 0 |
| 12 | 1S | Logan Schuchart | 7449 | -2358 | 0 | 5 | 14 | 0 |
| 13 | 1A | Jacob Allen | 6380 | -3427 | 0 | 0 | 1 | 0 |
| 14 | 1 | Sammy Swindell | 5990 | -3817 | 2 | 11 | 19 | 1 |
| 15 | 5W | Lucas Wolfe | 3442 | -6365 | 0 | 2 | 8 | 1 |
| 16 | 59 | Tim Kaeding | 3410 | -6397 | 0 | 3 | 13 | 0 |
| 17 | 2 | Shane Stewart | 3293 | -6514 | 2 | 9 | 16 | 4 |
| 18 | 21 | Brian Brown | 2778 | -7029 | 0 | 3 | 9 | 0 |
| 19 | 77X | Wayne Johnson | 2614 | -7193 | 0 | 0 | 0 | 0 |
| 20 | W20 | Greg Wilson | 2481 | -7326 | 0 | 0 | 2 | 0 |