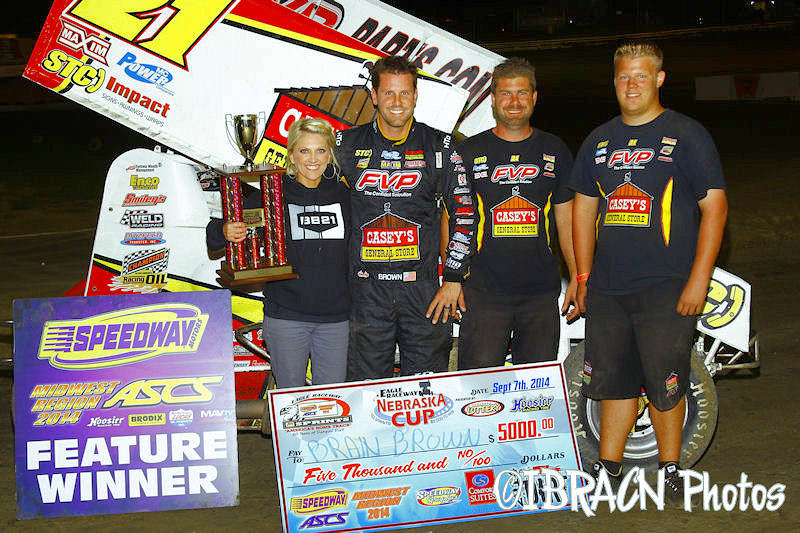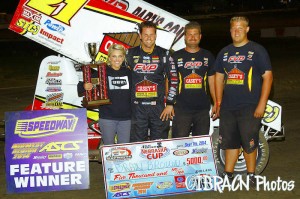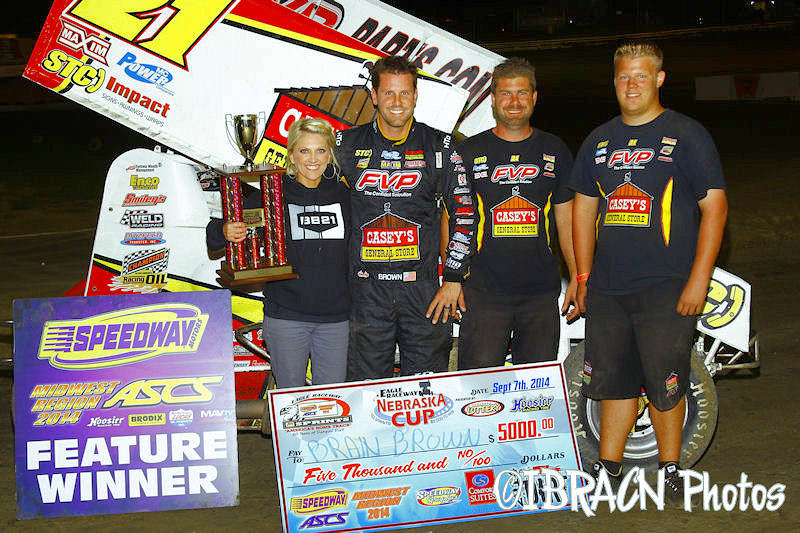 From Bryan Hulbert

EAGLE, Neb. (September 7, 2014) – The Nebraska Cup offered a $5,000 prize to the winner, and Brian Brown gladly swooped in and claimed the winner's check on Sunday night with the Speedway Motors Midwest Region at the famed Eagle Raceway.
A red on the start followed by a pair of cautions; fourth starting Brian Brown shot to the point and never looked back in a race riddled with cautions. Brown's eleventh win of the season on a track that saw the preferred line around the top, the win is Brian's third with the Midwest Region in 2014 and fourth in ASCS competition.
The night's podium rounded out with Jack Dover and Danny Lasoski. Jay Russell and Tony Bruce, Jr. completed the top five.
A DNF in his Heat Race put Jason Johnson seventh in B-Feature. Advancing to start seventeenth in the A-Main, Johnson charged to sixth with Brandon Hanks seventh. Billy Alley from thirteenth crossed eighth with Don Droud, Jr. and Ryan Roberts making the top ten.
The Speedway Motors Midwest Region caps of the 2014 season on September 19 and 20 with the Casey's General Store Fall Brawl III at the I-80 Speedway in Greenwood, Neb. For continued updates on the American Sprint Car Series, log onto http://www.ascsracing.com.
Speedway Motors ASCS Midwest Region
Eagle Raceway – Eagle, Neb.
Sunday, September 7, 2014
Car Count: 25
Heat 1 (8 Laps): 1. 23S-Stuart (Stu) Snyder; 2. 17-Gage Dorr; 3. 76-Jay Russell; 4. 21-Brian Brown; 5. 12-Tyler Drueke; 6. 3-Billy Alley; 7. 17X-Josh Baughman; 8. (DNF) 41-Jason Johnson; DNS 51-Mike Boston
Heat 2 (8 Laps): 1. 3H-Brandon Hanks; 2. 53-Jack Dover; 3. 5X-Jason Martin; 4. 18T-Tony Bruce Jr; 5. 11W-Wyatt Burks; 6. 1B-Toby Chapman; 7. 03-Shayle Bade; 8. (DNF) 81A-Chris Morgan
Heat 3 (8 Laps): 1. 24BH-Don Droud Jr; 2. 18-Ryan Roberts; 3. 1M-Danny Lasoski; 4. 77-John Klabunde; 5. 35L-Cody Ledger; 6. 52-Dalton Parson; 7. (DNF) 82-Jason Danley; DNS 35-Trevor Grossenbacher
B Feature 1 (12 Laps): 1. 35L-Cody Ledger[1]; 2. 12-Tyler Drueke[2]; 3. 41-Jason Johnson[7]; 4. 17X-Josh Baughman[5]; 5. 11W-Wyatt Burks[3]; 6. 35-Trevor Grossenbacher[9]; 7. 82-Jason Danley[6]; 8. (DNF) 52-Dalton Parson[11]; 9. (DNF) 03-Shayle Bade[4]; DNS 81A-Chris Morgan; DNS 51-Mike Boston
A Feature (25 Laps): 1. 21-Brian Brown[4]; 2. 53-Jack Dover[7]; 3. 1M-Danny Lasoski[11]; 4. 76-Jay Russell[1]; 5. 18T-Tony Bruce Jr[9]; 6. 41-Jason Johnson[17]; 7. 3H-Brandon Hanks[8]; 8. 3-Billy Alley[13]; 9. 24BH-Don Droud Jr[3]; 10. 18-Ryan Roberts[6]; 11. 35L-Cody Ledger[15]; 12. 11W-Wyatt Burks[19]; 13. 23S-Stuart (Stu) Snyder[5]; 14. (DNF) 17X-Josh Baughman[18]; 15. (DNF) 77-John Klabunde[12]; 16. (DNF) 1B-Toby Chapman[14]; 17. (DNF) 17-Gage Dorr[2]; 18. (DNF) 5X-Jason Martin[10]; 19. (DNF) 12-Tyler Drueke[16]; 20. (DNF) 35-Trevor Grossenbacher[20]