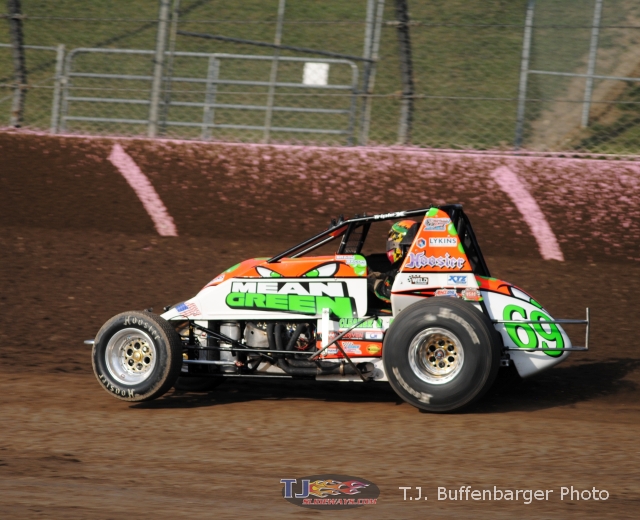 By T.J. Buffenbarger
Rossburg, OH – (September 21, 2014) – Brady Bacon won an eventful USAC Amsoil National Sprint Carfeature during the 4-Crown Nationals at Eldora Speedway on Sunday afternoon. Bacon took the lead with three laps to go and held off Bryan Clauson after a red flag for Ballou for the victory. The win was Bacon's first USAC victory at Eldora and second overall at the high banked half-mile oval.
Bacon: "It wasn't how we thought we were going to win. Couple mistakes in the front, I made a mistake on a restart and let (Clauson) get by, then Clauson did the same thing and was able to get back to second. Then Ballou slipped out of the rubber and I was able to get up front. I was hoping I would not make too many big mistakes, and I didn't make any mistakes at the end."
The initial start immediately reverted back to caution when pole sitter Jon Stanbrough went over a wheel, bounced in the air, and stopped in turn four as the field coming for the green flag. The entire field avoided Stanbrough, but due to bringing out the caution Stanbrough had to restart at the tail of the field.
After a caution for a spin by Matt Westfall and collected Logan Hupp and Dave Darland the feature started with Ballou taking the lead with Bacon and Hines giving chase. The red flag appeared though on lap two when a pile up in ensued in turn one that with Stanbrough, Kevin Thomas, Jr. and Brandon Whited getting upside down in turn one. Landon Simon and Darland were also caught up in the incident. Thomas and Darland restarted at the tail of the field.
Ballou motored away from Bacon during the restart and opened up a sizeable lead, but by lap 11 that advantage began to shrink as Bacon close with slower traffic ahead. One lap later the red flag appeared for Chase Stockon tumbling in turn two. Stockon was uninjured.
During the restart Clauson got around Bacon for second and started to pressure Ballou for the lead. Clauson took multiple looks under Ballou, but could not complete the pass for the lead. On lap 16 Clauson had enough momentum to try a slide job on Ballou, but Ballou crossed over and countered to maintain the top spot.
The red flag appeared again on lap 19 for Kevin Thomas, Jr.'s second flip in the race in turn two. This time Thomas retired pit side, but exited the car under his own power. Two laps later the caution appeared again when Brandon Mattox hit the wall in turn two.
During the restart following the caution for Mattox, Bacon was able to take advantage of a slip by Clauson to move into the second spot. Soon Ballou, Bacon, and Clauson were all together racing for the lead with slower traffic in the mix. With three laps to go Ballou slipped out of the rubber in turn two and allowed Bacon to get around him. Clauson tried to take second just as Ballou came down the race track, making contact with Ballou getting upside down to bring out the red flag.
With only three laps to decide the outcome Bacon was up to the challenge and pulled away for the victory. Clauson held on for second while Grant was able to slide by Tracy Hines for the final podium spot. Hunter Schuerenberg rounded out the top five.
33rd 4-Crown Nationals
USAC Amsoil National Sprint Car Series
Eldora Speedway – Rossburg, OH
QUALIFICATIONS: (Sept. 20) 1. Bryan Clauson, 20, Stewart/Curb-Agajanian-15.557; 2. Tracy Hines, 4, Hines-15.595; 3. Brady Bacon, 69, Dynamics-15.606; 4. Jerry Coons Jr., 10E, Edison-15.611; 5. Justin Grant, 40, Hery-15.634; 6. Robert Ballou, 12x, Ballou-15.686; 7. Jon Stanbrough, 37RW, Dutcher-15.735; 8. Hunter Schuerenberg, 20N, Schuerenberg/Nolen-15.736; 9. Brandon Mattox, 28, Mattox-15.844; 10. Shane Cockrum, 66, Amati-15.856; 11. Mitch Wissmiller, 1W, Wissmiller-15.900; 12. Chase Stockon, 32, 32 TBI-15.920; 13. C.J. Leary, 30, Leary-15.944; 14. Matt Westfall, 54, Best Performance-15.949; 15. Chris Windom, 11, Walker-16.037; 16. Jarett Andretti, 18, Andretti-16.060; 17. Kevin Thomas Jr., 9k, KT-16.113; 18. Kody Swanson, 63, DePalma-16.118; 19. Chad Boespflug, 5, Baldwin-16.138; 20. Landon Simon, 24, Simon-16.199; 21. Dallas Hewitt, 21, Hewitt-16.204; 22. Brandon Whited, 15, Whited-16.341; 23. Luke Hall, 9N, Nelson-16.357; 24. Logan Hupp, 2M, Hupp-16.456; 25. Mike Miller, 82, Miller-16.488; 26. Scott Hampton, 59, Powell-16.532; 27. Travis Hery, 21H, Hery-16.577; 28. Beau Stewart, 33m, Marshall-16.662; 29. Steve Irwin, 0, Flying Zero-16.683; 30. Tyler Hewitt, 24P, Paul-16.810; 31. Derek Hastings, 32m, Marshall-16.961; 32. Brian Karraker, 3R, Byram-17.012; 33. Brian Hayden, 2H, Hayden-17.146; 34. Adam Cruea, 83x, Cruea-17.377; 35. Steve Little, 53, Little-17.880; 36. Brandon Moore, 7M, Moore-17.890; 37. Mike Moore, 1M, Moore-17.920; 38. Dave Darland, 71p, Phillips-21.755; 39. Scotty Weir, 18x, Keen-NT; 40. Randy Johns, 27J, Johns-NT.
FIRST HEAT : (8 laps – Sept. 20) 1. Clauson, 2. D.Hewitt, 3. Thomas, 4. Leary, 5. Mattox, 6. Grant, 7. Miller, 8. Irwin, 9. Hayden, 10. M.Moore. 2:18.57
SECOND HEAT : (8 laps – Sept. 20) 1. Swanson, 2. Ballou, 3. Hines, 4. Darland, 5. Cockrum, 6. Westfall, 7. Whited, 8. Hampton, 9. T.Hewitt, 10. Cruea. 2:16.78
THIRD HEAT : (8 laps – Sept. 20) 1. Windom, 2. Bacon, 3. Stanbrough, 4. Boespflug, 5. Hall, 6. Hery, 7. Hastings, 8. Little, 9. Wissmiller. NT
FOURTH HEAT : (8 laps – Sept. 20) 1. Schuerenberg, 2. Coons, 3. Simon, 4. Stockon, 5. Hupp, 6. Karraker, 7. Stewart, 8. B.Moore, 9. Andretti, 10. Johns. NT
REMAINDER OF EVENTS CONDUCTED SEPTEMBER 21
SEMI: (12 laps) 1. Grant, 2. Mattox, 3. Cockrum, 4. Hampton, 5. Westfall, 6. Hupp. 7. Whited, 8. Irwin. 9. Miller, 10. Cruea, 11. Hery, 12. Hastings, 13. Little, 14. Stewart, 15. T.Hewitt. NT
FEATURE: (30 laps) 1. Brady Bacon, 2. Bryan Clauson, 3. Justin Grant, 4. Tracy Hines, 5. Hunter Schuerenberg, 6. Jerry Coons Jr., 7. C.J. Leary, 8. Chris Windom, 9. Shane Cockrum, 10. Kody Swanson, 11. Matt Westfall, 12. Logan Hupp, 13. Dave Darland, 14. Robert Ballou, 15. Brandon Mattox, 16. Kevin Thomas Jr., 17. Chase Stockon, 18. Steve Irwin, 19. Dallas Hewitt, 20. Brandon Whited, 21. Landon Simon, 22. Jon Stanbrough, 23. Scott Hampton, 24. Chad Boespflug. NT
——————————–
**Wissmiller flipped during the third heat. Andretti flipped during the fourth heat. Stanbrough, Whited and Thomas flipped on lap 2 of the feature. Stockon flipped on lap 12 of the feature. Thomas flipped on lap 20 of the feature. Ballou flipped on lap 28 of the feature.
FEATURE LAP LEADERS: Laps 1-27 Ballou, Laps 28-30 Bacon.
NEW AMSOIL NATIONAL SPRINT POINTS: 1-Bacon-1,694, 2-Clauson-1,643, 3-Darland-1,638, 4-Stanbrough-1,536, 5-Stockon-1,423, 6-Hines-1,338, 7-Grant-1,320, 8-Windom-1,310, 9-Ballou-1,240, 10-Leary-1,162.
NEXT AMSOIL NATIONAL SPRINT RACE: September 27 – Lawrenceburg (IN) Speedway