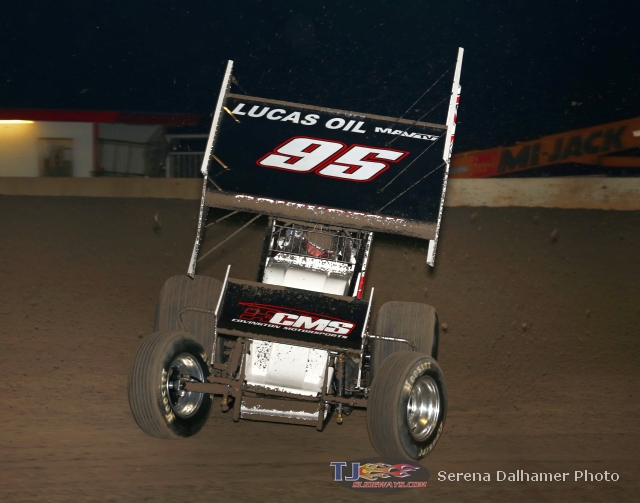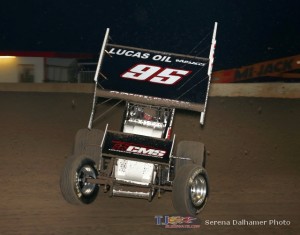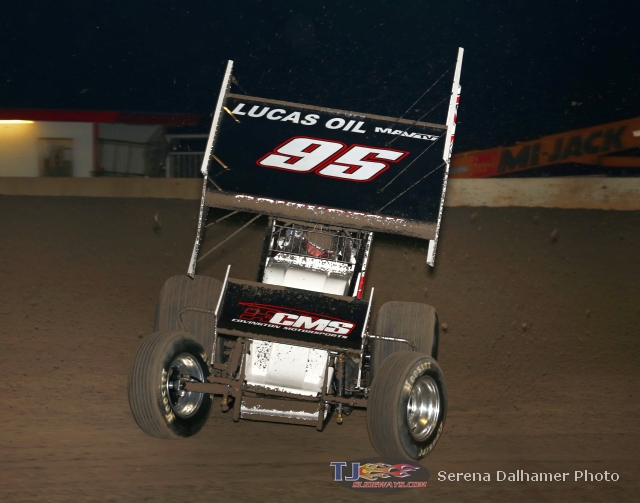 From Bryan Hulbert
Mesquite, TX — (October 18, 2014) — Twice in 2014 Matt Covington has been close to winning at the Devil's Bowl Speedway with the Lucas Oil ASCS presented by MAVTV American Real. Silver in the Spring Nationals, Bronze in the Summer Nationals, and finally Gold as the Oklahoma shoe led start-to-finish in the 41st annual Devil's Bowl Winter Nationals.
Covington's fourth career Lucas Oil ASCS victory, the win is his second of the season.
"This feels better than I thought it would. I've always wanted to win a National Tour race here. This means more to me than my first ever National Tour win. By far tops them all. I love this track, I love this place," commented a jubilant Matt Covington. "This is a dream come true."
Two attempts at the start, Covington was able to out run Brandon Hanks as the A-Rock Material No. 95 committed to the hub of the Devil's Bowl Speedway. Catching traffic by the fifth round, caution for Wayne Johnson brought the field single file.
At speed, Covington set a torrid pace around the half-mile oval with slower traffic in the picture again by Lap 12. Working every angle on slower cars, Covington found all roads blocked, allowing Brad Loyet to make up a half straight-a-way, however, Loyet's night would end in a ball of fire as power plant in the Vacuworx Global No. 05 gave up on Lap 24. Loyet was credited with twenty-first, and saw his advantage cut to 36 makers over Jeff Swindell.
A caution on Lap 26 for Tommy Bryant, followed by a red for Blake Hahn on Lap 28, Matt Covington was able to hold off Dusty Zomer who crossed runner-up for the second night in a row.
"I tried to do what I could to put a good show on there at the end but Matt was just too tough. The track was a little bit too good but we made the best of it. To come out of here with a pair of seconds with this many cars; we'll take it."
Improving one from Friday night, Aaron Reutzel posted his fifth podium finish of the season, "I'll tell you what, just to finish a race feel like a win to me right now," commented Reutzel who has been plagued by engine failures as of late. "I cannot thank Dennis Wells enough. I brought him this engine two weeks ago, complete blown up with nothing left, and he got it back to me in a week and a half. This thing really ran strong and like I said, the way out lucks been lately, it feel like a win just to finish a race."
Jeff Swindell advanced from seventh to fourth with Derek Hagar rebounding from Friday night to complete the top five in the Steve King Foundation No. E85. Tony Bruce, Jr. raced to a sixth place finish with the night's KSE Hard Charger award going to Johnny Herrera. Twenty-third to eighth on Friday after having to take a provisional, Herrera again found himself twenty-third at the start, improving one to finish seventh. Sam Hafertepe, Jr. crossed eighth with Patrick Stasa ninth and Jason Johnson tenth from nineteenth.
Seeing 44 drivers in competition Saturday night, five Heat Races went to Wayne Johnson, Patrick Stasa, Derek Hagar, Brad Loyet, and Jeff Swindell. A pair of B-Features went to Brandon Long and Jake Martens. Provisionals were utilized by Johnny Herrera and Blake Hahn.
The final night for the Smiley's Racing Products Lone Star Region in 2014, Patrick Stasa secured his first ASCS championship.
The Lucas Oil ASCS presented by MAVTV American Real heads for the I-30 Speedway in Little Rock, Ark. for the 27th annual Short Track Nationals. Kicking off Wednesday with the second STN Open, qualifying begins on Thursday, October 23 and wraps up on Saturday, October 25. Live online PPV is available at http://www.shorttracknationals.com. Tickets are on sale with information posted at http://www.i-30speedway.com.
For continued updates on the Lucas Oil ASCS presented by MAVTV American Real, log onto http://www.ascsracing.com.
Race Results:
Lucas Oil American Sprint Car Series presented by MAVTV American Real
Devil's Bowl Speedway – Mesquite, Texas
41st Winter Nationals
Saturday, October 18, 2014
Car Count: 44
Event Count: 47
SpeedMart Heat Races (8 laps): Winners plus the next 7 highest in Passing Points transfer to the A-Feature.
Heat 1 (8 Laps): 1. 77X-Wayne Johnson[2]; 2. 23-Seth Bergman[1]; 3. 14-Michael Lang[3]; 4. 41-Jason Johnson[5]; 5. 45-Martin Edwards[6]; 6. 45X-Johnny Herrera[8]; 7. 4-Stevie Smith[7]; 8. 4J-John James[4]
Heat 2 (8 Laps): 1. 19-Patrick Stasa[2]; 2. 17-Josh Baughman[1]; 3. 7M-Kevin Ramey[4]; 4. 17T-Channin Tankersley[7]; 5. 0-Jake Martens[8]; 6. 4X-Shawn Petersen[6]; 7. 10B-Mitch Brown[3]; 8. (DNF) 81W-Danny Wood[5]
Heat 3 (8 Laps): 1. E85-Derek Hagar[6]; 2. 2K-Brandon Long[1]; 3. 15H-Sam Hafertepe Jr[5]; 4. 92-Jordan Weaver[3]; 5. 21T-Ray Allen Kulhanek[7]; 6. 27-Andy Shouse[8]; 7. (DNF) 12W-Dale Wester[4]; DNS 55-Brad Queen
Heat 4 (8 Laps): 1. 05-Brad Loyet[4]; 2. 3H-Brandon Hanks[6]; 3. 1J-Danny Jennings[5]; 4. 22-Koby Barksdale[2]; 5. 88M-Keith Meyer[8]; 6. 16K-Kaden Taylor[3]; 7. 56-Jarrett Lucito[7]; 8. (DNF) 10-George White[1]
Heat 5 (8 Laps): 1. 94-Jeff Swindell[3]; 2. 53-Jack Dover[2]; 3. 33Z-Zach Chappell[1]; 4. 28-Tommy Bryant[6]; 5. 4A-Jon Agan[4]; 6. 52-Blake Hahn[5]; 7. 93-Dustin Morgan[7]; 8. 65L-Nicholas Lucito[8]
Smiley's Racing Products B-Features (12 Laps): Top 3 advance to the A-Feature.
B Feature 1 (12 Laps): 1. 2K-Brandon Long[1]; 2. 41-Jason Johnson[4]; 3. 28-Tommy Bryant[2]; 4. 45X-Johnny Herrera[7]; 5. 45-Martin Edwards[6]; 6. 4-Stevie Smith[10]; 7. 88M-Keith Meyer[3]; 8. 21T-Ray Allen Kulhanek[5]; 9. 52-Blake Hahn[9]; 10. 4X-Shawn Petersen[8]; 11. (DNF) 55-Brad Queen[12]; 12. (DNF) 12W-Dale Wester[13]; 13. (DNF) 93-Dustin Morgan[11]; DNS 4J-John James
B Feature 2 (12 Laps): 1. 0-Jake Martens[2]; 2. 7M-Kevin Ramey[1]; 3. 33Z-Zach Chappell[4]; 4. 14-Michael Lang[3]; 5. 4A-Jon Agan[7]; 6. 22-Koby Barksdale[6]; 7. 10B-Mitch Brown[11]; 8. 92-Jordan Weaver[5]; 9. 56-Jarrett Lucito[10]; 10. (DNF) 65L-Nicholas Lucito[12]; 11. (DNF) 27-Andy Shouse[8]; 12. (DNF) 16K-Kaden Taylor[9]; DNS 81W-Danny Wood; DNS 10-George White
Lock-in Drivers: Tony Bruce, Jr., Dusty Zomer, Matt Covington, Aaron Reutzel
Protect the Harvest A-Feature (30 Laps):
A Feature (30 Laps): 1. 95-Matt Covington[1]; 2. 82-Dusty Zomer[5]; 3. 87-Aaron Reutzel[4]; 4. 94-Jeff Swindell[7]; 5. E85-Derek Hagar[6]; 6. 18-Tony Bruce Jr[8]; 7. 45X-Johnny Herrera[23]; 8. 15H-Sam Hafertepe Jr[11]; 9. 19-Patrick Stasa[10]; 10. 41-Jason Johnson[19]; 11. 53-Jack Dover[14]; 12. 17-Josh Baughman[16]; 13. 33Z-Zach Chappell[22]; 14. 2K-Brandon Long[17]; 15. 1J-Danny Jennings[12]; 16. 0-Jake Martens[18]; 17. (DNF) 52-Blake Hahn[24]; 18. (DNF) 7M-Kevin Ramey[20]; 19. (DNF) 28-Tommy Bryant[21]; 20. (DNF) 23-Seth Bergman[15]; 21. (DNF) 05-Brad Loyet[3]; 22. (DNF) 77X-Wayne Johnson[9]; 23. (DNF) 17T-Channin Tankersley[13]; 24. (DNF) 3H-Brandon Hanks[2]
Lap Leader(s): Matt Covington 1-30
KSE Hard Charger: Johnny Herrera +16
FSR High Point: Derek Hagar
CSI Rebound: Blake Hahn
Provisional(s): Johnny Herrera (BP2), Blake Hahn (BP2)