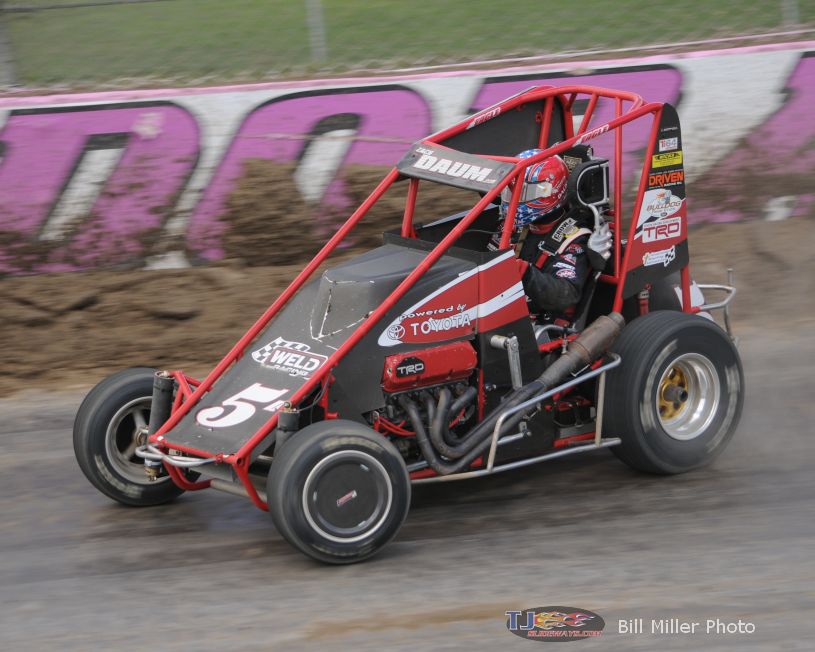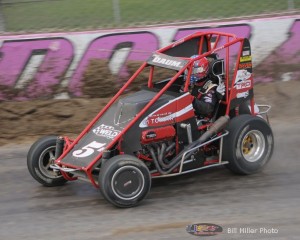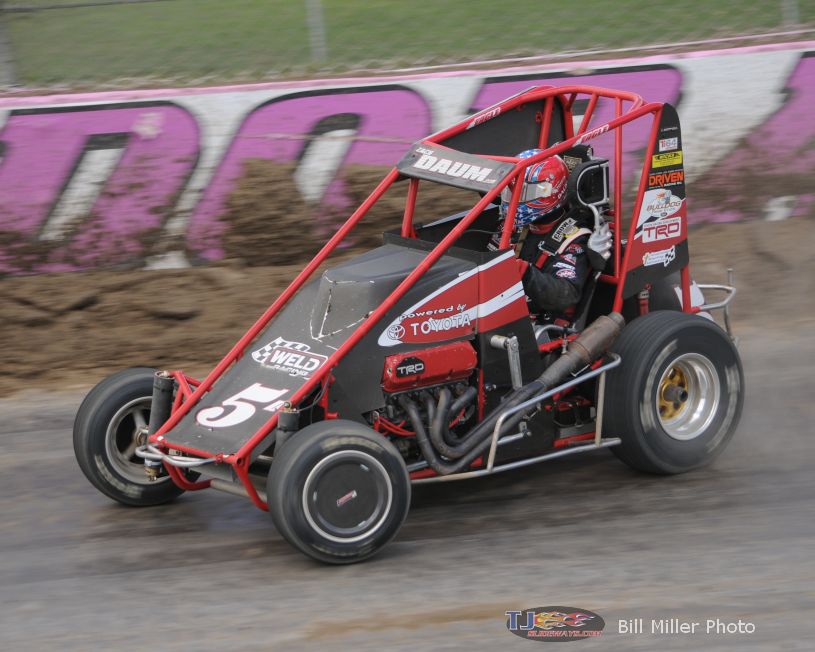 From POWRi
Millstadt, IL — (October 22, 20140 — Zach Daum of Pocahontas, Illinois and Nathan Benson of Concordia, Missouri are the 2014 POWRi champions, each going two in a row for their respective titles.
Zach Daum, driving the Daum Motorsports #5D Eagle Chassis midget utilizing Toyota power was able to capitalize on his consistency starting with two top five finishes at the series opener Turnpike Challenge at Port City Raceway in Collinsville, Oklahoma. The momentum Daum carried from the start and his consistency throughout the season, including three wins, seven top threes, seven top fives, and eight top tens, helped him capture the 2014 POWRi Lucas Oil National Midget Series Championship.
"This means the most for Toyota," stated 2014 POWRi Lucas Oil National Midget Series champion Zach Daum. "They came on board last year and believed in us. And we delivered last year and they wanted to do the same thing again this year. Hopefully Toyota can continue to sweep the series."
"We haven't really set a game plan for next year," said Daum regarding the 2015 season. "We bought a wing car to run this year a little bit. But, we didn't get to run it very much. We blew it up a couple nights in with a bad fuel pump, so we only have about five nights in it when we were hoping to run 15 or so. That's something we want to run more next year, so hopefully we can run it a little bit more than we did this year. I'm sure we're still going to concentrate on the midget stuff and hopefully run some more crown races, too."
Nathan Benson, driving the Nathan Benson Motorsports #2B Pace Chassis with FTZ-built Suzuki power started the season out by dominating night one and bringing home third place the second night in the Kokomo Grand Prix at Kokomo Speedway in Kokomo, Indiana. The Kokomo Grand Prix was the season opener for the POWRi Speedway Motors 600cc Outlaw Micro Series. Even with Benson's impressive 2014 season stats of four feature wins, eight top threes, one top five, and two top tens, the 2014 championship came down to the last race at Jacksonville Speedway on Saturday, October 11th between Benson and Aaron Andruskevitch.
"It feels really good," said 2014 POWRi Speedway Motors 600cc Outlaw Micro Series champion Nathan Benson. "It was a heck of a season. I wish it hadn't come down quite this tight. If only we'd have had a couple less failures throughout the year, but I have to thank everybody that stuck behind us. Everybody who helps us got us to this championship. The way POWRi runs their show and their series, it's an honor to be their champion, twice."
"I have a lot of things business-wise and family-wise that I need to focus on," Benson said in regards to the 2015 season. "We're 300 miles away from most of the POWRi races, so I doubt we will run the full schedule next year, but I also said that last year."
2014 POWRi Lucas Oil National Midget Series Points: 1. Zach Daum 4440, 2. Darren Hagen 3775, 3. Andrew Felker 3355, 4. Christopher Bell 3130, 5. Tanner Thorson 2970, 6. Tyler Thomas 2970, 7. Parker Price-Miller 2800, 8. Austin Brown 2720, 9. Daniel Robinson 2670, 10. Jake Blackhurst 2305
2014 POWRi Speedway Motors 600cc Outlaw Micro Series Points: 1. Nathan Benson 2740, 2. Aaron Andruskevitch 2580, 3. Jeremy Camp 2360, 4. Joe B Miller 2300, 5. Joey Wirth 1960, 6. Jason Harms 1780, 7. Kyle Schuett 1685, 8. Matt Ponder 1490, 9. Jake Neuman 1370, 10. Dereck King 1240
For more information, visit www.powri.com.