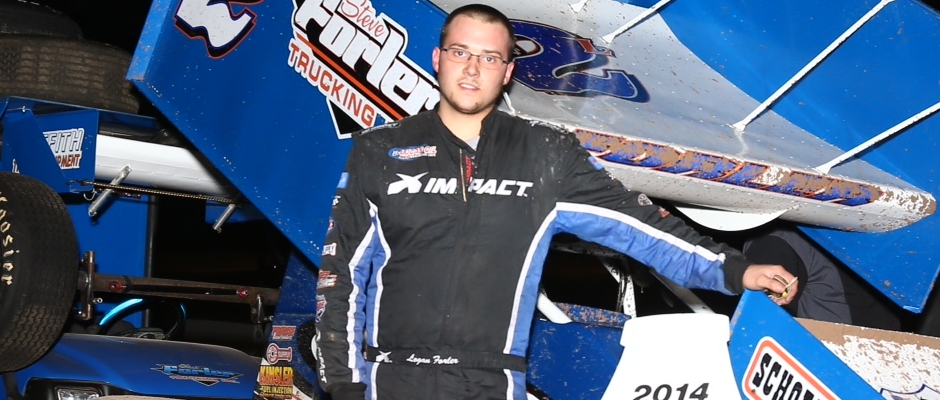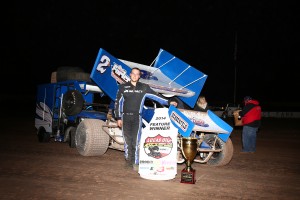 From Bryan Hulbert
El Paso, TX — (November 7, 2014) — A cool night in the desert saw Logan Forler become the season's seventeenth different winner with the Lucas Oil American Sprint Car Series presented by MAVTV American Real, as the west coast shoe utilized slower traffic to capture the Casa Nissan Edge of Texas Dirt Track Nationals at the El Paso Speedway Park.
Logan's fourth career victory with the Lucas Oil ASCS presented by MAVTV American Real, the west Texas win was Forler's second at the El Paso Speedway Park, backing up his first National Tour triumph in 2012.
"Traffic was really tough. It was wide out here but the lanes you were in made a big difference on how fast you're going to be," commented Forler. "I knew Reutzel was coming so I had to get through traffic, but I've had some great luck here. I don't know what it is, but we'll be coming back."
Gridding the Steve Forler Trucking No. 2L fourth, Forler jumped to second on the start. Pacing behind Royal Jones, the pair raced into slower traffic on Lap 7. Keeping Forler in the vapor trails for the next two laps, traffic played to Forler's advantage on Lap 10 to grab the lead, bringing Aaron Reutzel to second as well.
A caution on Lap 11 for Channin Tankersley who stopped along the back straight-a-way, Forler opened up a healthy advantage until a caution on Lap 17 for Seth Bergman. Finding traffic with five laps to run, Forler's advantage closed quickly as Aaron Reutzel made a last lap attempt for the win.
Pulling even with Forler in the final two turns; Forler pushed the highline to hold on by 0.154 seconds at the line.
"We made a decision on the gear thinking the track was going to do something different. We just didn't have enough ponies getting off the corner but hats off to Logan. He hasn't run with us all year, so to come out and win one of these deals, he was definitely quick. We had the car, just chose the wrong gear," said Reutzel of his runner-up finish.
Brad Loyet grabbed the show position, putting his advantage to 61 over Jeff Swindell in the National Tour standings.
"We had a really good racecar, but the track was just really tough to pass on," said Loyet. "I didn't need those cautions but overall this is what we need to do. To keep plugging away, keep getting these top-fives, and see if we can't walk away with $60,000."
After leading the first nine rounds, Royal Jones posted his best finish against the National Tour in fourth. After ending up in the B-Feature, Jason Johnson barely grabbed the final transfer. Starting twenty-second, the MVT No. 41 was on a mission, as Johnson raced to fifth for the night's KSE Hard Charger Award.
El Paso's John Carney II crossed sixth with Johnny Herrera advancing 11 positions to grab seventh. Sam Hafertepe, Jr. climbed eight spots to cross eighth with Tony Bruce, Jr. and Jeff Swindell completing the top-ten.
The Casa Nissan Edge of Texas Dirt Track Nationals saw 33 drivers drawing in. Four Heat Races went to Brad Loyet, Aaron Reutzel, Shawn Petersen, and Royal Jones. The night's B-Feature went to Blake Hahn. Provisional starters included Matt Covington and Josh Baughman.
Paired with the ASCS Southwest Region, Nick Parker was the highest finishing regional regular in his first National Tour feature start. Bob Ream, Jr. was second among the regional drivers followed by Joshua Williams, Rick Ziehl, and Jesse Baker.
The Lucas Oil American Sprint Car Series presented by MAVTV American Real takes on the Southern New Mexico Speedway in Las Cruces, N.M. on Saturday, November 7 with gates opening at 5:30 P.M. and racing at 7:45 P.M. (MT). More information, and directions can be found at http://www.snmspeedway.com.
For continued updates on the Lucas Oil ASCS presented by MAVTV American Real, log onto http://www.ascsracing.com.
Race Results:
Lucas Oil American Sprint Car Series presented by MAVTV American Real
El Paso Speedway Park – El Paso, Texas
Casa Nissan Edge of Texas Dirt Track Nationals
Friday, November 7, 2014
Car Count: 33
SpeedMart Heat Races (8 laps): Winner plus top 12 in Passing Points advance to the A-Feature.
Heat 1 (8 Laps): 1. 05-Brad Loyet[1]; 2. 74B-John Carney II[2]; 3. 23-Seth Bergman[4]; 4. 21-Tyler Thomas[5]; 5. 52-Blake Hahn[6]; 6. 45X-Johnny Herrera[8]; 7. 20Z-Rick Ziehl[9]; 8. 44-Damon McCune[7]; 9. 14-Cody Sickles[3]
Heat 2 (8 Laps): 1. 87-Aaron Reutzel[3]; 2. 41W-Joshua Williams[1]; 3. 18-Tony Bruce Jr[5]; 4. 0-Glenn Styres[6]; 5. 17-Channin Tankersley[8]; 6. 99-Chuck Jackson[2]; 7. 17JR-Bruce Griffith Jr[7]; 8. (DNF) 17B-Josh Baughman[4]
Heat 3 (8 Laps): 1. 4X-Shawn Petersen[2]; 2. 94X-Nick Parker[4]; 3. 94-Jeff Swindell[3]; 4. 17W-Harli White[1]; 5. 74X-Joshua Hodges[6]; 6. 41-Jason Johnson[5]; 7. 88-Scottie McDonald[8]; 8. 72-Phil Dietz[7]
Heat 4 (8 Laps): 1. 131-Royal Jones[2]; 2. 2L-Logan Forler[4]; 3. 8-Bob Ream Jr[1]; 4. 15H-Sam Hafertepe Jr[3]; 5. 0J-Jeremy McCune[6]; 6. 95-Matt Covington[8]; 7. 22X-Jesse Baker[5]; 8. 29S-Darrell Sickles[7]
Smiley's Racing Products B-Features (12 Laps): Taking top 6 to the A-Feature.
B Feature 1 (12 Laps): 1. 52-Blake Hahn[1]; 2. 45X-Johnny Herrera[4]; 3. 74X-Joshua Hodges[2]; 4. 17W-Harli White[6]; 5. 20Z-Rick Ziehl[10]; 6. 41-Jason Johnson[7]; 7. 17B-Josh Baughman[16]; 8. 95-Matt Covington[5]; 9. 88-Scottie McDonald[8]; 10. 0J-Jeremy McCune[3]; 11. 22X-Jesse Baker[12]; 12. 72-Phil Dietz[13]; 13. 44-Damon McCune[15]; 14. 29S-Darrell Sickles[14]; 15. 14-Cody Sickles[17]; 16. 99-Chuck Jackson[9]; 17. 17JR-Bruce Griffith Jr[11]
Protect the Harvest A-Feature (30 Laps):
A Feature (30 Laps): 1. 2L-Logan Forler[4]; 2. 87-Aaron Reutzel[6]; 3. 05-Brad Loyet[8]; 4. 131-Royal Jones[2]; 5. 41-Jason Johnson[22]; 6. 74B-John Carney II[5]; 7. 45X-Johnny Herrera[18]; 8. 15H-Sam Hafertepe Jr[16]; 9. 18-Tony Bruce Jr[7]; 10. 94-Jeff Swindell[13]; 11. 95-Matt Covington[23]; 12. 52-Blake Hahn[17]; 13. 17B-Josh Baughman[24]; 14. 74X-Joshua Hodges[19]; 15. 21-Tyler Thomas[15]; 16. 94X-Nick Parker[1]; 17. 0-Glenn Styres[11]; 18. 8-Bob Ream Jr[14]; 19. 23-Seth Bergman[10]; 20. 17W-Harli White[20]; 21. 41W-Joshua Williams[9]; 22. 20Z-Rick Ziehl[21]; 23. 4X-Shawn Petersen[3]; 24. (DNF) 17-Channin Tankersley[12]
Lap Leaders: Royal Jones 1-9; Logan Forler 10-30
KSE Hard Charger: Jason Johnson +17
FSR High Point Driver: Aaron Reutzel
Provisional(s): Matt Covington (P2); Josh Baughman (PP)