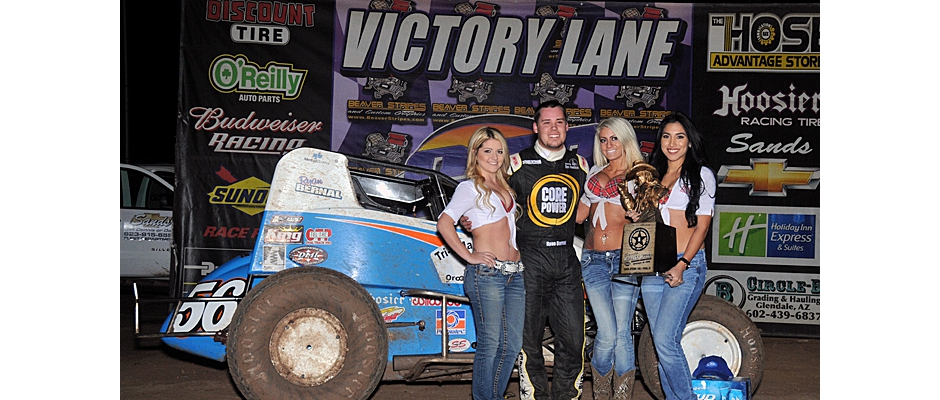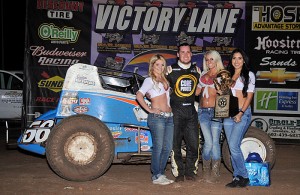 From Lonnie Wheatley
Peoria, AZ — (November 21, 2014) — Ryan Bernal made it two wins in as many nights of 47th Annual Sands Chevrolet Western World Championships action by turning in a dominant performance in Friday night's 30-lap USAC Southwest vs. USAC Sprint Car field at Canyon Speedway Park.
After starting on the front row outside, the Hollister, California, driver battled past pole starter Jon Stanbrough for the lead on the third round and led the rest of the way to post the win aboard the Tri-L Mandarin Ranch No. 56.
"I had a great car, I can't thank my guys enough," Bernal said after his 12th overall triumph of the year in the wingless 360-ci Sprint Car ranks. "I watched (Darren) Hagen run his Midget in the cushion and thought I could do that to, it was pretty sketchy up there though."
It was dicey indeed, with Bernal frequently flirting with disaster with four wheels over the Canyon cushion.
While Matt Rossi moved in to challenge on several occasions after battling past Stanbrough for second in the early rounds, Bernal successfully navigated the treacherous cushion to make it two wins in a row and lock into Saturday night's $7,500-to-win finale with a half-straightaway advantage at the stripe.
A top contender among the USAC Southwest ranks, Rossi chased the USAC Western Classic champ to the line. "I'm just happy to finish second, I knew we didn't have anything for Bernal," Rossi commented afterward.
Stanbrough claimed the show position ahead of Casey Shuman, with R.J. Johnson racing from 11th to round out the top five. Robert Ballou climbed from 14th to sixth with Shon Deskins, Jake Swanson, 16th-starter Josh Pelkey and 19th-starter C.J. Leary completing the top ten.
Defending Western World champ Bryan Clauson came to a stop with terminal engine problems under a lap 12 caution for a turn three tangle involving Kevin Thomas, Jr., and Matt Mitchell, with the only other caution flying five laps later when Charles Davis, Jr., came to a stop on the backstretch.
Heat race action for the 37-car field was topped by Shuman, Deskins, Rossi, Michael Colegrove and Stanbrough with Stevie Sussex and Pelkey winning the "B" Mains.
The top eight drivers in combined points over the Thursday and Friday night prelims are locked into the Dash that will set the lineup for the front four rows of Saturday night's Western World Sprint Car finale. Those eight drivers include Bernal, Shuman, R.J. Johnson, Ballou, Rossi, Leary, Gary Taylor and Deskins.
USAC Southwest vs. USAC West Coast Sprint Cars:
FIRST HEAT: (8 laps) 1. Casey Shuman (#75, Hockett/James), 2. Ryan Bernal (#56 Phulps), 3. Josh Pelkey (#12 Allen), 4. Matt Mitchell (#37 Mitchell), 5. Brady Bacon (#99 BBR), 6. Brian Hosford (#32B Weber), 7. Dalten Gabbard (#77 Gabbard), 8. Chris Windom (#22B Weber).
SECOND HEAT: (8 laps) 1. Shon Deskins (#20 Deskins), 2. Bryan Clauson (#20x Stewart/Curb-Agajanian), 3. Robert Ballou (#12x Ballou), 4. Mike Martin (#16 Martin), 5. Mike Spencer (#7M Priestley), 6. C.J. Leary (#30 Leary), 7. Matt Lundy (#98 Lundy), 8. Mark Morin (#28 Morin).
THIRD HEAT: (8 laps) 1. Matt Rossi (#02 Rossi), 2. Gary Taylor (#1ST BRaT), 3. Michael Curtis (#11c Turner/Wheeler), 4. Kevin Thomas, Jr. (#17RW Dutcher), 5. Tom Ogle (#48 Ogle), 6. Tye Mihocko (#5 Mihocko), 7. Casey Buckman (#04G Cook).
FOURTH HEAT: (8 laps) 1. Michael Colegrove (#17M Colegrove), 2. Josh Shipley (#2 Bishop), 3. R.J. Johnson (#77M Michael), 4. Stevie Sussex (#21AZ Burkhart), 5. Josh Hodges (#74x Hodges), 6. Bruce St. James (#7K St. James), 7. Bradley Terrell (#5v VanLare).
FIFTH HEAT: (8 laps) 1. Jon Stanbrough (#20s Deskins), 2. Jake Swanson (#92 Sertich), 3. Colby Copeland (#74 Williams), 4. Aaron Reutzel (#87 Reutzel), 5. Dave Darland (#73 Ford), 6. Charles Davis, Jr. (#50 Massey), 7. Andy Reinbold (#19 Underwood).
FIRST SEMI: (12 laps) 1. Sussex, 2. Spencer, 3. Leary, 4. Davis, 5. Bacon, 6. Reutzel, 7. Terrell, 8. Reinbold, 9. Hosford, 10. Curtis, 11. Mihocko, 12. Morin. NT
SECOND SEMI: (12 laps) 1. Pelkey, 2. Copeland, 3. Darland, 4. Windom, 5. Martin, 6. St. James, 7. Hodges, 8. Gabbard, 9. Lundy, 10. Buckman, 11. Ogle. NT
FEATURE: (30 laps) 1. Ryan Bernal, 2. Matt Rossi, 3. Jon Stanbrough, 4. Casey Shuman, 5. R.J. Johnson, 6. Robert Ballou, 7. Shon Deskins, 8. Jake Swanson, 9. Josh Pelkey, 10. C.J. Leary, 11. Gary Taylor, 12. Michael Colegrove, 13. Colby Copeland, 14. Mike Spencer, 15. Chris Windom, 16. Kevin Thomas, Jr., 17. Matt Mitchell, 18. Dave Darland, 19. Charles Davis, Jr., 20. Stevie Sussex, 21. Josh Shipley, 22. Bryan Clauson. NT
Lap Leaders: Jon Stanbrough 1-2, Ryan Bernal 3-30.