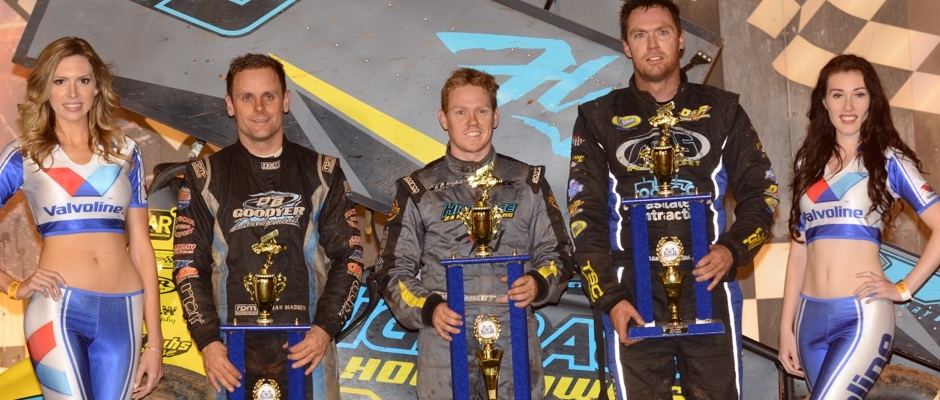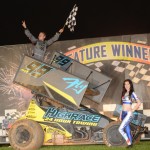 From Valvoline Raceway
Sydney, AU — (December 27, 2014) — American Brad Sweet backed up his victory in the Valvoline Australian Sprintcar Grand Prix last night with an emphatic win in tonight's Sprintcar Summer Cup in front of a huge crowd at Valvoline Raceway.
The Californian again skillfully wove his #99 Highrace Towing / Ruhs Brothers Motorsport entry through lapped traffic to evade his pursuers in the 35 lap main event despite the best efforts of a fast-finishing Ian Madsen to run him down.
"Tonight was tricky," explained a delighted Sweet, "we led for quite a while tonight and you're always wondering and expecting someone to run you down. I knew they'd be back there somewhere and I was kinda waiting for someone to attack. I had to stay pretty vigilant with my lines."
Ian Madsen pulled a major rabbit out of his hat after being originally buried deep in the B-Main before he eventually made the transfer and then began picking his way through the field.
"It's all because of Dave Sharman (crew chief) that we even got this far," explained Madsen, "he had the car really hooked up in the main and we could go places that not many others could."
Grant Anderson's last lap gasp pickpocketed Ben Atkinson from a certain third placing as the chequered flags flew.
"I love this place," grinned Grant, "the track was really wide tonight and it made racing such a pleasure. You could pass almost anywhere and you had plenty of room to move."
Ben Atkinson was rapid all night in the #2 PCR Scuderia and began the main event from pole after some stirring drives in the Pole Shootout.
The always-committed Territorian challenged for the lead on numerous occasions and looked certain to wrap up his second consecutive podium finish until Anderson slipped by.
A career best drive in many ways for Jackson Delamont netted him a sterling fifth place finish in the Mad Harry's Steel #48 KPC as he worked the bottom of the track like a boss and made many more experienced drivers pay for underestimating him.
Following Jackson home in sixth was another strong performance from James Thompson followed by Trevor Green in seventh, Darryl Campbell in eighth, Roddy Bellbowen ninth and Lynton Jeffrey in a triumphant homecoming top ten result in the Allan Woods #28 entry.
Matt Dumesny placed eleventh after coming from the B-Main and Garry Brazier's eventual 12th was not an accurate reflection on the six-times Aussie champ's gutsy effort to come back from a no-hot laps, no-time trial, no-points situation as a virtual non qualifier when the rear end needed to be changed during hot laps.
Trailing home Brazier in thirteenth was Max Dumesny ahead of Marty Perovich, original front-row qualifier and quick time man Toby Bellbowen, Jeremy Cross, Danny Reidy, Troy Little, Jac Haudenschild, Grant Tunks and Kim Becker placed as the last registered finisher in 21st.
DNF's were Tim Kaeding, Robbie Farr and Steve Caunt.
Bob Jackson secured his first ever Speedcar main event win much to the delight of his always proud Mum Maureen over namesake Matt Jackson in second place, Jaimie McKinlay third, Dayne Kingshott fourth and Glen Shaw rounding out the top five.
Newcastle's Adam Clarke was bitterly unlucky after leading many laps before a loose bead lock allowed the right rear tyre to deflate on a restart and he had to retire with the win almost in his sights.
The next race event at Valvoline Raceway is scheduled for this TUESDAY night and will see the running of the 2014/2015 NSW Sprintcar Championship with Litre Sprints and Fender Benders on the program.