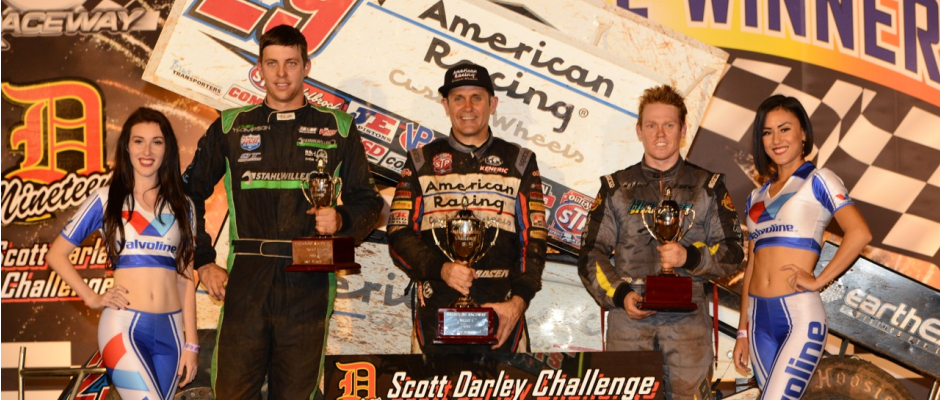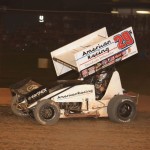 From Sydney Speedway
Sydney, AU — (January 15, 2015) — Kerry Madsen was simply stunning in his come from behind win in the first night of the Scott Darley Challenge at Valvoline Raceway tonight.
In front of his delighted hometown crowd Madsen put on a clinic to come from first the "C Main" then the "B Main" and eventually put his stamp on the 40 lap A-Main to pocket the $19,000 winner's purse.
"I've seen Kerry do things like that all year," smiled eventual second placed Brad Sweet, "he's such a phenomenal driver when he's on like that. That's why he's one of the best in the world."
"I still can't believe it," glowed Madsen from victory lane, "it felt like we must have done 100 laps tonight and passed so many cars. I really enjoyed racing like that though, the car was fast and the track allowed me to come through. It's a really satisfying feeling to win this for the Darley Family and for my team who gave me such a great car."
Quizzed on emotion behind this race for Scott Darley the winner was instantly overcome.
"Of course you want to win a race because you're a racer but then you stop and think about what this one means and it's much more special. It's an honour to win this."
Sentimental favourite for the event was early leader and budget racer James Thompson as he bravely fought off the advances of some of the most talented racers on the planet in his family owned #22 Stahlwille Tools entry.
"I did my best to hold them out," grinned the eventual third placed Sydneysider, "but when you're racing with guys like these you can't afford to put a wheel wrong. It's such a buzz to race in this kind of competition."
Sweet paid tribute to Thompson's drive.
"I've been watching him (James) since we started racing here this year and he's definitely fast. He did a great job to hold out some really impressive teams."
Brad Sweet did his share of leading too in the #99 Ruhs Brothers entry but he bent the front end of the car when he got into the lapped Matt Dumesny's rear and nearly spun.
In the end, he did spin across the finish line where only just registered the finish.
"I gotta apologise to the flagman if I scared him," Sweet explained, "I didn't have much car control in the end."
Sam Walsh was another driver who starred in his #92 Fleck Earthmoving entry as the livewire Sydney youngster steered from a B-Main start to an eventual and gutsy fourth place finish just outside the podium result.
For the race's entirety it was a swashbuckling affair from second place to tenth as Jason Sides, Jamie Veal, Ben Atkinson, Tim Kaeding, Grant Anderson and Jac Haudenschild traded lines and positions.
American Jason Sides placed fifth ahead of Jamie Veal in sixth, Ben Atkinson seventh, Jac Haudenschild eighth, Jackson Delamont ninth and Tim Kaeding rounding out the top ten.
Brooke Tatnell was looking very fast in the KMS #2 entry until he was sent to the rear for tagging Davey Heskin and causing a yellow in turn two.
Tatnell charged back to an eventual eleventh by the fall of chequers to edge out James McFadden in twelfth, Grant Tunks thirteenth, Ian Madsen fourteenth, Peter Gordon fifteenth, Grant Anderson sixteenth, Max Dumesny seventeenth, Davey Heskin eighteenth, David Murcott nineteenth and Shaun Dobson rounding out the twenty.
Steven Lines was twenty first, Matt Dumesny twenty second and Dylan Jenkin was the last placed finisher in twenty third.
The only DNF of the event was Trevor Green with driveline issues.
The 12-car Pole Shootout was a huge hit with the large and vocal crowd as James Thompson edged out Jason Sides to start on pole position in the main event.
Within the Pole Shootout however was some truly inspired driving from Tim Kaeding, James McFadden and Jamie Veal that really got the place jumping.
The B-Main was won by Ben Atkinson (his eventual 7th place in the A-Main was excellent) from Kerry Madsen (who came from the back) Peter Gordon and Trevor Green listed as the four transferees to the A-Main.
Kerry Madsen won the C-Main convincingly from Roddy Bellbowen from Mick Saller and Darryl Campbell.
Matt Jackson won the D-Main from American Danny Holtgraver in second whilst the E-Main was claimed by Sebastian Johnston over Steve Johnson.
James Thompson claimed the Network Industry Quick Time whilst an emotional highlight for the night was the appearance of the Roddy Bellbowen #7 Scott Darley tribute car in the national anthem parade lap.
The crowd stood and cheered the huge effort invested by Bellbowen to turn out a stunning rolling masterpiece of images of Scotty.
Tomorrow night is the second and final night of the Scott Darley Challenge.
Feature: 1. N29 – Kerry Madsen, 2. S99 – Brad Sweet, 3. N22 – James Thompson, 4. N92 – Sam Walsh, 5. 7S – Jason Sides, 6. V35- Jamie Veal, 7. N2 – Ben Atkinson, 8. USA71 – Jac Haudenschild, 9. N48 – Jackson Delamont, 10. N99 – Tim Kaeding, 11. W2 – Brooke Tatnell, 12. NQ25 – James McFadden, 13. N54 – Grant Tunks, 14. T10 – Ian Madsen, 15. N14 – Peter Gordon, 16. V37 – Grant Anderson, 17. V5 – Max Dumesny, 18. USA74 – Davey Heskin, 19. A1 – David Murcott, 20. ACT21 – Shaun Dobson, 21. W3 – Steven Lines, 22. Matthew Dumesny, 23. S51 – Dylan Jenkin, 24. N11 – Trevor Green.