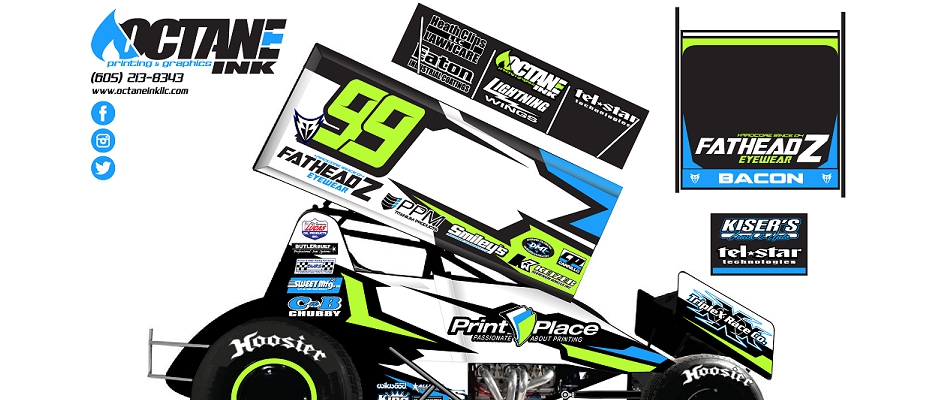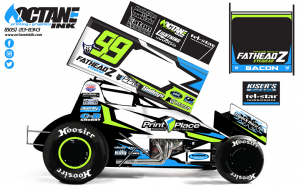 From Bill Wright
February 16, 2015 – The Brady Bacon Racing #99 wing sprint car team is excited for 2015. The team will be sporting a new look and has new partnership on board, led by primary sponsor, Print Place. The schedule with the wing should look similar to 2014.
Brady is ready to get the season started. "I'm really excited to have Print Place on board with Brady Bacon Racing in 2015," he says. "I'm really thankful for them and all my returning partners this year. We also have Chubby with us this year from CnB Mushroom Farms, and VandeBrink Designs is now called Octane Ink. Proglide Coatings is another new partner with us. I want to thank them as well as all our partners who are returning."
The Broken Arrow, Oklahoma driver anticipates a similar campaign to 2014 with the wing this season. "Our schedule will be similar to last year," says Brady. "Right now, we're waiting for the All Star schedule to come out. Once that comes out, we'll know exactly where we'll be at this year."
Look for the wing team to stay busy in the months of June and July again. "We'll be running 35-40 wing races," says Brady. "We'll be running Ohio Speedweek again of course, and the Knoxville Nationals."
Brady posted a big win in central Pennsylvania last season with the wing, capturing the Pennsylvania Speedweek stop at Path Valley Speedway. "It was a great night," he says. "Anytime you can beat those guys over there, you know you've done something. The fans are great in central PA and we're looking forward to getting back over there."
Brady's season will get underway Thursday as he hopes to defend his USAC National Sprint Car Series title with the Hoffman Racing #69 team. Bubba Raceway Park near Ocala, Florida plays host to the series Thursday through Saturday.