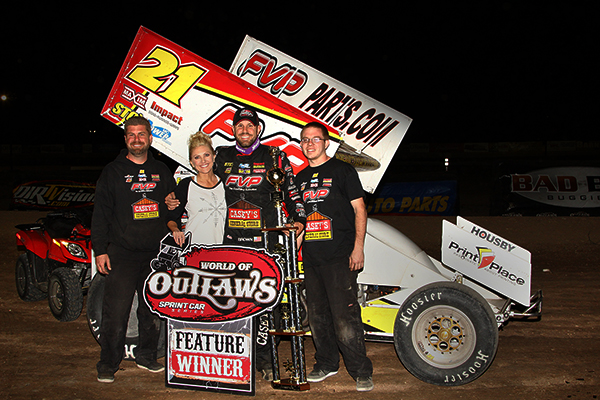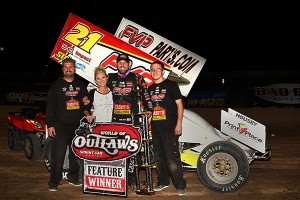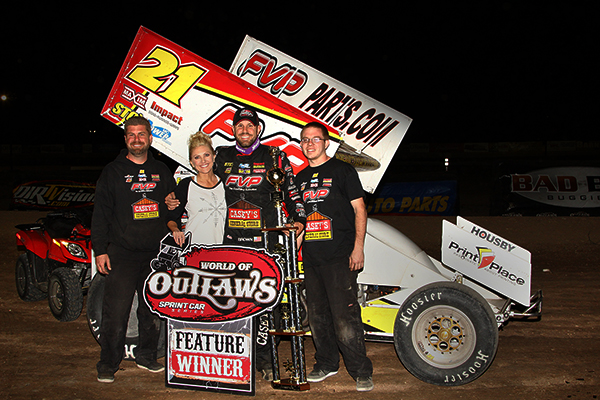 From Bill W
March 9, 2015 – Brian Brown and the Casey's General Stores/FVP #21 team started their west coast swing with the World of Outlaws last weekend in fine form. Brian picked up a huge win with the World of Outlaws at USA Raceway in Tucson, Arizona on Saturday. That followed a second place finish to open things in Las Vegas on Wednesday. The Grain Valley, Missouri driver heads to Thunderbowl Raceway in Tulare, California this Friday and Saturday.
What were your thoughts going into Tucson on Saturday?
We've always been pretty good at Tucson. We won the ASCS race there last year, and felt like we had a good shot to win with the Outlaws there too. We had high expectations going in. We drew a good number for qualifying, and that helped.
Qualifying went well for starters.
Fifth quick is a good spot to be when there are three heats, because you just need to be in a transfer spot. We were able to run third in the heat.
You were able to finish the Dash in second.
We got lucky with the Dash draw and started on the pole. After qualifying and the heat…we had to work on it quite a bit. My crew chief, Chad Morgan, and Josh Hembe did a great job making sure we made the proper changes. We led the first few laps. I stayed on the bottom to long and that let (Brad) Sweet get by us. We thought after that Dash, that we had something. The major decision there was about tires. Hoosier has two or three different choices now, and we knew it was probably going to lay rubber at some point. I feel, as a team, we made the right choice.
You started the feature on the outside of row one. That seemed to be the place to start the feature.
We felt the top was the place to be, so it was a good starting spot. We were able to jump out and get the lead. From there, the car was just flawless. I think at one point, we were up by four seconds or so. They said we had two or three lapped cars between us and second at all times, and that was the key.
At what point did the rubber-down conditions surface?
I moved around, and kind of searched. When I felt the lapped cars were keeping pace or even better than us on the bottom, I went down there. It was about lap fifteen or sixteen, and I found the rubber, and I tried not to do anything stupid and stayed in line. We were able to do that.
The FVP Showdown with the Outlaws at Las Vegas saw you get out to a fast start on Wednesday.
We were able to qualify for the front row (tenth quick) of the heat, win that, and get a good draw for the Dash. We were able to win that as well.
That put you on the pole for the feature.
Shane (Stewart) got the lead from the outside right off the bat. It was probably the roughest half-mile I've ever been on. It was kind of like a 30-lap bull ride, trying to hold on. We were able to stay right with him the whole while.
Did you have any shots at Shane for the lead?
It didn't play out like we needed. We had a double-file restart with ten to go, and we had a pretty good start. I just didn't have quite enough. I felt if I pushed it, it could have been bad for both of us. We took a good second place finish and went on to Thursday.
You were 18th quick in the final at Vegas on Thursday.
We just kind of missed it in qualifying. We worked on it and went from fifth to third in our heat.
You put on quite a show in the feature, before suffering a DNF.
We were able to charge all the way up to seventh (after starting 18th). We had a restart about halfway in, and the field kind of got bottled up. It was kind of an "accordion effect" and I ran into the back of Ian Madsen. Shane Stewart got into the back of me, I got into the infield tire and knocked the front axle out. I was pretty disappointed in myself, because I think we had a top five car if the driver doesn't do something stupid. It didn't set very well with me.
It's been a great start to your trip.
To come out west and start as good as we have, with a second on night one, and a good run on night two. To come out and win at Tucson…with a bunch of FVP customers and employees at these events…it's exactly where we want to be as a team. It took us a while to win our first one (with the Outlaws at Charlotte last November), but we were able to get our second one three races later!
This should give the team some momentum heading into Tulare this weekend.
I'm really confident going in. We have to get qualified well, and get ourselves in position. Last year, didn't go so well, but there's no reason we can't contend at Tulare.
We're here on the west coast because of FVP. To do well at the FVP Showdown and then go over to Tucson and win was just what the doctor ordered. It was great to get the first win for our new partner, Print Place, and our new employee, Josh Hembe. It was good to get him our first win too. Our whole package with Casey's General Stores, MC Power…David and Julie Goodson with Impact were able to be with us at Vegas…you can't go out and compete without all of our partners, and I'm so thankful to have them!
Follow Brian on the Web, Twitter and Facebook!
Follow Brian at his website located at www.BrianBrownRacing.com!
Also keep up with FVP, Casey's and Brian on Facebook and Twitter at the following links…
Twitter Links – @BrianBrown21, @FVPRacing, @CaseysGenStores
Facebook Links
Brian Brown Racing – www.facebook.com/pages/Brian-Brown-Racing/200630163294222
Casey's General Stores – www.facebook.com/pages/Caseys-General-Stores/112073528804354
FVP Racing – http://www.facebook.com/FVPRacing?ref=ts&fref=ts
Other Web site info
Casey's: www.caseys.com
FVP: www.fvpparts.com