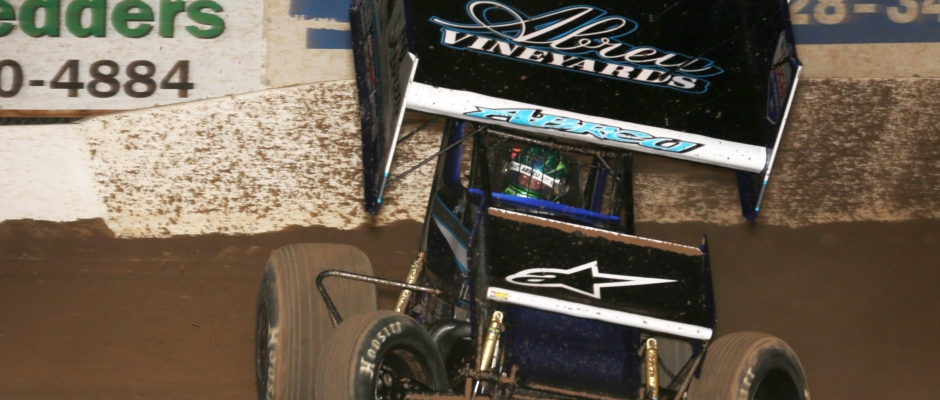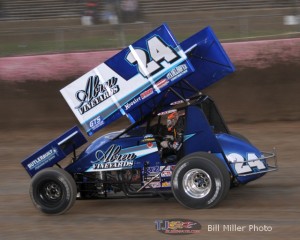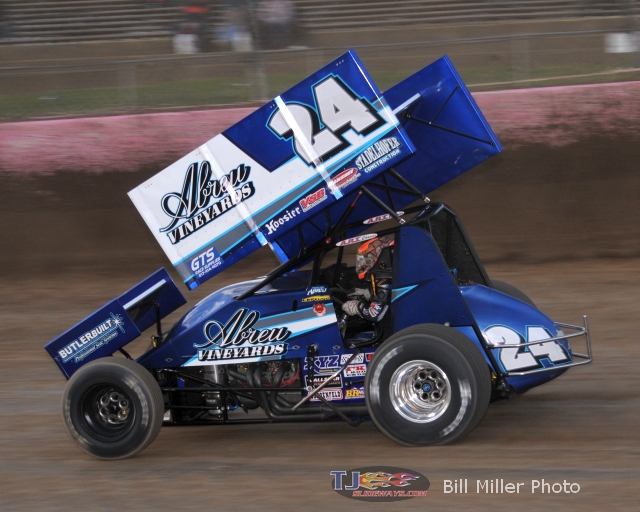 From Aaron Fielder
Tulare, CA — (March 14, 2015) — With his decisive win Saturday night at Thunderbowl Raceway, Rico Abreu became the eighth different World of Outlaws Sprint Car Series winner in eight races so far this season – the first time since 1995 that has happened.
"Everything played out well tonight," Abreu said in victory lane. "I got a good start in the dash and then just made every lap count in that feature."
After a fifth place run Friday night at Thunderbowl, Abreu showed his dominance early in the night, scoring a win in his heat and second place finish in the Dash. When the green flag flew, Abreu battled past Brad Sweet to lead the first lap. Through several restarts, Abreu maintained his lead and by the end of the night had built up straightaway between him and second-place Shane Stewart.
Abreu's command performance at Thunderbowl was déjà vu for the 23-year-old driver, who scored his first ever series win almost exactly one year ago at the track.
"A lot of people don't realize how much work is put in behind the scenes and that's what makes this car go fast," Abreu said of his No. 24 Abreu Vineyards team. "It's a cool win. Especially to back it up with last year's Outlaw win. I look forward to winning a few more this year – not just here."
Shane Stewart kicked off the second night of racing for the Outlaws and King of the West Series at Thunderbowl by scoring the quick time of the night – the sixth different driver of the season to do so.
In the feature, Brad Sweet and Abreu, both California natives, led the field to the green flag. A yellow quickly fell on the track as Tim Kaeding and Jason Sides spun around in turn four. When the field returned to green, Abreu battled past Sweet to lead the first official lap. Donny Schatz utilized the restart to take over the fifth position and then found his way around Joey Saldana on the high side of four to take over the fourth position.
By lap three, Sweet worked to hold off Stewart who had his sights set on second. With Sweet working the bottom of the track, Stewart took the high line and passed Sweet as the two drivers came off of turn two onto the backstretch.
Sweet then had Donny Schatz to contend with. Schatz, the reigning series champion, had worked his way forward from a sixth place starting position. Through the next two laps, Schatz worked his way around Sweet to take over third.
A caution flag flew on lap 10 and on the subsequent restart a red flag was thrown after a mid-pack wreck that collected Brian Brown, Jason Johnson, the previous night's winner Tim Kaeding, Carson Macedo, Trey Starks and Cory Eliason.
The race again went back to green after an extended open red with Abreu in the lead. Schatz, then in third, tried to make his move on Stewart, at one point getting side-by-side with the Larson Marks Racing driver. Stewart however was able to hold the position.
By lap 15, Schatz was the one on the defensive after Sweet caught the Tony Stewart Racing driver. A slide job through turns three and four briefly gave Sweet the position but Schatz battled back by. Two laps later, Sweet was able to get back around Schatz. Three laps later, Sweet took back the second position from Stewart.
"Got the top groove in three and four really working pretty good and thought we were going to have something for Rico," Sweet said. "Then the rubber came down and I didn't find it quick enough."
Stewart said his car was a little too free after the earlier red flag and let Abreu get away from him and then Sweet get by. With track conditions in play, Stewart was able to find the fast line quicker than Sweet and battled back past the Kasey Kahne Racing driver on lap 23 for second.
Stewart tried to close the gap on Abreu in the closing laps but had nothing for the young driver. Abreu closed out his dominant performance by leading every lap.
"Obviously I wanted to beat (Rico) but I couldn't be beat by a better guy and a better team," said Stewart, who used to drive for Abreu's car owner Paul Silva. "I can't say enough for my guys. They've worked really hard this weekend. I felt like I was just a little free after that red and let Rico get away from us and was able to get back by Brad when the rubber came down… Anytime you can run top-three is a good weekend and we're very, very happy."
The finish was Stewart's third second place finish in a row. So far this season, he has just one finish outside the top-ten. Stewart expanded his championship points lead over second place Donny Schatz to 21.
Third place finisher Brad Sweet, who ran well Friday night at Thunderbowl before getting caught up in a wreck, said he needs to do a better job finding the racing line to keep up with his competitors.
"I didn't feel like I drove a really good race but my guys – we've been tight and tight and tight so we left it a little bit looser and was just a little bit too loose at the beginning to really get going the way I'd like to," Sweet said. "We're just learning. I'm happy to bring it home in third."
Sweet is currently third in the championship point standings, 22 points out of the lead and one point back from second place Schatz.
Bud Kaeding was the night's KSE Racing Hard Charger after advancing 17 positions to finish in ninth.
The World of Outlaws Sprint Car Series next heads to Stockton (Calif.) Dirt Track next weekend, March 21 and 22. Tickets are still available by calling 1-877-395-8606 or visitinghttp://www.WorldofOutlaws.com/Tickets. Listen live onhttp://www.DIRTVision.com and follow live timing and scoring at http://www.WoOSprint.com/live-scoring.
Follow the World of Outlaws Sprint Car Series on Twitter at www.twitter.com/WorldofOutlaws, like it on Facebook at www.facebook.com/WorldofOutlaws, or check out the latest videos on YouTube atwww.youtube.com/WorldofOutlaws.
Thunderbowl Racway Notebook
RACE NOTES: Tonight's Outlaws win was the second of Rico Abreu's career – the first came almost exactly one year ago on the second Outlaws night at Thunderbowl Raceway… Abreu is the eighth different winner in the first eight races of the season. It is the most different winners to start a season since 1995… Bud Kaeding was the night's KSE Racing Hard Charger, advancing 17 positions to finish in ninth… Brad Sweet is the first repeat feature polesitter of the season.
CONTINGENCY WINNERS – MSD Ignitions ($25 cash): Jacob Allen; MSD Ignitions ($50 cash): Shane Stewart; Sweet Manufacturing ($50 cash): Shane Stewart; Penske Shocks ($50 cash): Donny Schatz;Mobil 1 ($50 cash): Donny Schatz; JE Pistons ($50 cash): Terry McCarl; Lincoln Welders ($50 cash): Joey Saldana; VP Racing Fuels ($50 cash): Daryn Pittman; Edelbrock ($50 cash): Bud Kaeding; Comp Cams ($50 cash): Kraig Kinser; Cometic Gasket ($50 cash): Mason Moore;Superflow ($50 cash): David Gravel; Sweet Manufacturing ($50 product certificate): Shane Stewart;KSE Racing Products ($100 product certificate): Bud Kaeding; Comp Cams ($50 product certificate): Shane Stewart;Mobil 1 (20% off Mobil1RacingStore.com): Craig Dollansky; JE Pistons (Set of Rings): Jason Johnson; JE Pistons (Set of Rings): Logan Schuchart.
SEASON WINNERS: Rico Abreu – 1 (Thunderbowl Raceway on March 14); Brian Brown – 1 (USA Raceway on March 7); Tim Kaeding – 1 (Thunderbowl Raceway); Terry McCarl – 1 (The Dirt Track at Las Vegas Motor Speedway on March 5); Daryn Pittman – 1 (Volusia Speedway Park on Feb. 13);Donny Schatz – 1 (Volusia Speedway Park on Feb. 14); Shane Stewart – 1 (The Dirt Track at Las Vegas Motor Speedway on March 5); Brad Sweet – 1 (Volusia Speedway Park on Feb. 15)
World of Outlaws Sprint Car Series Statistical Report; Thunderbowl Raceway; Tulare, Calif.; March 14, 2015
A-Main – (35 Laps) – 1. 24-Rico Abreu [2] [$10,000]; 2. 2-Shane Stewart [3] [$5,000]; 3. 49-Brad Sweet [1] [$3,000]; 4. 15-Donny Schatz [6] [$2,700]; 5. 51-Paul McMahan [10] [$2,500]; 6. 71M-Joey Saldana [5] [$2,200]; 7. 88-Terry McCarl [11] [$2,000]; 8. 9-Daryn Pittman [4] [$1,800]; 9. O-Bud Kaeding [26] [$900]; 10. 11K-Kraig Kinser [14] [$1,450]; 11. 83JR-Tim Kaeding [21] [$1,300]; 12. 73-Shane Golobic [22] [$1,200]; 13. 22-Mason Moore [20] [$1,100]; 14. 83-David Gravel [17] [$1,000]; 15. 88N-DJ Netto [8] [$950]; 16. 41-Jason Johnson [23] [$900]; 17. 21X-Carson Macedo [18] [$850]; 18. 7S-Jason Sides [25] [$50]; 19. 29-Kerry Madsen [7] [$725]; 20. 7-Craig Dollansky [9] [$700]; 21. 1s-Logan Schuchart [16] [$700]; 22. 21-Brian Brown [12] [$700]; 23. 55-Trey Starks [15] [$700]; 24. 26-Taylor Malsam [13] [$700]; 25. OOJR-Cory Eliason [19] [$700]; 26. 1A-Jacob Allen [24] [$700]. KSE Hard Charger Award: O-Bud Kaeding [+17]. Lap Leaders: Rico Abreu 1-35
Qualifying – 1. 2-Shane Stewart, 12.789; 2. 71M-Joey Saldana, 12.832; 3. 29-Kerry Madsen, 12.896; 4. 49-Brad Sweet, 12.949; 5. 7-Craig Dollansky, 13.010; 6. 51-Paul McMahan, 13.041; 7. 88-Terry McCarl, 13.044; 8. 24-Rico Abreu, 13.049; 9. 21-Brian Brown, 13.083; 10. 15-Donny Schatz, 13.106; 11. 26-Taylor Malsam, 13.149; 12. 11K-Kraig Kinser, 13.153; 13. 9-Daryn Pittman, 13.155; 14. 55-Trey Starks, 13.189; 15. 88N-DJ Netto, 13.192; 16. 1s-Logan Schuchart, 13.198; 17. 83-David Gravel, 13.218; 18. 21X-Carson Macedo, 13.228; 19. OOJR-Cory Eliason, 13.233; 20. 22-Mason Moore, 13.255; 21. 83JR-Tim Kaeding, 13.262; 22. 73-Shane Golobic, 13.265; 23. 41-Jason Johnson, 13.267; 24. 1A-Jacob Allen, 13.293; 25. 17W-Bryan Clauson, 13.295; 26. 88X-Tanner Thorson, 13.300; 27. 3-Craig Stidham, 13.301; 28. 68-Chase Johnson, 13.334; 29. 3C-Jonathan Allard, 13.355; 30. 18-Ian Madsen, 13.365; 31. 44W-Austen Wheatley, 13.413; 32. 5V-Colby Copeland, 13.441; 33. 7S-Jason Sides, 13.443; 34. O-Bud Kaeding, 13.451; 35. 37-Mitchell Faccinto, 13.475; 36. 69-Brent Kaeding, 13.565; 37. 99-Shawn Wright, 13.583; 38. 35M-Kyle Hirst, 13.642; 39. 12-Scott Parker, 13.646; 40. 7H-Jojo Helberg, 13.706; 41. 25-Bobby McMahan, 13.824; 42. 41X-Dominic Scelzi, 13.876; 43. 44-Chris Martin, 14.218; 44. 12X-Jarrett Soares, 14.270
Heat 1 – (8 Laps – Top 5 finishers transfer to the A-feature) – 1. 9-Daryn Pittman [1]; 2. 21-Brian Brown [2]; 3. 2-Shane Stewart [4]; 4. 7-Craig Dollansky [3]; 5. 83-David Gravel [5]; 6. 83JR-Tim Kaeding [6]; 7. 3C-Jonathan Allard [8]; 8. 17W-Bryan Clauson [7]; 9. 99-Shawn Wright [10]; 10. 7S-Jason Sides [9]; 11. 25-Bobby McMahan [11]
Heat 2 – (8 Laps – Top 5 finishers transfer to the A-feature) – 1. 15-Donny Schatz [2]; 2. 55-Trey Starks [1]; 3. 71M-Joey Saldana [4]; 4. 51-Paul McMahan [3]; 5. 21X-Carson Macedo [5]; 6. 73-Shane Golobic [6]; 7. 41X-Dominic Scelzi [11]; 8. 88X-Tanner Thorson [7]; 9. 35M-Kyle Hirst [10]; 10. 18-Ian Madsen [8]; 11. O-Bud Kaeding [9]
Heat 3 – (8 Laps – Top 5 finishers transfer to the A-feature) – 1. 88N-DJ Netto [1]; 2. 88-Terry McCarl [3]; 3. 26-Taylor Malsam [2]; 4. 29-Kerry Madsen [4]; 5. 41-Jason Johnson [6]; 6. OOJR-Cory Eliason [5]; 7. 44W-Austen Wheatley [8]; 8. 3-Craig Stidham [7]; 9. 37-Mitchell Faccinto [9]; 10. 12-Scott Parker [10]; 11. 44-Chris Martin [11]
Heat 4 – (8 Laps – Top 5 finishers transfer to the A-feature) – 1. 24-Rico Abreu [3]; 2. 49-Brad Sweet [4]; 3. 11K-Kraig Kinser [2]; 4. 1A-Jacob Allen [6]; 5. 22-Mason Moore [5]; 6. 1s-Logan Schuchart [1]; 7. 69-Brent Kaeding [9]; 8. 68-Chase Johnson [7]; 9. 7H-Jojo Helberg [10]; 10. 5V-Colby Copeland [8]; 11. 12X-Jarrett Soares [11]
Dash – (6 Laps, finishing order determined first 8 starting positions of A-feature) – 1. 49-Brad Sweet [1]; 2. 24-Rico Abreu [5]; 3. 2-Shane Stewart [4]; 4. 9-Daryn Pittman [7]; 5. 71M-Joey Saldana [3]; 6. 15-Donny Schatz [6]; 7. 29-Kerry Madsen [2]; 8. 88N-DJ Netto [8]
C-Main – (10 Laps – Top 2 finishers transfer to the Last Chance Showdown) – 1. 69-Brent Kaeding [2] [-]; 2. 99-Shawn Wright [3] [-]; 3. 37-Mitchell Faccinto [1] [$150]; 4. 35M-Kyle Hirst [4] [$150]; 5. 25-Bobby McMahan [7] [$150]; 6. 12-Scott Parker [5] [$125]; 7. 12X-Jarrett Soares [10] [$125]; 8. 7H-Jojo Helberg [6] [$125]; 9. 41X-Dominic Scelzi [8] [$125]; 10. 44-Chris Martin [9] [$125]
Last Chance Showdown – (12 Laps – Top 4 finishers transfer to the A-feature) – 1. 73-Shane Golobic [4] [-]; 2. 1s-Logan Schuchart [1] [-]; 3. OOJR-Cory Eliason [2] [-]; 4. 83JR-Tim Kaeding [3] [-]; 5. 17W-Bryan Clauson [5] [$300]; 6. 88X-Tanner Thorson [6] [$250]; 7. O-Bud Kaeding [14] [$225]; 8. 3C-Jonathan Allard [9] [$200]; 9. 68-Chase Johnson [8] [$200]; 10. 3-Craig Stidham [7] [$200]; 11. 44W-Austen Wheatley [11] [$200]; 12. 99-Shawn Wright [16] [$200]; 13. 69-Brent Kaeding [15] [$200]; 14. 18-Ian Madsen [10] [$200]; 15. 5V-Colby Copeland [12] [$200]; 16. 7S-Jason Sides [13] [$200]
World of Outlaws STP Sprint Car Series Championship Standings