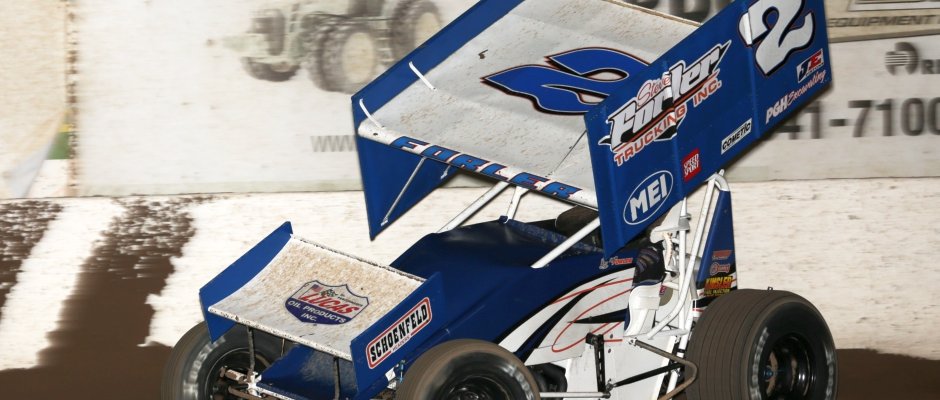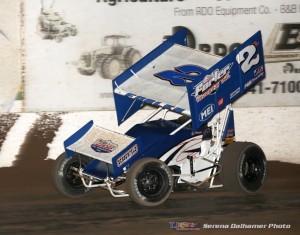 From Bryan Hulbert
Tucson, AZ — (March 20, 2015) — Not really the way Logan Forler had imagined winning the opening night of the Copper on Dirt, but nevertheless, the Steve Forler Trucking No. 2L was awarded the victory at Tucson's USA Raceway following a penalty that was assessed after the checkered flag.
Taking the lead at the start, Forler set the pace until Lap 9.
Slowing for a caution, the field assembled single file with slower cars in line where they were running. On the restart, Dusty Zomer jumped around a slower car before the cone. Without another pause in the race to assess the penalty, the No. 82 was docked two spots at the end of the race.
Having to exchange Shark Racing Engines on the No. 87, Aaron Reutzel forfeited his pole starting position, but was able to rebound to the runner up spot from 12th. Zomer was credited with third. John Carney II from eighth was fourth with Seth Bergman rounding out the top-five.
Josh Baughman crossed sixth with James Mosher from 13th to seventh. Ryan Linder charged from 22nd to eighth with Bob Ream, Jr. and Tyler Thomas completing the top-ten.
By finishing in the top-four, Forler, Reutzel, Zomer, and Carney are locked into Saturday's Copper on Dirt Finale at the USA Raceway. For more information on the Copper on Dirt, log onto http://www.raceusaraceway.com.
For continued updates on the American Sprint Car Series, from the Regions to the National Tour, log onto http://www.ascsracing.com.
Results:
ASCS Southwest Region
USA Raceway – Tucson, Ariz.
8th annual Copper on Dirt
Friday, March 20, 2015
Car Count: 33
Heat 1 (8 Laps): 1. 23-Seth Bergman; 2. 17-Josh Baughman; 3. 74B-John Carney II; 4. 74X-Joshua Hodges; 5. 27-Perry McMillan; 6. 51-Cody Cambensy; 7. 90-Lance Norick; 8. 01-Kaylene Verville; 9. 91-Casey Buckman
Heat 2 (8 Laps): 1. 2L-Logan Forler; 2. 20Z-Rick Ziehl; 3. 41W-Joshua Williams; 4. 2-Alex Pettas; 5. 12-James Mosher; 6. 5H-Patrick Krob; 7. 00-Roger Cummings; 8. 55-Brent McKee
Heat 3 (8 Laps): 1. 82-Dusty Zomer; 2. 5A-Jeff Lowery; 3. 75-Brady Bacon; 4. 94-Nick Parker; 5. 21-Tyler Thomas; 6. 22X-Jesse Baker; 7. 9-Ryan Linder; 8. 6-Bud Rowe
Heat 4 (8 Laps): 1. 87-Aaron Reutzel; 2. 17W-Harli White; 3. 0J-Jeremy McCune; 4. 8-Bob Ream Jr; 5. 96-Greg Hamilton; 6. 17K-Kyle Danielson; 7. 14-Cody Sickles; DNS 18-Lorne Wofford
B Feature (12 Laps): 1. 12-James Mosher[1]; 2. 0J-Jeremy McCune[2]; 3. 90-Lance Norick[6]; 4. 51-Cody Cambensy[4]; 5. 91-Casey Buckman[10]; 6. 96-Greg Hamilton[5]; 7. 17K-Kyle Danielson[8]; 8. 22X-Jesse Baker[7]; 9. 2-Alex Pettas[3]; 10. 55-Brent McKee[9]; DNS 18-Lorne Wofford
B Feature 2 (12 Laps): 1. 74X-Joshua Hodges[2]; 2. 41W-Joshua Williams[1]; 3. 21-Tyler Thomas[3]; 4. 01-Kaylene Verville[9]; 5. 9-Ryan Linder[6]; 6. 27-Perry McMillan[5]; 7. 6-Bud Rowe[10]; 8. 14-Cody Sickles[7]; 9. 5H-Patrick Krob[4]; 10. 00-Roger Cummings[8]
A Feature (25 Laps): 1. 2L-Logan Forler[2]; 2. 87-Aaron Reutzel[12]; 3. 82-Dusty Zomer[4]; 4. 74B-John Carney II[8]; 5. 23-Seth Bergman[6]; 6. 17-Josh Baughman[1]; 7. 12-James Mosher[13]; 8. 9-Ryan Linder[22]; 9. 8-Bob Ream Jr[11]; 10. 21-Tyler Thomas[18]; 11. 90-Lance Norick[17]; 12. 94-Nick Parker[9]; 13. 74X-Joshua Hodges[14]; 14. 20Z-Rick Ziehl[5]; 15. 41W-Joshua Williams[16]; 16. 5A-Jeff Lowery[7]; 17. 0J-Jeremy McCune[15]; 18. 01-Kaylene Verville[20]; 19. 91-Casey Buckman[21]; 20. 17W-Harli White[10]; 21. (DNF) 51-Cody Cambensy[19]; 22. (DNF) 75-Brady Bacon[3]