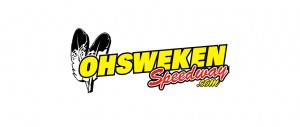 From Tommy Goudge
Ohsweken, Ontario – (April 4, 2015) – Ohsweken Speedway officials are proud to announce the return of Strickland's GMC as title sponsor of the Crate Sprint Car division for the 2015 season. Strickland's GMC will also be the presenting sponsor for "Corr/Pak versus SOS" Night at Ohsweken on Friday, July 3, and have Ohsweken Speedway race cars on display at their dealership in Brantford on Saturday, May 2.
Strickland's is a family owned and operated business that has been serving Southwestern Ontario for over 30 years. They have never been afraid to change in order to better serve their customers, but one thing has remained the same – they have always run their company based on the old proverb "Treat others the way you wish to be treated". This belief applies to employees and customers alike, which is why they have such a dedicated staff, and continue to be one of Canada's friendliest car dealerships. No hassles, and no pressure – just good old-fashioned service, and honest dealings.
Strickland's is the only full line General Motors dealer in Brantford and the surrounding area, serving the community for over 90 years. Strickland's has many different makes & models to choose from. They carry the full line of General Motors products including; Chevrolet, Buick, GMC, and Cadillac models. Strickland's also offers over 600 used vehicles to choose from.
Strickland's GMC is located at 19-21 Lynden Road in Brantford, at the intersection of Lynden Road and Wayne Gretzky Parkway, and just 15 minutes from Ohsweken Speedway. Visit Strickland's GMC online at www.Stricklands.com, or call them at 1-866-201-9420. Strickland's has three other locations across Ontario offering both new and used vehicles, including Strickland's Stratford Toyota in Stratford, Ontario, Strickland's Automart in Stratford, Ontario, and Strickland's Automart in Windsor, Ontario.