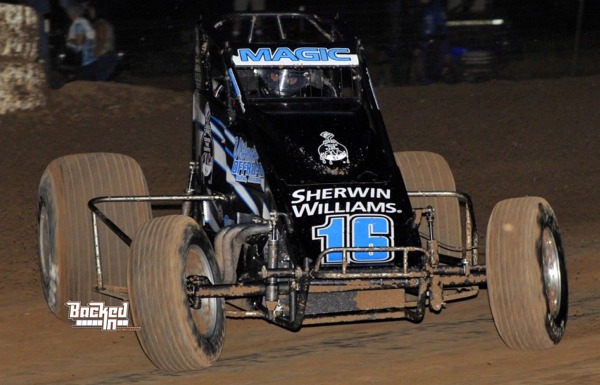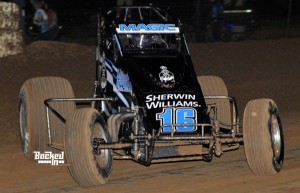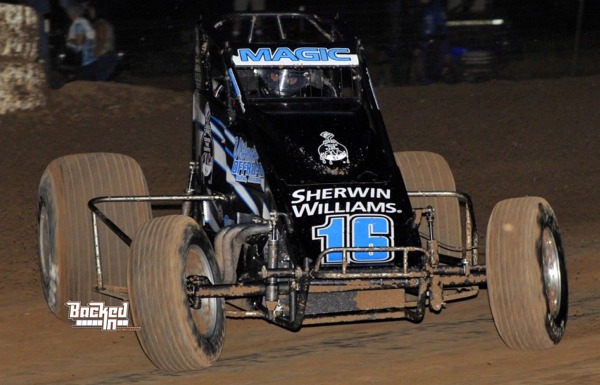 From Lance Jennings
Phoenix, AZ — (April 8, 2015) — For the first time in series history, the USAC SouthWest Sprint Cars will invade Yuma's Cocopah Speedway this Saturday, April 11th. The third point race of the season will also showcase the IMCA Hobby Stocks, IMCA Stock Cars, IMCA Sport Mods, and IMCA Modifieds. The pit gates will open at 2:00pm, spectator gates will open at 5:00pm, and racing at the fast 3/8-mile facility will start at 7:00pm. For more event and ticket information, visit www.cocopahspeedway.com or call 928.344.1563.
Heading into Saturday's event, Stevie Sussex of Tempe leads the SouthWest standings with a twenty-seven point advantage. Piloting Mike Burkhart's #21AZ Stratis Construction / KSE Custom Drywall RSS, Sussex led thirteen laps of March 28th's Hank Arnold Memorial before finishing second. To date, the point leader has one feature win, two hard charger awards, five top-10 finishes, and 22 feature laps led on the season. Stevie will be looking for his third career USAC SouthWest feature win this Saturday.
After a hard fought battle with Sussex, Phoenix's R.J. Johnson won the Hank Arnold Memorial and climbed to second in the point chase. Driving Bill Michaels' #77M Kodiak Products / Beal's Auto Body Sherman, Johnson has three heat race victories, four top-10 finishes, and 1 feature lap led to his credit. The two-time USAC SouthWest Champion will have his sights on earning his series leading twenty-fourth feature win at Cocopah Speedway.
"Chargin" Charles Davis Jr. of Buckeye is third in the chase for the championship. Driving the Massey Motorsports' #50 RSS Industries / Rod End Supply RSS, Davis ran tenth in the Canyon Speedway Park feature. To date, the five-time Arizona Sprint Car Champion has one high point driver award, two heat race victories, four top-10 finishes, and 4 feature laps led in the campaign. "Chargin" Charles will be looking to claim his eleventh career SouthWest triumph and gain valuable points at Yuma.
South Central's Matt Rossi sits fourth in the point standings. Racing the family owned #02 Apache Scapes / IWR Spike, Rossi stormed from twelfth to score fourth in the Hank Arnold Memorial. Heading to Yuma, the defending Western World Champion has one hard charger award and one top-10 finish on the season. Matt will have his sights on claiming his third career series main event win this Saturday night.
Josh Pelkey of Peoria is currently fifth in the USAC SouthWest point chase. Piloting Robbie and Gaye Allen's #12 ABC Body Shop / Napa Auto Parts Maxim, Pelkey finished third in the March 28th main event. As this writing goes to press, the former ASCA Champion has one top-10 finish and will be looking for his sixth career SouthWest victory.
Among the other drivers expected to be in action are "The Magic Man" Mike Martin, Shon Deskins, Mike Colegrove, "The Radio Flyer" Bruce St. James, Andy Reinbold, Brian Hosford, Josh Shipley, "The Kid" Tye Mihocko, Dennis Gile, Larry Gibson, Dalten Gabbard, Michael Curtis, and more.
Cocopah Speedway is located at the intersection of US Highway 95 and County 15th Street in Somerton, Arizona. Adult tickets are $16, Senior/Military tickets are $14, Skybox tickets are $30, Junior tickets (12-7) are $5, and Children (6 & Under) are FREE. For more information, visit www.cocopahspeedway.com or call 928.344.1563.
The USAC SouthWest Sprint Car Series thanks Sunoco Race Fuels, Hoosier Tire, Racers Advantage Store, and the Hose Advantage Store for their support. For more information on the group, visit www.southwestsprintcars.com, www.usacracing.com, or follow the series on Facebook (www.facebook.com/SouthwestSprintCars).
———————————————–
USAC SOUTHWEST SPRINT CAR CHAMPIONS:
2013-R.J. Johnson, 2014-R.J. Johnson.
2015 USAC SOUTHWEST SPRINT CAR WINS:
2-Ryan Bernal, 1-Brady Bacon, 1-R.J. Johnson, 1-Stevie Sussex.
USAC SOUTHWEST SPRINT CAR POINT STANDINGS:
1. Stevie Sussex-139, 2. R.J. Johnson-112, 3. Charles Davis Jr.-110, 4. Matt Rossi-83, 5. Josh Pelkey-80, 6. Mike Martin-72, 7. Ryan Bernal-71, 8. Shon Deskins-68, 9. Matt Mitchell-62, 10. Hunter Schuerenberg-57, 11. Mike Colegrove-54, 12. Bruce St. James-49, 13. Colby Copeland-48, –. Chris Windom-48, 15. Andy Reinbold-46, 16. Richard Vander Weerd-45, 17. Brian Hosford-42, –. Josh Shipley-42, 19. Max Adams-40, 20. Jace Vander Weerd-38.