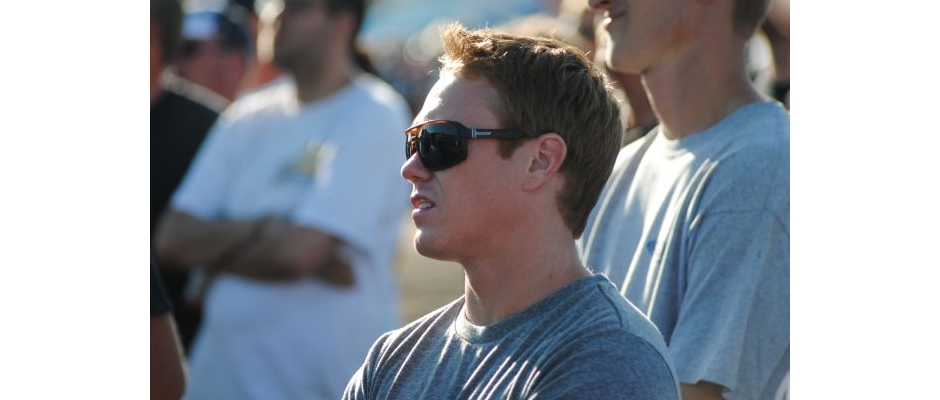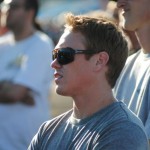 From Aaron Fielder
Calistoga, CA — (April 11, 2015) — Brad Sweet, Joey Saldana and Rico Abreu put on a show in front of a packed Calistoga Speedway Saturday night, trading the lead and battling for the win on the opening night of the Wine Country Outlaw Showdown.
Ultimately, it was Sweet who powered his No. 49 Razorback Tools car to the front and scored his second World of Outlaws Sprint Car Series victory of the season.
"I don't know if we dominated," Sweet said in victory lane. "But we drove our butts off and worked hard. We've been struggling, having a little bad luck and the boss got on us a little bit – so it was nice to be able to bring it to victory lane."
Sweet's win gave Kasey Kahne Racing with Mike Curb its third straight win at the track since 2014. The Grass Valley, Calif.-native dedicated the win to his grandmother, who was with him and his team in victory lane at the track last season.
"This one is for my grandmother JoAn," said an emotional Sweet in victory lane. "She passed away not too long ago and she was standing right here last year with us, so this one's for her."
After a quicktime and Dash win earlier in the night, Joey Saldana, who holds the Calistoga Speedway track record, led the field to the green flag, but it was Rico Abreu who led the first lap.
Abreu held onto the lead through a red flag on lap five. When the field returned to green, Saldana struck back, taking over the lead once again, while Sweet moved into second.
"The restarts were key to getting second," Sweet said. "Clean air was a big deal."
A caution fell on the next lap and setup another restart. Sweet looked for the lead and battled Saldana side-by-side through lap seven, but Saldana held on. By lap 12, Sweet had again closed the gap with Saldana.
A two lap clash for the lead ensued. Through three and four on lap 15, Sweet got the momentum he needed to get around Saldana and lead the lap.
"Once we got in front of Joey there, my car really took off," Sweet said. "We were good. That cushion got thicker and thicker. Luckily I was able to get through lapped cars."
Once in traffic, Saldana slid back, as Abreu took over the second position and made another run at the lead.
Farther back, Jason Sides and Shane Stewart worked their way around Saldana and tried to find a way around each other. The Larson Marks Racing No. 2 got around Sides on lap 16. Sides tried to take the position back with his No. 7s Wetherington Tractor Service car, but Stewart held him off.
Abreu, then in second, saw his night end prematurely as the field worked its way around the half-mile track on lap 23. As he drove through turn three, Abreu flipped which left his car in a heap at the top of turns three and four. Abreu was OK but his car was not. He closed out the night in 22nd after leading the first five laps of the race.
The field returned to green with just three laps remaining in the 25-lap feature. Stewart moved into the second position after Abreu's crash as Sides took over third. As Sweet built up a sizeable lead in the final two laps, Sides tried to make a move on Stewart, but Stewart held him off. Stewart ended the night in second, Sides in third and Donny Schatz in fourth.
Stewart, who remains second in the series' championship standings behind Schatz, said he expected the track to be different for tomorrow night's Wine Country Outlaw Showdown finale at Calistoga Speedway.
"The track ended up being really, really nice during the A main," Stewart said. "I haven't been here in a long time but the improvements they have made are unbelievable. Probably one of the nicest tracks, as far as good looking and the scenery and everything, that we race at. It's a great night for our guys – hopefully we can come back tomorrow and be one spot better."
Sides came into the night with three-top five finishes. With his third place run at Calistoga Saturday night, the Bartlett, Tenn.-native has already bested his 2014 top-five total.
"We've just had some good runs the last couple of weeks," Sides said. "I think you carry that momentum from racetrack to racetrack. As long as we're having good runs hopefully that can continue."
The World of Outlaws Sprint Car Series and King of the West Series return to Calistoga Speedway Sunday night for the conclusion of the Wine Country Outlaw Showdown. General admission and reserved tickets are still available for Sunday night's event by visiting the track box office. Fans can watch and listen live onhttp://www.DIRTVision.com and follow live timing and scoring at http://www.WoOSprint.com/live-scoring.
Follow the World of Outlaws Sprint Car Series on Twitter at www.twitter.com/WorldofOutlaws, like it on Facebook atwww.facebook.com/WorldofOutlaws, or check out the latest videos on YouTube atwww.youtube.com/WorldofOutlaws.
Calistoga Speedway Notebook
RACE NOTES: Brad Sweet is the fourth repeat winner of the season, joining Rico Abreu, Donny Schatz and his Kasey Kahne Racing teammate Daryn Pittman… Kasey Kahne Racing with Mike Curb has won the last three straight World of Outlaws events at Calistoga Speedway… Tonight was the first time this season Donny Schatz finished worse than he started… Kevin Swindell was the night's KSE Racing Hard Charger, advancing 15 positions to finish in 10th… Joey Saldana scored the quicktime tonight, his second of the season… Three drivers led the feature, Brad Sweet, Rico Abreu and Joey Saldana.
CONTINGENCY WINNERS – MSD Ignitions ($25 cash): Paul McMahan; MSD Ignitions ($50 cash): Shane Stewart;Sweet Manufacturing ($50 cash): Joey Saldana; Penske Shocks ($50 cash): Donny Schatz;Mobil 1 ($50 cash): Donny Schatz; JE Pistons ($50 cash): Kerry Madsen; Lincoln Welders ($50 cash): Joey Saldana; VP Racing Fuels ($50 cash): Logan Schuchart; Edelbrock ($50 cash): Cody Darrah; Comp Cams ($50 cash): Justyn Cox; Cometic Gasket ($50 cash): Justyn Cox;Superflow ($50 cash): Jason Meyers; Sweet Manufacturing ($50 product certificate): Brad Sweet;KSE Racing Products ($100 product certificate): Kevin Swindell; Comp Cams ($50 product certificate): Brad Sweet;Mobil 1 (20% off Mobil1RacingStore.com): Jonathan Allard; JE Pistons (Set of Rings): Jason Meyers; JE Pistons(Set of Rings): Jonathan Allard.
SEASON WINNERS: Donny Schatz – 4 (Volusia Speedway Park on Feb. 14, Stockton Dirt Track on March 21, Silver Dollar Speedway on March 28, Placerville Speedway on April 8); Rico Abreu – 2 (Thunderbowl Raceway on March 14, Stockton Dirt Track on March 22); Daryn Pittman – 2 (Volusia Speedway Park on Feb. 13, Antioch Speedway on March 29); Brad Sweet – 2 (Volusia Speedway Park on Feb. 15, Calistoga Speedway on April 11);Brian Brown – 1 (USA Raceway on March 7); Tim Kaeding – 1 (Thunderbowl Raceway on March 13); Terry McCarl – 1 (The Dirt Track at Las Vegas Motor Speedway on March 5); Shane Stewart – 1 (The Dirt Track at Las Vegas Motor Speedway on March 5)
World of Outlaws Sprint Car Series Statistical Report; Calistoga Speedway; Calistoga, Calif.; April 11, 2015
A-Main – (25 Laps) – 1. 49-Brad Sweet [4] [$10,000]; 2. 2-Shane Stewart [6] [$5,000]; 3. 7S-Jason Sides [5] [$3,000]; 4. 15-Donny Schatz [3] [$2,700]; 5. 29-Kerry Madsen [11] [$2,500]; 6. 71M-Joey Saldana [1] [$2,200]; 7. 7-Craig Dollansky [8] [$2,000]; 8. 1s-Logan Schuchart [13] [$1,800]; 9. 9-Cody Darrah [10] [$1,600]; 10. 83JR-Kevin Swindell [25] [$750]; 11. 29W-Willie Croft [21] [$1,300]; 12. 31C-Justyn Cox [20] [$1,200]; 13. 11K-Kraig Kinser [16] [$1,100]; 14. 55-Trey Starks [9] [$1,000]; 15. O-Bud Kaeding [19] [$950]; 16. 41-Jason Meyers [17] [$900]; 17. 21X-Carson Macedo [15] [$850]; 18. 44W-Austen Wheatley [18] [$750]; 19. 83-David Gravel [22] [$725]; 20. 69-Brent Kaeding [23] [$700]; 21. 7H-Jojo Helberg [14] [$700]; 22. 24-Rico Abreu [2] [$700]; 23. 3C-Jonathan Allard [24] [$700]; 24. 68-Chase Johnson [7] [$700]; 25. 51-Paul McMahan [12] [$700]. Lap Leaders: Rico Abreu 1-5, Joey Saldana 6-14, Brad Sweet 15-25. KSE Hard Charger Award:83JR-Kevin Swindell [+15]
Qualifying – 1. 71M-Joey Saldana, 15.782; 2. 24-Rico Abreu, 15.924; 3. 15-Donny Schatz, 15.957; 4. 49-Brad Sweet, 15.994; 5. 55-Trey Starks, 16.115; 6. 9-Cody Darrah, 16.155; 7. 29-Kerry Madsen, 16.172; 8. 51-Paul McMahan, 16.211; 9. 1s-Logan Schuchart, 16.279; 10. 7H-Jojo Helberg, 16.314; 11. 7S-Jason Sides, 16.315; 12. 21X-Carson Macedo, 16.318; 13. 68-Chase Johnson, 16.335; 14. 2-Shane Stewart, 16.341; 15. 11K-Kraig Kinser, 16.347; 16. 7-Craig Dollansky, 16.351; 17. 41-Jason Meyers, 16.379; 18. 44W-Austen Wheatley, 16.441; 19. O-Bud Kaeding, 16.487; 20. 31C-Justyn Cox, 16.490; 21. 29W-Willie Croft, 16.522; 22. 83-David Gravel, 16.558; 23. 35M-Kyle Hirst, 16.581; 24. 41X-Dominic Scelzi, 16.614; 25. 83JR-Kevin Swindell, 16.639; 26. 1A-Jacob Allen, 16.695; 27. 69-Brent Kaeding, 16.992; 28. 98-Matt Jensen, 17.015; 29. 88N-DJ Netto, 17.023; 30. 3C-Jonathan Allard, 17.072; 31. 3F-Geoff Ensign, 17.158; 32. 25-Bobby McMahan, 17.263; 33. 12X-Jarrett Soares, 17.291; 34. 37-Mitchell Faccinto, 17.490; 35. 94-Gordon Rodgers, nt
Heat 1 – (8 Laps – Top 5 finishers transfer to the A-feature) – 1. 68-Chase Johnson [1]; 2. 71M-Joey Saldana [4]; 3. 1s-Logan Schuchart [2]; 4. 55-Trey Starks [3]; 5. 29W-Willie Croft [6]; 6. 83JR-Kevin Swindell [7]; 7. 41-Jason Meyers [5]; 8. 88N-DJ Netto [8]; 9. 12X-Jarrett Soares [9]
Heat 2 – (8 Laps – Top 5 finishers transfer to the A-feature) – 1. 2-Shane Stewart [1]; 2. 24-Rico Abreu [4]; 3. 7H-Jojo Helberg [2]; 4. 3C-Jonathan Allard [8]; 5. 44W-Austen Wheatley [5]; 6. 9-Cody Darrah [3]; 7. 83-David Gravel [6]; 8. 1A-Jacob Allen [7]; 9. 37-Mitchell Faccinto [9]
Heat 3 – (8 Laps – Top 5 finishers transfer to the A-feature) – 1. 7S-Jason Sides [2]; 2. 15-Donny Schatz [4]; 3. 29-Kerry Madsen [3]; 4. 11K-Kraig Kinser [1]; 5. 69-Brent Kaeding [7]; 6. O-Bud Kaeding [5]; 7. 35M-Kyle Hirst [6]; 8. 3F-Geoff Ensign [8]; 9. 94-Gordon Rodgers [9]
Heat 4 – (8 Laps – Top 5 finishers transfer to the A-feature) – 1. 7-Craig Dollansky [1]; 2. 51-Paul McMahan [3]; 3. 49-Brad Sweet [4]; 4. 21X-Carson Macedo [2]; 5. 31C-Justyn Cox [5]; 6. 41X-Dominic Scelzi [6]; 7. 25-Bobby McMahan [8]; 8. 98-Matt Jensen [7]
Dash – (6 Laps, finishing order determined first 8 starting positions of A-feature) – 1. 71M-Joey Saldana [1]; 2. 24-Rico Abreu [2]; 3. 15-Donny Schatz [3]; 4. 49-Brad Sweet [4]; 5. 7S-Jason Sides [5]; 6. 2-Shane Stewart [7]; 7. 68-Chase Johnson [6]; 8. 7-Craig Dollansky [8]
Last Chance Showdown – (12 Laps – Top 4 finishers transfer to the A-feature) – 1. 9-Cody Darrah [1] [-]; 2. 41-Jason Meyers [2] [-]; 3. O-Bud Kaeding [3] [-]; 4. 83-David Gravel [4] [-]; 5. 35M-Kyle Hirst [5] [$300]; 6. 83JR-Kevin Swindell [7] [$250]; 7. 1A-Jacob Allen [8] [$225]; 8. 88N-DJ Netto [10] [$200]; 9. 37-Mitchell Faccinto [14] [$200]; 10. 25-Bobby McMahan [12] [$200]; 11. 12X-Jarrett Soares [13] [$200]; 12. 41X-Dominic Scelzi [6] [$200]; 13. 98-Matt Jensen [9] [$200]; 14. 3F-Geoff Ensign [11] [$200]; 15. 94-Gordon Rodgers [15] [$200]
World of Outlaws Sprint Car Series Championship Standings