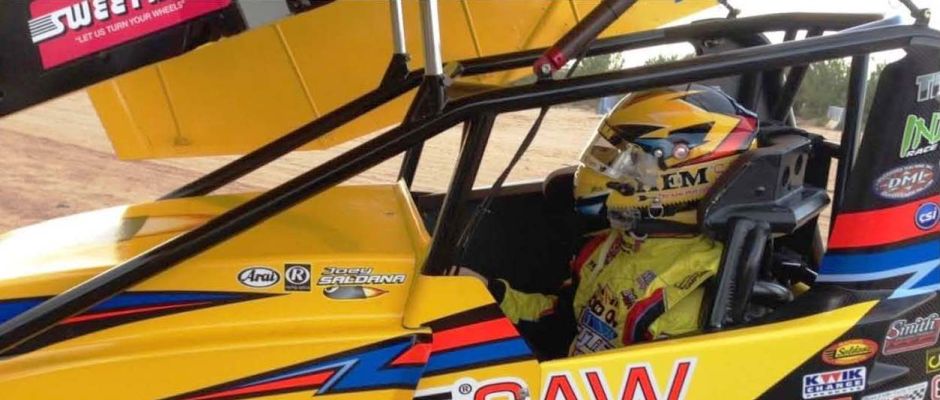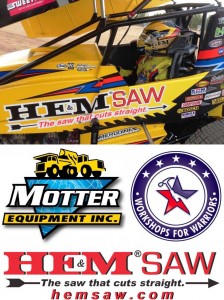 From Susan Arnold
Perris, CA — (April 13, 2014) — Joey Saldana is looking to defend last year's World of Outlaws SoCal Showdown victory at Perris Motor Speedway, Saturday, April 18. Joining him last year in the winner's circle celebration and set to return again are veterans from Workshops for Warriors.
Workshops for Warriors is a San Diego-based 501(c)(3) non-profit organization dedicated to training, certifying, and placing veterans of the U.S. Armed Services in manufacturing careers. Motter Motorsports' sponsor HE&M Saw supports Workshops for Warriors and has donated HEMSAW metal cutting band saws to the vocational training program.
Saldana has driven to victory circle at Perris twice in the past three years; 2012 and 2014. Last year Saldana was the No. 1 qualifier and led 26 of 30 laps, scoring his first of seven victories for the 2014 season. The Workshops for Warriors veterans hurried down to the track to share the victory celebration with Saldana, the Motter team, and HE&M Saw executives.
"Workshops for Warriors has been very successful in their mission to train and place veterans and we are privileged to help support our vets," said Bob Foster, HE&M Saw's service manager. "These Americans have served their country and it is rewarding to be involved with a program that helps those who have served our country learn a trade and give them an opportunity to find employment and contribute to the community.
"Last year the Warriors were treated to a tour of the Motter Motorsports trailer and were able to spend some time with Joey and the team before they got down to business.
"The Warriors were thrilled when Joey won and they were able to join the victory celebration."
To date 171 veterans have graduated from Workshops for Warriors with 100 percent job placement. You can visit their website at www.wfwusa.org for more information.
"To help draw attention to this worthwhile program and to honor the vets that will be joining us at Perris, we will be displaying the Workshops for Warriors logo on our car and will give them name entitlement," said team owner Dan Motter. "Our car will be known as the Motter Equipment Workshops for Warriors HE&M Saw Beltline Body Shop 71M ."
One U.S. Marine Corps and two U.S. Navy veterans will have the opportunity to visit with the Motter team and driver Joey Saldana prior to the Perris race.
Lyle Palm, 55, United States Navy Retired, is Dean of welding and fabrication at Workshops for Warriors. Paul Filler, 25 is an instructor at the San Diego organization as is Tim Palm, 52, former member of the U.S. Navy.
"These hard working men will have a backstage pass to watch our team in the heat of our sprint car battle," said driver Joey Saldana. "We want to make them proud and we will pour every ounce of effort into our performance in Perris to help honor them for their contributions to our country. After all, they fought for our freedom, and because of the men and women in the U.S. Armed Services, we are able to enjoy doing the things we love to do."
"It was a perfect Hollywood ending last year to win the race and have the vets celebrate with us in victory circle," said a determined Saldana. "I'm going for an encore performance for the Hollywood ending."
Prior to Perris, the Outlaws will be competing Friday, April 17 at Kings Speedway in Hanford, Calif. Saldana won on the 4/10-mile oval in 2000 and came close last year, qualifying No. 1 and finishing second after leading 15 laps.
Saldana is currently fifth in World of Outlaws point standings and has 91 career victories which is sixth on the all-time win list.
On Monday April 20, the Motter team, along with HEMsaw executives, will tour the Workshops for Warriors facility in San Diego to watch the veterans in action.