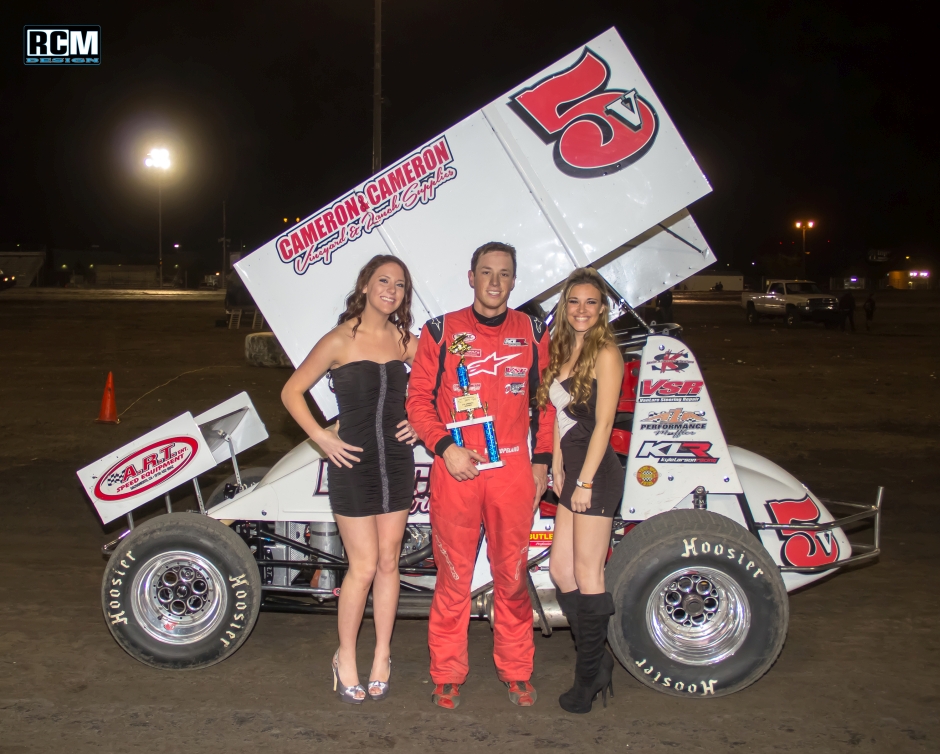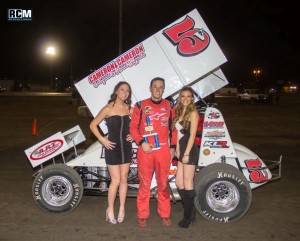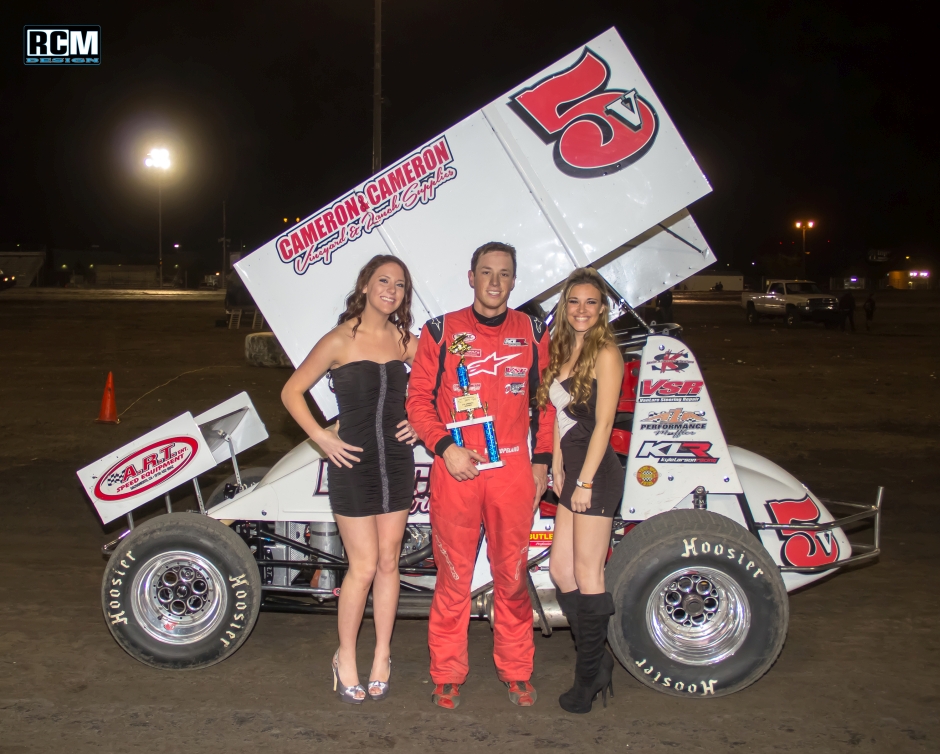 From Silver Dollar Speedway
Chico, CA — (April 17, 2015) — Roseville's Colby Copeland drove the race of his life to beat perennial champion Sean Becker during the 25-lap 410 sprint car main event Friday night at Silver Dollar Speedway. It was Copeland's first career main event win at Silver Dollar Speedway. Of the six sprint car main events this year, there have been three first time winners. Copeland now joins Seth Bergman and Tanner Thorson as first time winners.
At the front of the winged 410 sprint car main event it was a Hall of Fame front row. Sean Becker was starting from the pole position. Becker has 52 career main event wins at Chico. To his outside was Jonathan Allard. Allard holds 55 career wins at his home track. With these two lions up front everyone thought the win was coming from the front row, everyone that was, except Colby Copeland.
Becker held the lead for the first 20 laps of the 410 sprint car feature. Very rarely does Becker get beat when he is up front. Copeland continued to be patient and run the bottom of the track while Becker was up on the cushion. "I just tried to hit my marks and the bottom finally came in late in the race and that's when I got by Sean," said Copeland. The final five laps were as action packed as they could be. Copeland made his Va Lare Steering Repair, Bianchi Farms, Kyle Larson Racing #5v very wide at times, while Becker stomped and steered to try and find an opening. The finish was spectacular as Becker made one final run on the top coming out of turn four but it wasn't enough. Copeland won the race while Becker had to settle for second. Jonathan Allard was in the mix all race but ended up in third. Tanner Thorson drove the wheels off his #88x to finish fourth. Andy Forsberg spun on lap eight but rebounded to finish in the fifth spot.
Auburn's Andy Forsberg won the first eight lap heat race for the 410 winged sprint cars. Princeton's Mason Moore captured the glory in heat two.
Chico's Jonathan Allard picked up his 55th career Tyler Wolf fast time award by turning a lap of 12.100.
Justin Henry won the 15-lap economy winged main event by over 10-seconds. He lapped everyone in the field minus second place finisher Brandon Powell. Wyatt Brown ran a solid third during the event. Dusty Barton pressured Brown but ended up fourth. Jason Holt finished in the fifth spot, two laps down. Dusty Barton wins heat race #1 for the winged economy sprints. Brandon Powell led all six laps to win the second heat.