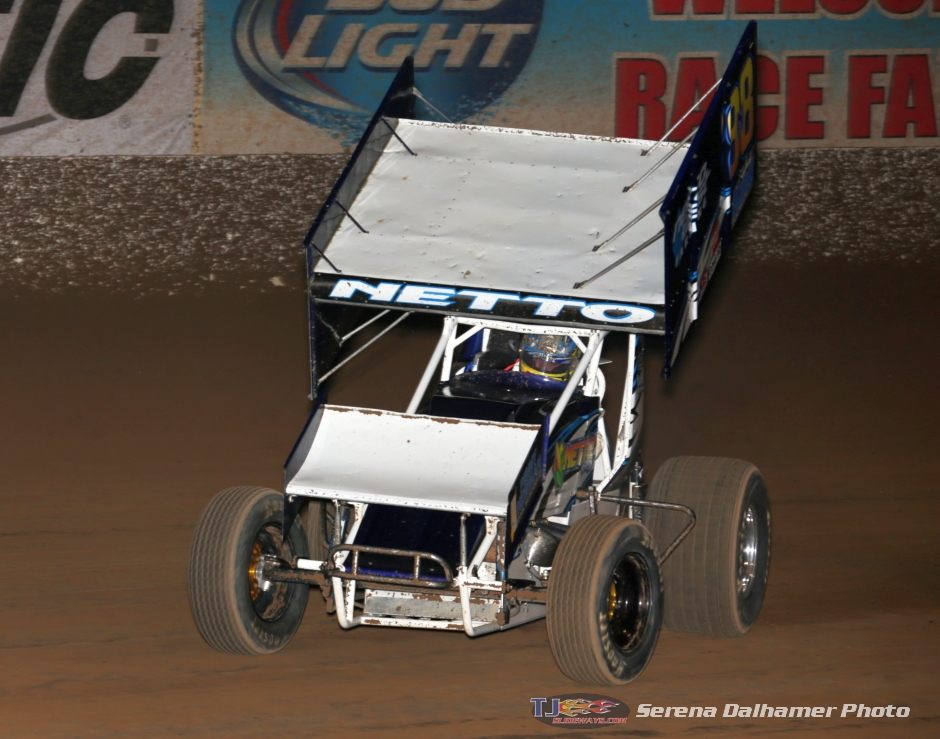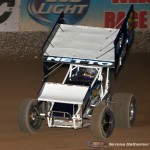 From Gary Thomas
Tulare, CA — (May 16, 2015) — After coming close multiple times last season Hanford's DJ Netto finally had it all come together on Saturday night at the Thunderbowl Raceway, charging to his first ever King of the West 410 Sprint Car Series victory in the 22nd annual Chris & Brian Faria Memorial.
The 19-year-old kept his composure through numerous yellow & red flag periods, along with battling an ultra treacherous surface. Various rough spots developed throughout the track during the feature and created a certified cowboy up contest. Netto became the 71st driver to win with the series since it started back in 1986.
"I will tell you this has been a long time coming," said a jubilated Netto on the front stretch after climbing atop his car in celebration. "It feels so great to finally get our first King of the West win. My guys have been working so hard and we've been so close before. We had so many restarts there it was crazy, but I just kept focusing on hitting my line. It was a tough track tonight, so thankfully we are standing up here. I want to give huge thanks my whole family, my team and everyone that supports me."
Netto lined up on the pole of the main event after winning the Dash aboard his Netto Agriculture/ Penny Newman Grain No. 88n Sprint Car. Things took a while to get going as drivers battled the always tough one-third mile clay oval. The drama during the feature was highlighted by the top-three drivers in points all bringing out red flags in the 30-lapper.
Lemoore's Carson Macedo went into the night as the leader, but found himself upside down and out of the race after just two-laps. Bud Kaeding was involved in a couple of incidents and ultimately had his race come to an end on lap 20 following a flip.
Fresno's Dominic Scelzi was tied with Kaeding for second going into the night, but got upside down and lost a couple laps while making repairs in the work area. Due to the amount caution laps early on a fuel stop was needed with just 11-circuits complete. The double file restarts kept things interesting as drivers bounced around on the choppy surface, especially off the fourth corner, where the middle side had gotten extremely rough.
Netto's biggest challenge came from Minden, Nevada's Tanner Thorson, who was also in search of his initial KWS win. The first-year Winged Sprint Car driver lined up in seventh and ran the bottom side to perfection making some great moves.
Thorson looked extremely strong and took the lead on a restart, but would unfortunately spin the following lap and end his shot at getting into victory lane. He would rebound to finish 10th. Once some green flag laps were clicked off Netto showed that he was the driver to beat, charging out to a substantial lead. Netto ran the ragged edge of the Thunderbowl Raceway and had a couple of close calls with the wall, but was able to keep the car pointed in the right direction every time and crossed the checkered flag by 2.549 seconds for victory.
The action behind Netto was entertaining over the closing laps and saw Fremont's Shane Golobic claim second at the finish line.
It was the second straight year that Golobic has finished runner up at the Chris & Brian Faria Memorial and marked his fourth top-five finish in the four full-points paying KWS races this season. Fresno's Craig Stidham had his best night of the 2015 campaign and scored a third place finish. The former Trophy Cup champ battled with multiple drivers over the course of the race and it was nice to see him have a solid run.
Two-time & reigning KWS champion Kyle Hirst challenged for the lead at times during the main event and ended the race fourth, in what was his second series start of the year. Sacramento's Willie Croft diced it up with Stidham & Hirst late in the feature, before finishing fifth at the conclusion.
Campbell's Brent Kaeding earned the KSE Hard Charger Award in the feature, coming from 16th to sixth. Chico's Jonathan Allard rebounded from an early incident to claim the seventh spot and was followed by Fresno's Cory Eliason, Elk Grove's Bobby McMahan and Thorson rounding out the top-10.
DJ Netto captured the dash, with the three 10-lap heat races picked off by Carson Macedo, Shane Golobic and Kyle Hirst. Tanner Thorson began the night by setting his first career King of the West 410 Sprint Car Series fast time. Full results are available at www.racepmg.com
A-main finish: 1. 88n DJ Netto, 2. 22 Shane Golobic, 3. 3 Craig Stidham, 4. 83jr Kyle Hirst, 5. 29 Willie Croft, 6. 69 Brent Kaeding, 7. 3c Jonathan Allard, 8. 00jr Cory Eliason, 9. 25 Bobby McMahan, 10. 88 Tanner Thorson, 11. 69c Chad Compton, 12. 99 Shawn Wright, 13. 22m Mason Moore, 14. 12x Scott Parker, 15. 12 Jarrett Soares, 16. 09s Geoffrey Strole, 17. 41 Dominic Scelzi, 18. 0 Bud Kaeding, 19. 68 Chase Johnson, 20. 37 Mitchell Faccinto, 21. 00 Jason Statler, 22. 21x Carson Macedo
The King of the West 410 Sprint Car Series will now get a couple weekends off before resuming action at the Silver Dollar Speedway in Chico for the third annual David Tarter Memorial on Saturday June 6. More info can be found on the event at www.silverdollarspeedway.com in the coming weeks. Bud Kaeding will go into the night atop the KWS standings by six-markers over Dominic Scelzi and 10-points over Carson Macedo. Shane Golobic has closed to within just 23 of the lead, with Bobby McMahan 32 back and Brent Kaeding 36 behind.
Feature:
1. 88N – D.J. Netto
2. 22 – Shane Golobic
3. 3 – Craig Stidham
4. 83JR – Kyle Hirst
5. 29 – Willie Croft
6. 69 – Brent Kaeding
7. 3C – Jonathan Allard
8. 00JR – Cory Elliason
9. 25 – Bobby McMahan
10. 88 – Tanner Thorson
11. 69C – Chad Compton
12. 99 – Shawn Wright
13. 22M – Mason Moore
14. 12X – Scott Parker
15. 12 – Steven Soares
16. 09S – Geoffrey Strole
17. 41 – Dominic Scelzi
18. 0 – Bud Kaeding
19. 68 – Chase Johnson
20. 37 – Mitchell Facinto
21. 00 – Jason Statler
22. 21X – Carson Macedo