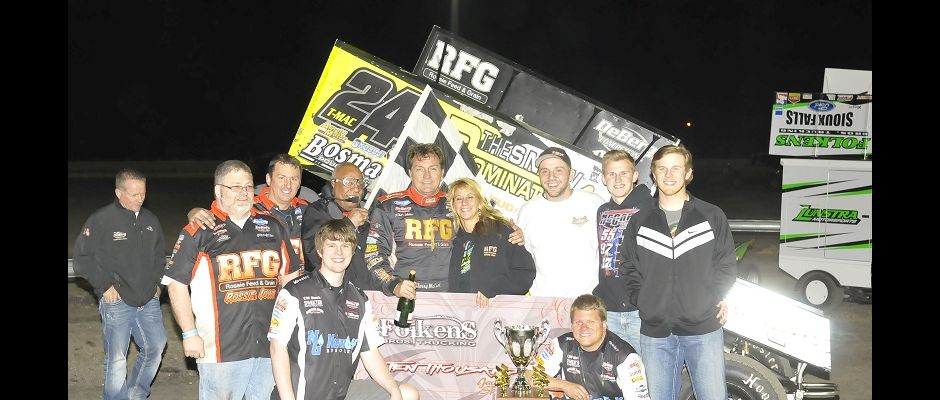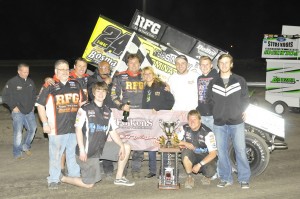 From Bill Wright
Jackson, MN — (May 22, 2015) — Terry McCarl cashed in $10,000 in the 8th Annual Folkens Bros. Trucking Spring Nationals at the newly renovated Jackson Speedway in Minnesota Friday night. The Altoona, Iowa native is not even two weeks from fracturing a vertebrae in his back, but he took advantage of some misfortune for leader, Bill Balog, and won the 25-lap event. Terri's Cleaning Service added another $500 to McCarl's total in Victory Lane. The win came in front of a capacity crowd in Jackson.
The main event got off to a rocky start, when Danny Lasoski, who led the point race coming into the weekend, spun and collected Matt Juhl. Wayne Johnson was also involved, losing a front end. All three were done for the night. Dylan Peterson spun on the next try at green.
The third time was a charm, and McCarl shot out to the early lead from his pole position ahead of Tim Kaeding and Mark Dobmeier. Aaron Reutzel showed early speed, moving by Dobmeier for third on lap four before Josh Schneiderman would come to a stop in turn four. The red was quickly displayed when Chris Martin got upside down in turn three. He was uninjured. Unfortunately, after the red flag, Reutzel retired.
The restart saw McCarl leading Kaeding, Dobmeier, Brian Brown and Balog back to green flag racing. Balog searched the middle of turns one and two and found rubber shortly after. He picked off Dobmeier for third on lap five, Kaeding for second on lap seven and shot to the lead, passing McCarl on lap nine.
Balog set a blistering pace, putting several lapped cars between himself and McCarl. The seven-time IRA champ looked to be a sure bet for the $10,000, but the caution came out with two laps to go for a stopped Ryan Bickett. Under caution, it was evident that Balog was losing air in his right rear tire as he limped helplessly back to the green.
McCarl pounced on Balog's misfortune and won a three-wide battle with Kaeding and Dobmeier for the lead. He held on the last two laps for the win. Kaeding finished second, followed by Dobmeier, Justin Henderson and Brown. Ian Madsen, Brooke Tatnell, Davey Heskin, Austin McCarl and Travis Whitney rounded out the top ten.
Folkens Brothers Trucking, Bargain Barn Tire Center and several sponsors stepped up during the night. Heat winners were awarded $200 and included Madsen, Whitney, Lasoski and Balog. Everyone who took a green in a heat was awarded $40. Terry McCarl won the Folkens Bros. Trucking Dash where everyone earned $100. Josh Schneiderman won the B. Joe Riedel won a right rear wheel for being the first non-qualifier. Wayne Johnson and Lynton Jeffrey were awarded right rears for being the last car scored in the A main and B mains respectively. Tasker Phillips earned two front tires for being the hard-charger. Brian Brown earned a Keizer right rear wheel for being the high point gainer after qualifying and the heats. Brown also registered The Minnesota Mafia quick time award.
"I just want to thank everyone who made this race possible," said McCarl in Victory Lane. "From the Folkens Brothers to all the sponsors who made this such a big event, we're just really thankful. There wasn't much I could do out there in the lead. I knew the rubber was going to come, but I didn't know when. Bill got by me there, but I could see he was smoking his tire pretty bad. The only chance I had was to kind of save my tire…Bill is such a good driver. We got lucky when his tire went down. I have to thank Doug Rankin for giving me such and good driver."
"I was praying we didn't pop the right rear tire," said second place Kaeding. "She started shaking with about five to go so I just nursed it along. That last restart I just gave it a shot. I have to thank Dave Lunstra, Dammer Trucking, the Folkens Brothers…everyone who helps out with this team."
"It was a big race, and at the beginning, the first eight laps or so, we were really looking to get in position," said Dobmeier. "We knew the track conditions were going to lead to rubber. On that last restart, Balog's tire was going down and the race got interesting. We were all on edge. We didn't know if he would spin out or what would happen. We took what we could get, and we had to be kind of cautious with our tire."
The FVP National Sprint League moves on to the Huset's Speedway in Brandon, South Dakota this Sunday night, May 24. For more information on the FVP National Sprint League, visit www.NationalSprintLeague.com!
FVP National Sprint League Results from Jackson Speedway
Folkens Bros. Trucking Spring Nationals A Main (started), 25 Laps: 1. 24, Terry McCarl, Altoona, IA [1]; 2. 3, Tim Kaeding, San Jose, CA [2]; 3. 13, Mark Dobmeier, Grand Forks, ND [3]; 4. 17w, Justin Henderson, Sioux Falls, SD [4]; 5. 21, Brian Brown, Grain Valley, MO [5]; 6. 18, Ian Madsen, St. Mary's, NSW, Aust. [17]; 7. 55, Brooke Tatnell, Sans Souci, NSW, Aust. [7]; 8. 56, Davey Heskin, St. Michael, MN [13]; 9. 17A, Austin McCarl, Altoona, IA [16]; 10. 16, Travis Whitney, Blaine, MN [9]; 11. 7TAZ, Tasker Phillips, Pleasantville, IA [24]; 12. 35, Skylar Prochaska, Lakefield, MN [14]; 13. 81, Austin Johnson, Pleasant Hill, IA [18]; 14. 17B, Bill Balog, Brookfield, WI [10]; 15. 25, Dylan Peterson, Sioux Falls, SD [22]; 16. 82, Dusty Zomer, Sioux Falls, SD [20]; 17. 17E, Ryan Bickett, Ramona, SD [19]; 18. 14, Jody Rosenboom, Rock Rapids, IA [21]; 19. 87, Aaron Reutzel, Clute, TX [8]; 20. 49, Josh Schneiderman, West Burlington, IA [11]; 21. 44, Chris Martin, Ankeny, IA [23]; 22. 2, Danny Lasoski, Dover, MO [6]; 23. 09, Matt Juhl, Sioux Falls, SD [12]; 24. 77X, Wayne Johnson, Knoxville, IA [15]. Lap Leaders: T. McCarl 1-8, Balog 9-23, T. McCarl 24-25. KSE Hard-charger: Phillips.
B main (started), 10 Laps: 1. Josh Schneiderman [1]; 2. Matt Juhl [2]; 3. Chris Martin [3]; 4. Tasker Phillips [6] / 5. 15, Joe Riedel, Ramona, SD [9]; 6. 6, Bryan Gossel, Windsor, CO [5]; 7. 5H, Dakota Hendrickson, Omaha, NE [7]; 8. 4w, Matt Wasmund, Jackson, MN [4]; 9. 2K, Kevin Ingle, Huron, SD [8]; 10. 0, Brandon Stevenson, Holstein, IA [10]; 11. 12, Lynton Jeffrey, Prairie City, IA [11] DNS – 7, Kaley Gharst, Decatur, IL, 4x, Eric Schulz, Sioux Falls, SD, 23s, Stu Snyder, Waverly, NE, 23w, Scott Winters, Butterfield, MN
Folkens Bros. Trucking Dash (8 Laps): 1. Terry McCarl [2]; 2. Tim Kaeding [4]; 3. Mark Dobmeier [1]; 4. Justin Henderson [3]; 5. Brian Brown [8]; 6. Danny Lasoski [9]; 7. Brooke Tatnell [6]; 8. Aaron Reutzel [7]; 9. Travis Whitney [5]; 10. Bill Balog [10]
Fuel Safe Heat one (started), 8 Laps: 1. Ian Madsen [2]; 2. Brooke Tatnell [4]; 3. Terry McCarl [5]; 4. Tim Kaeding [6]; 5. Skylar Prochaska [3] / 6. Tasker Phillips [1]; 7. Eric Schulz [7] DNS – Kaley Gharst
DMI Heat two (started), 8 Laps: 1. Travis Whitney [4]; 2. Aaron Reutzel [5]; 3. Austin McCarl [2]; 4. Dusty Zomer [1]; 5. Davey Heskin [3] / 6. Josh Schneiderman [6]; 7. Kevin Ingle [8] DNS – Stu Snyder, Scott Winters
Kaeding Performance Heat three (started), 8 Laps: 1. Danny Lasoski [4]; 2. Wayne Johnson [2]; 3. Justin Henderson [6]; 4. Jody Rosenboom [7]; 5. Ryan Bickett [1] / 6. Lynton Jeffrey [9]; 7. Matt Wasmund [3]; 8. Joe Riedel [8]; 9. Chris Martin [5]
Maxim Heat four (started), 8 Laps: 1. Bill Balog [3]; 2. Brian Brown [6]; 3. Mark Dobmeier [4]; 4. Austin Johnson [1]; 5. Dylan Peterson [8] / 6. Matt Juhl [5]; 7. Dakota Hendrickson [7]; 8. Bryan Gossel [2]; 9. Brandon Stevenson [9]
Minnesota Mafia Qualifying (Qualifying Order), 2 Laps: 1. Brian Brown, 15.713 [17]; 2. Justin Henderson, 15.936 [21]; 3. Josh Schneiderman, 15.953 [3]; 4. Tim Kaeding, 15.979 [10]; 5. Matt Juhl, 15.995 [8]; 6. Chris Martin, 16.038 [13]; 7. Aaron Reutzel, 16.067 [19]; 8. Terry McCarl, 16.073 [26]; 9. Mark Dobmeier, 16.082 [1]; 10. Travis Whitney, 16.123 [35]; 11. Brooke Tatnell, 16.129 [16]; 12. Bill Balog, 16.170 [12]; 13. Matt Wasmund, 16.173 [2]; 14. Davey Heskin, 16.175 [23]; 15. Skylar Prochaska, 16.212 [11]; 16. Bryan Gossel, 16.232 [6]; 17. Wayne Johnson, 16.258 [22]; 18. Austin McCarl, 16.295 [28]; 19. Ian Madsen, 16.296 [25]; 20. Austin Johnson, 16.346 [29]; 21. Ryan Bickett, 16.364 [4]; 22. Dusty Zomer, 16.441 [9]; 23. Tasker Phillips, 16.457 [7]; 24. Dakota Hendrickson, 16.529 [15]; 25. Jody Rosenboom, 16.626 [5]; 26. Stu Snyder, 16.684 [18]; 27. Kaley Gharst, 16.752 [20]; 28. Dylan Peterson, 16.753 [30]; 29. Joe Riedel, 16.800 [24]; 30. Kevin Ingle, 17.036 [27]; 31. Eric Schulz, 17.174 [14]; 32. Brandon Stevenson, 17.514 [32]; 33. Danny Lasoski, 16.084 [33]; 34. 12-Lynton Jeffrey[31]; 35. 23W-Scott Winters[34]
Contingencies
Minnesota Mafia Quick Time – Brian Brown
Fuel Safe Heat – Ian Madsen
DMI Heat – Travis Whitney
Kaeding Performance Heat – Danny Lasoski
Maxim Heat – Bill Balog
Hooker Harness "Locked In Award" – Josh Schneiderman
Speedway Graphics "From the Tail Award" – Tasker Phillips
KSE Hard-charger Award – Tasker Phillips
Bell Helmets "Hard Luck Award" – Bill Balog
"Good as New with Ti-22 Award" – Chris Martin