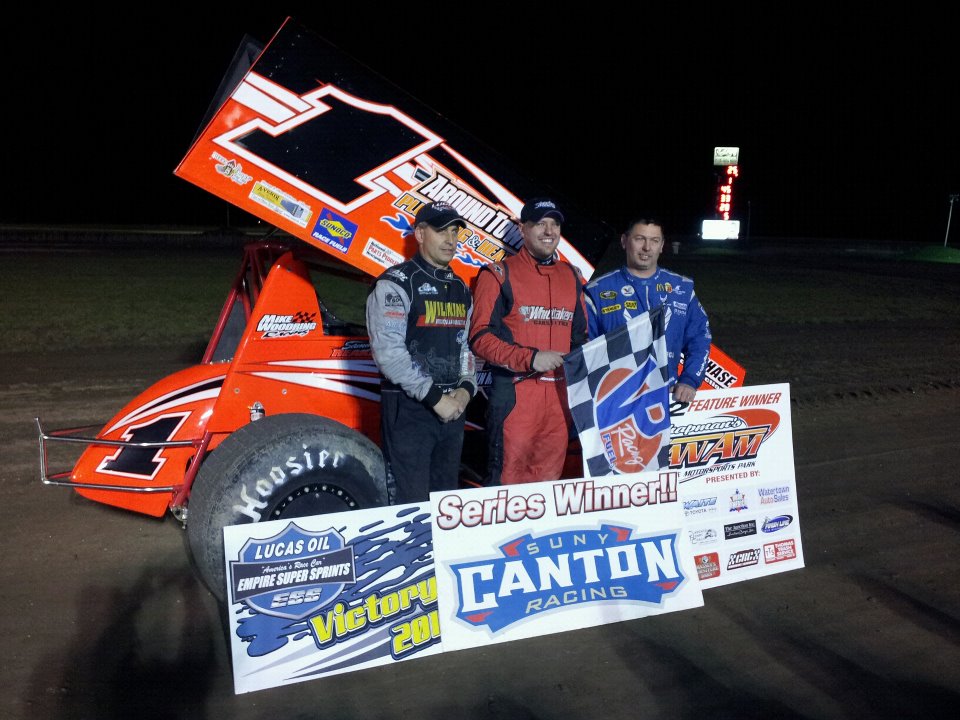 From Rich Vleck
Jamestonw, NY — (May 23, 2015) — The 2015 season has seen Sammy Reakes IV travel to new race tracks while using an old number he found success in while running sportsman. On Saturday Night, he rekindled that success at a track he had never laid eyes on before.
Reakes, of Palermo, NY, took the lead from Scott Just on lap 20 at Stateline Speedway and held off a hard-charging Mitch Brown to score the $2,000 top prize and his first Patriot Sprint Tour win.
"It feels awesome," exclaimed Reakes in Victory Lane. "It's been a long time since I've been here so it feels really good."
Reakes got the night started off strong comfortably winning heat race one. He felt good about the car but after the Pole Position Raceway redraw saw him get the eighth starting position, the prospects of him winning were put in serious doubt.
"We drew the eight and obviously I was a little discouraged at first but I came back to the trailer and I told my guys 'It doesn't matter, I'm going to win it tonight!' I'm glad I delivered on my promise and didn't make myself a liar."
Reakes was able to move in to the top five by the end of the first lap but then settled in fourth place as Scott Just paced the field. Scott Kreutter and Dane Lorenc were battling hard for second place for much of the event, swapping the position on a pair of occasions. On lap 19, as they were both closing in on the leader, Lorenc went to pass Kreutter for the spot and they made contact, sending Kreutter hard in to the frontstretch wall.
On the ensuing restart, Just's No. 54JR, which had been flawless all race sputtered just after the restart point with what turned out to be a fuel line issue and staked up the field; it was just the opportunity Reakes needed to snag the lead.
"I'm only 27 but I felt like the old guy out there racing with Just and Lorenc and thought on that late restart If I could just show them a nose maybe I could rattle them," he noted after the race."
The caution flag would wave two more times after Reakes inherited the lead, forcing him to be perfect on the ensuing restarts. With one lap remaining, Canadian Mitch Brown had moved up to second while Jared Zimbardi had driven up from 16th to 3rd. Once again, "The Honeybadger" was perfect and would drive comfortably to the win.
In only his second start in a sprint car, Reakes won a feature event but since then had gone through a dry spell. He credited his dad after the race for his perseverance and also was happy his family from North Carolina was able to come up and see the win. Reakes also took over the Patriot Sprint Tour America Point Lead with the Victory.
Mitch Brown had a quality car all night long, winning the Evinigham Site Excavation Four Laps of Fame Dash4Cash and driving up seven spots to score the runner-up finish. Brown tried an aggressive line on the final restart but was unable to make a bid for the lead.
Defending PST Champion Jared Zimbardi's night got off to a rough start when he got collected in an incident in his heat race, cracking the frame. After he crew welded his No. 35 back together, Zimbardi came charging through the pack to finish in third.
Kyle Drum also charged through the field to drive up to fourth in his first Stateline start since 2009. Joe Trenca also came up through the pack to round out the top five in his first Stateline appearance.
Tyler Graves had a career night, winning his heat race and finishing in a career-best sixth place. Dennis Wagner came up through the pack to finish in seventh while Scott Just drifted back to eighth place with an apparent fuel issue. Jake Muench moved forward to finish ninth while early frontrunner Dane Lorenc rounded out the top 10 after a late-race restart jingle saw him fall back.
Joe McEwen was also a surprise early in the night, winning his heat race but an early bobble in the race shuffled him back through the pack.
It was a cool yet clear evening for the first Patriot Sprint race in three years at Stateline, the home of the first Patriot event back in 2003. For more information, visit www.PatriotSprintTour.com.
Patriot Sprint Tour America Series Results: 5/23/15, Stateline Speedway, Jamestown (Busti), NY.
A-Main (25 Laps)- 1. Sammy Reakes IV (17), 2. Mitch Brown (10), 3. Jared Zimbardi (35), 4. Kyle Drum (47), 5. Joe Trenca (98), 6. Tyler Graves (25G), 7. Dennis Wagner (38), 8. Scott Just (54JR), 9. Jake Muench (14), 10. Dane Lorenc (00), 11. Jimmy Stitzel (4), 12. Steve Glover (121), 13. Joe McEwen (44), 14. Dave Wickham (80), 15. Steven Hutchinson Jr. (2), 16. George Suprick (87), 17. Dave Just (54J), 18. Scott Kreutter (52), 19. Steve Collins (67).
Lap Leaders- S. Just 1-19, Reakes 20-25.
Evingham Site Excavation Four Laps of Fame (4 Laps)- 1. Mitch Brown (10), 2. Joe Trenca (98), 3. Kyle Drum (47), 4. Jimmy Stitzel (4), 5. Dennis Wagner (38), 6. Dave Just (54J).
Heats (8 Laps Each)-
Race 1: Reakes, Lorenc, Kreutter, Wagner, D. Just, Zimbardi, Suprick
Race 2: Graves, Hutchinson, Collins, Drum, Stitzel, D. Wickham.
Race 3: McEwen, S. Just, Trenca, Brown, Glover, Muench.
Hoosier Tire Canada/ Mike Emhof Motorsports Recipient: Reakes
Pole Position Raceway Pole Winner: Scott Just
Patriot Sprint Tour America Series Point Standings (Top 10)- Reakes 540, Drum 514, S. Just 460, Kreutter 455, Collins 452, D. Just 436, Hutchinson 434, Howland 432, Glover 429, Zimbardi 423.
Evingham Site Excavation Four Laps of Fame Dash4Cash Standings (Top Five)- Zimbardi 12, Brown 11, Kreutter 10, Drum 7, Collins 6.
Patriot Tank Lines Hard Charger of the Season Standings (Top Five)- Zimbardi 27, T. Wickham 24, Tanner 18, Suprick Brown and Reakes 14.
Danny Willmes Enterprises Lap Leader Standings (Top Five)- S. Just 19, Barney and Stillwaggon 16, Zimbardi 15, Hebing 14.