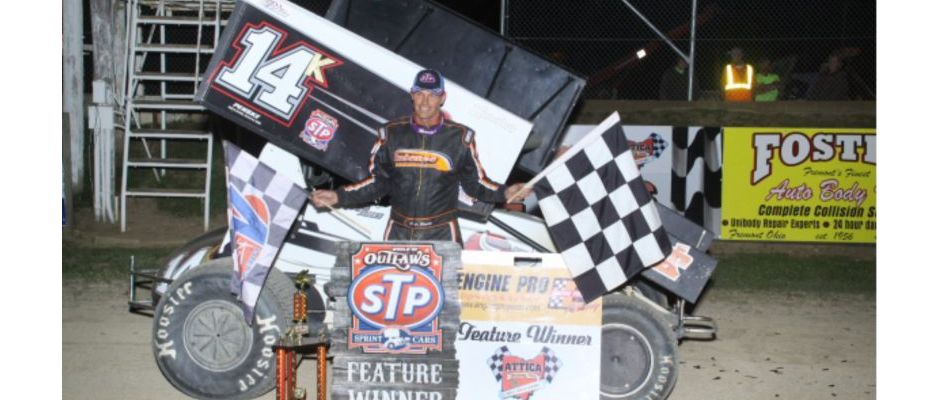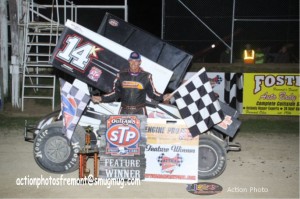 From Brian Liskai
Attica, OH — (May 27, 2015) — Last year the sprint car stars of the Buckeye State defended their home turf against the invading World of Outlaw teams when they came to Attica Raceway Park. The big question this year is can it happen again when "The Greatest Show on Dirt" comes to Attica on Friday, May 29th?
Last year "The Low Rider" Dale Blaney took the Kistler Engines Classic over former Attica track champion Craig Mintz who came from his 13th starting position, and another former track champion Dean Jacobs, who led the first 29 laps. Blaney joined Steve Kinser and Donny Schatz as the only drivers to win two World of Outlaws features at Attica.
The challenge to repeat that Ohio podium sweep will be a stout one as six time World of Outlaws champion Donny Schatz is on pace to have the most successful series' season in decades. Driving the Tony Stewart/Curb-Agajanian Racing #15, Schatz has already amassed 11 tour wins including five of the least seven events. Last year Schatz posted his second consecutive 20+ win season – the first since the King Steve Kinser did it in 2002 and 2003. With 28 features now in the books, the Bad Boy Buggies team heads into Attica with the momentum they need to try and make history.
And Schatz has two World of Outlaw wins at Attica Raceway Park – 2008 and 2011.
And, former World of Outlaws Champion Daryn Pittman is showing the broken collar bone he suffered in a crash two months ago is healing just fine as the Owasso, Oklahoma native scored his third series win of the season recently at New Egypt Speedway in New Jersey. Pittman, who drives the Kasey Kahne Racing #9 has never claimed a win at Attica.
Bixby, Oklahoma driver Shane Stewart, aboard the Kyle Larson/Justin Marks owned machine, sits second in the World of Outlaw points in his first season chasing the series title. He has recorded three wins in 2015 and has three career victories at Attica.
Grass Valley, California driver Brad Sweet – another Kasey Kahne Racing driver – has two World of Outlaw wins in 2015 and sits third in the standings ahead of Australian Kerry "The Mad Man" Madsen and "Paul's to the Wall" Paul McMahan who has two series wins in 2015.
The World of Outlaws have competed at Attica Raceway Park 12 times since 1990.
Year Winner
1990 Steve Kinser
1991 Steve Kinser
1992 Joey Allen
1993 Joe Gaerte
1994 Steve Smith/Sammy Swindell
2005 Stevie Smith
2006 Rain
2007 Joey Saldana
2008 Donny Schatz
2009 Dale Blaney
2010 Rain
2011 Donny Schatz
2012 Rain
2013 Rain
2014 Dale Blaney
The World of Outlaw stars of Schatz, Stewart, Sweet, Madsen, McMahan, David Gravel, Jamie Veal, Pittman, Jason Sides, Kraig Kinser, Logan Schuchart, Joey Saldana (6 career wins at Attica) and Jacob Allen will certainly have their hands full with the tough Attica weekly competitors.
Former track champion Dean Jacobs will be a contender for the $10,000 prize again as the Wooster, Ohio driver has two wins at Attica in 2015 and sits atop the track's point standings. After missing the season opening UNOH All Star Circuit of Champions event, Jacobs has not finished out of the top seven in the next four events. Jacobs has 12 career Attica victories.
Six time Attica champion Byron Reed is second in the track's points and hasn't finished out of the top 10 in all five of the 2015 racing season events at the track. He sits second on the track's all-time win list with 30 victories.
Stuart Brubaker is third in the Attica points and has finished no worst than eighth in the last four events. Fourth in the points is Cap Henry who recently scored back to back wins at Attica and Fremont Speedway. Henry has recorded three top five finishes at Attica this season.
Rounding out the top five in the Attica points is D.J. Foos who has three top 10 finishes thus far in the season.
Other strong Attica drivers include rookie Nate Dussel; former track champion Chris Andrews; Gary Taylor, who has a second place run this season at Attica and against the World of Outlaws at Eldora; Rob Chaney, who has a win at Attica this season and three top 10 finishes; defending track champion Caleb Griffith; and Brian Lay, who owns two career wins at Attica.
They will be joined by an equally tough regional group of drivers including five time All Star champion Dale Blaney who has not only scored the win against the Outlaws at Attica last year, but has an All Star win at Lernerville Speedway this year and leads the All Star points. He has 21 career wins at Attica and is third on the track's all-time win list and is coming off a recent runner-up finish at the track.
Four time All Star champion Chad Kemenah is a threat to score the victory at Attica. Kemenah, who has wins at Path Valley Speedway and Mercer Raceway Park in Pennsylvania this year, has 20 career wins at Attica to sit fourth on the all-time win list and has two top 10 finishes at the track in 2015.
Two time All Star champion Greg Wilson owns 19 career Attica wins and four time All Star champion Tim Shaffer owns 13 career Attica victories and is coming off a big All Star win at Fremont Speedway this past Sunday.. Lee Jacobs is coming off his most successful season of racing and owns four career Attica wins. Danny Holtgraver owns three career track victories. Ryan Smith, in his rookie season with the All Stars, earned a series win at Attica to open the 2015 season.
There are also lots of incentives for the Attica stars to defeat the invading World of Outlaw teams. Any driver in the top 20 in the weekly Attica point standings will be eligible for the following cash and contingency bonuses of over an additional $10,000:
· The bonus program will be if anyone in the top 20 in Attica points can win the race they will receive a $2,500 bonus from Attica Raceway Park.
· Additional bonus contingencies are from Kistler Engines, Gressman Powersports, and Level Performance. If the driver is in the Attica top 20 in points and is running one of their engines and wins the race they will receive a $2,000 gift certificate from that winning engine company.
· All Pro Aluminum Heads is giving a $500 gift certificate if the winner is using All Pro Heads.
· Attica Raceway Park will also give the highest finisher in the A Main in the top 20 in points a $500 bonus. If a driver in the top 20 in points wins the race then the second highest finisher in the top 20 in points will get the $500 bonus.
Fans can get reserved seating for the Kistler Engines Classic by calling 419-680-5606 or by going to www.atticaracewaypark.com for contact info and the reserved seating chart.
For more information on the World of Outlaws go to www.woosprint.com.
SEASON WINNERS: Donny Schatz – 11 (Volusia Speedway Park on Feb. 14, Stockton Dirt Track on March 21, Silver Dollar Speedway on March 28, Placerville Speedway on April 8, Calistoga Speedway on April 12, Devil's Bowl Speedway on April 26, Eldora Speedway on May 8, Eldora Speedway on May 9, Williams Grove Speedway on May 15, Weedsport Speedway on May 17, The Dirt Track at Charlotte on May 22); Daryn Pittman – 3 (Volusia Speedway Park on Feb. 13, Antioch Speedway on March 29, New Egypt Speedway on May 19); Shane Stewart – 3 (The Dirt Track at Las Vegas Motor Speedway on March 5, Keller Auto Speedway on April 17, Salina Highbanks Speedway on May 1); Rico Abreu – 2 (Thunderbowl Raceway on March 14, Stockton Dirt Track on March 22); Paul McMahan – 2 (Perris Auto Speedway on April 18, Tri-State Speedway on May 3); Brad Sweet – 2 (Volusia Speedway Park on Feb. 15, Calistoga Speedway on April 11); Christopher Bell – 1 (Federated Auto Parts Raceway at I-55 on May 2); Brian Brown – 1 (USA Raceway on March 7);Greg Hodnett – 1 (Lincoln Speedway on May 13); Tim Kaeding – 1 (Thunderbowl Raceway on March 13);Terry McCarl – 1 (The Dirt Track at Las Vegas Motor Speedway on March 5).