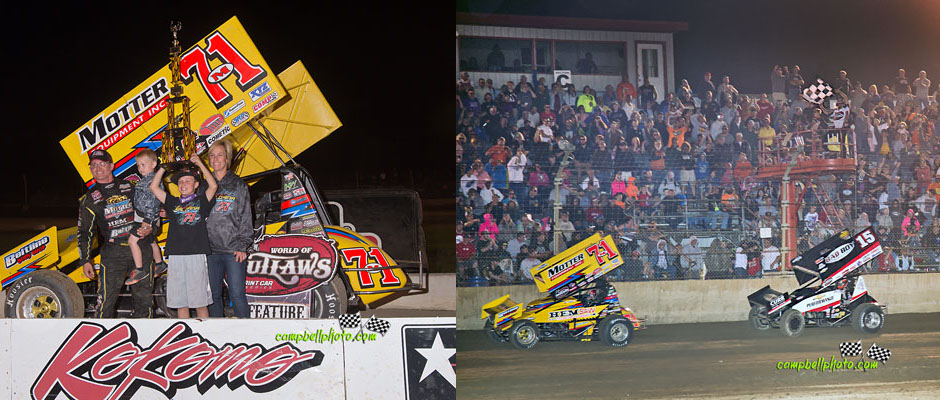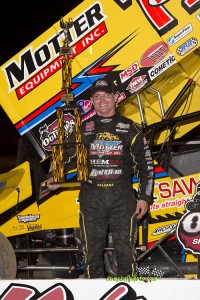 From Aaron Fielder
Kokomo, IN — (June 3, 2015) — It had been nearly nine months since Joey Saldana last stood in victory lane with the World of Outlaws Sprint Car Series, so it made it all that much sweeter that he was finally able to park his car in victory lane in front of friends and family at Kokomo Speedway on Wednesday night.
"I've got a great supporting cast with me. My family… my wife Shannon and boys Reece and Ragan were here to see it," said Saldana, a Brownsburg, Indiana-native. "My dad was here. My dad doesn't see many races and he came tonight as did just a lot of people that normally don't get to watch me race. They read about it in the paper but they really don't get to see what I do, so it's pretty neat to see everybody come out and support me. And then to do what we did tonight was an awesome accomplishment."
Saldana's win with his No. 71M Motter Equipment team did not come easily.
He started the night on the pole but lost the lead to Shane Stewart before they completed a lap. Stewart hit lapped traffic on lap four and as he made his way through Saldana closed the gap. They battled for several laps with Stewart holding off Saldana. Two restarts midway through the feature, first for a red flag and then a quick yellow, gave Saldana the opportunity he needed.
He battled forward each time, taking over the lead from Stewart. As Saldana hit lapped traffic on lap 22 a new threat emerged behind him – last year's Kokomo winner and reigning series champion, Donny Schatz. Schatz, who started fourth, had battled past Stewart by lap 23 to take over the second spot. He then set his sights on Saldana.
Two laps later, Schatz was battling for the position as he and Saldana worked their way through traffic. With Saldana banging the boards at the top, Schatz looked low. Each time, lap after lap, Saldana held Schatz off. As the two drivers worked to complete lap 32, Schatz again looked low on Saldana going into turns one and two. This time, Schatz closed the deal.
He led laps 32 and 33. Then, third running Shane Stewart cut a tire down which brought out the caution. Saldana had another chance.
"You just have to try to carry your speed there," Schatz said of the restart. "I tried to go to the bottom to carry as much speed as I could. But getting into one, I must have been sleeping on the start or something because Joey got me going there early and just beat us to the other corner. I did the best I could to try to get past him and I just couldn't do it."
As the final laps counted down, Schatz looked for an opportunity. Off the final turn on the final lap, Schatz got a run with his No. 15 Bad Boy Buggies car but Saldana pinched him off and took home the win by less than a car length.
"Donny Schatz is the guy to beat every single night no matter where he starts," Saldana said. "All I had was the restart. I had to do what I had to do to win the race and luckily I did. He obviously had a really good car because he was right there with me coming to the checkered."
The win was Saldana's second at Kokomo and 92nd career Outlaws win. He is sixth on the all-time wins list. Saldana was also the 13th different driver of the season to stand in victory lane.
Farther back, the battle for third throughout the A main featured some of motorsports' most promising young talent – among the familiar names, Kyle Larson, Rico Abreu and Christopher Bell. Larson, part owner of Larson Marks Racing, filled out a dual role Wednesday night, as he took over driving duties in Keith Kunz's No. 67K car with Bell as his teammate.
Through the early going, Abreu battled briefly up to third, fighting Brad Sweet along the way. As he did that, the two Kunz cars, Larson and Bell, moved forward from sixth and eighth place starting positions. Through the first third of the race, the bunched up field included four cars tight on Schatz's bumper.
Then Sweet, running fourth, crashed, bringing out a red flag on lap 16.
"Before Sweet wrecked we were all about to go at it there for the lead – there was about eight of us," Larson said.
On the restart, Larson got around his Kunz teammate Bell and worked to run down Schatz and then the car he owns driven by Stewart. With seven laps to go Larson had to watch as Stewart cut down a tire in front of him.
Through the final laps he held off Bell and Kerry Madsen to score a third place finish in his first Outlaws start of the season.
"I always have a blast when I run a winged sprint car – especially here at Kokomo," Larson said. "This is one of my favorite tracks. Glad I got to come run… It was a fun race. I didn't do a very good job on the restarts taking off and allowed those guys to get out in front of me."
He thanked his NASCAR team owner Chip Ganassi and sponsor for giving him permission to run at the track Wednesday night, and Keith Kunz, who has one Outlaws win as an owner this season with Bell, for giving him equipment to compete in. He said he hopes to run a sprint car again soon.
As an owner, Larson had mixed feelings about the night.
"It stunk for Shane that he got that flat there at the end – it hurt him a lot in points, I'm sure," Larson said. "But that team will fight hard and hopefully Schatz will have a couple of hiccups throughout the season."
Schatz extended his championship points lead to 139 over second place Stewart following Kokomo. James McFadden took home his second KSE Racing Hard Charger Award in a row, advancing 12 positions to finish in 11th.
I-80 Speedway in Greenwood, Nebraska next welcomes the World of Outlaws Sprint Car Series on Friday, June 5 for the NAPA Auto Parts Outlaw Showdown. For more information on the event and to learn how to purchase tickets, visit http://woosprint.com/i-80-speedway.
Follow the World of Outlaws Sprint Car Series on Twitter at www.twitter.com/WorldofOutlaws, like it on Facebook atwww.facebook.com/WorldofOutlaws, or check out the latest videos on YouTube at www.youtube.com/WorldofOutlaws..
World of Outlaws Sprint Car Series
Kokomo Speedway – Kokomo, IN
Wednesday June 3, 2015
Qualifications:
1. 24 – Rico Abreu, 11.096
2. 49 – Brad Sweet, 11.162
3. 71M – Joey Saldana, 11.176
4. 2 – Shane Stewart, 11.191
5. 51 – Paul McMahan, 11.191
6. 11K – Kraig Kinser, 11.299
7. 10H – Chad Kemenah, 11.312
8. 41 – Sammy Swindell, 11.312
9. 29 – Kerry Madsen, 11.375
10. 67 – Christopher Bell, 11.379
11. 17W – Bryan Clauson, 11.393
12. 23C – Tyler Courtney, 11.439
13. 89 – Cody Darrah, 11.442
14. 35AU – Jamie Veal, 11.488
15. 67K – Kyle Larson, 11.503
16. 15 – Donny Schatz, 11.528
17. 9 – Daryn Pittman, 11.538
18. 9P – Parker Price-Miller, 11.556
19. 4K – Kody Kinser, 11.592
20. 11N – Randy Hannagan, 11.602
21. 7 – David Gravel, 11.622
22. 64 – Scotty Thiel, 11.626
23. 3G – James McFadden, 11.642
24. 2B – A.J. Bruns, 11.655
25. 1ST – Gary Taylor, 11.677
26. 7S – Jason Sides, 11.901
27. 4 – Danny Smith, 11.970
28. A97 – Brandon Wimmer, 12.015
29. 91 – Cale Thomas, 12.069
30. 35 – Stuart Brubaker, 12.088
31. 55F – Taylor Ferns, 12.109
32. 20N – Hunter Schuerenberg, 12.142
33. 1A – Jacob Allen, 12.179
34. 7M – Critter Malone, 12.192
35. 23 – Jimmie Light, 12.401
36. 5J – Jeremy Schultz, 12.535
37. 2L – Logan Forler, 12.557
38. 5 – Danny Reidy, 12.612
39. 1S – Logan Schuchart, 12.871
Heat Race #1:
1. 29 – Kerry Madsen
2. 51 – Paul McMahan
3. 24 – Rico Abreu
4. 9 – Daryn Pittman
5. 1ST – Gary Taylor
6. 2L – Logan Forler
7. 7 – David Gravel
8. 91 – Cale Thomas
9. 89 – Cody Darrah
Heat Race #2:
1. 67 – Christopher Bell
2. 49 – Brad Sweet
3. 35AU – Jamie Veal
4. 11K – Kraig Kinser
5. 9P – Parker Price-Miller
6. 7S – Jason Sides
7. 64 – Scotty Thiel
8. 35 – Stuart Brubaker
9. 5 – Danny Reidy
10. 7M – Critter Malone
Heat Race #3:
1. 67K – Kyle Larson
2. 17W – Bryan Clauson
3. 71M – Joey Saldana
4. 3G – James McFadden
5. 10H – Chad Kemenah
6. 4K – Kody Kinser
7. 4 – Danny Smith
8. 23 – Jimmie Light
9. 55F – Taylor Ferns
10. 1S – Logan Schuchart
Heat Race #4:
1. 15 – Donny Schatz
2. 2 – Shane Stewart
3. 41 – Sammy Swindell
4. 23C – Tyler Courtney
5. 11N – Randy Hannagan
6. 20N – Hunter Schuerenberg
7. 5J – Jeremy Schultz
8. A97 – Brandon Wimmer
9. 2B – A.J. Bruns
Dash:
1. 71M – Joey Saldana
2. 2 – Shane Stewart
3. 49 – Brad Sweet
4. 15 – Donny Schatz
5. 24 – Rico Abreu
6. 67 – Christopher Bell
7. 29 – Kerry Madsen
8. 67K – Kyle Larson
C-Main:
1. 20N – Hunter Schuerenberg
2. 5J – Jeremy Schultz
3. 5 – Danny Reidy
4. 23 – Jimmie Light
5. 1S – Logan Schuchart
6. 2L – Logan Forler
7. 55F – Taylor Ferns
8. 7M – Critter Malone
9. 1A – Jacob Allen
B-Main:
1. 89 – Cody Darrah
2. 7 – David Gravel
3. 4K – Kody Kinser
4. 64 – Scotty Thiel
5. 7S – Jason Sides
6. 2B – A.J. Bruns
7. 20N – Hunter Schuerenberg
8. 35 – Stuart Brubaker
9. A97 – Brandon Wimmer
10. 91 – Cale Thomas
11. 5J – Jeremy Schultz
12. 4 – Danny Smith
Feature:
1. 71M – Joey Saldana
2. 15 – Donny Schatz
3. 67K – Kyle Larson
4. 29 – Kerry Madsen
5. Christopher Bell
6. 24 – Rico Abreu
7. 41 – Sammy Swindell
8. 51 – Paul McMahan
9. 17W – Bryan Clauson
10. 35AU – Jamie Veal
11. 3G – James McFadden
12. 9 – Daryn Pittman
13. 89 – Cody Darrah
14. 10H – Chad Kemenah
15. 7 – David Gravel
16. 9P – Parker Price-Miller
17. 1S – Logan Schuchart
18. 11N – Randy Hannagan
19. 2 – Shane Stewart
20. 49 – Brad Sweet
21. 64 – Scotty Thiel
22. 23C – Tyler Courtney
23. 11K – Kraig Kinser
24. 1ST – Gary Taylor
25. 4K – Kody Kinser