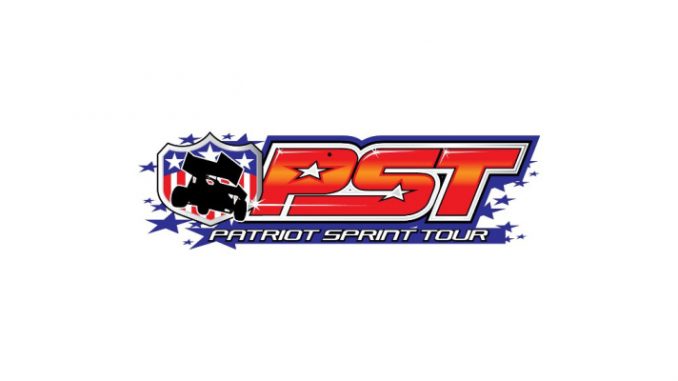 Selinsgrove, PA — (June 13, 2015) — TJ Stutts of Liverpool and Davie Franek of Wantage, N.J., engaged in another thrilling wheel-to-wheel battle that was reminiscent of a race Franek won a few weeks ago, only this time it was Stutts who rolled into Victory Lane for the first time this season Saturday night in the 30-lap Joe Whitcomb Memorial for 360 sprint cars at Selinsgrove Speedway.
The $2,571 win, which made him the first four-time winner of the Whitcomb Memorial, was Stutts' 21st career in 358-360 sprint car racing at the track.
Mark Smith of Sunbury was the night's Fast Tees Fast Qualifier with a lap time of 17.307 (110.16 average mph).
Stutts started on the pole and drove into the lead in the sprint car feature but his drive to Victory Lane was anything but easy. Early in the race, second-place starter Derek Locke raced in Stutts's shadow while fourth-place starter Davie Franek made it a close three-car battle at the front of the pack.
The caution flag unfurled on lap two when Mark Smith's car stopped on the track with wheel trouble. Smith was able to rejoin the race and made a charge back through the pack during the remaining 28 laps.
The race was stopped on lap 10 when Jared Zimbardi flipped his sprint car in turn four. Zimbardi escaped injury. When the race resumed, an intense see-saw battle for the lead unfolded between Stutts and Franek. The war on wheels was held up again when Michael Walter and John Braim were involved in a double flip in turn two. Both drivers were not injured.
During the second half of the race, Stutts and Franek raced side-by-side while Smith eventually made his way into the third position. At the checkered flag Stutts took the victory by 1.9 seconds over Franek, Smith, Locke, and Ryan Kissinger.
Feature:
1. 23 – TJ Stutts
2. 28F – Davie Franek
3. 1 – Mark Smith
4. 77 – Derek Locke
5. 66 – Ryan Kissinger
6. 49 – Mike Walter
7. 99K – Cody Keller
8. 29 – Jason Shultz
9. 19 – Colby Womer
10. 87 – George Suprick
11. C4 – Jim Shuster
12. 47 – Kyle Drum
13. 29S – Derek Steward
14. 2 – Steve Hutchinson Jr
15. 54j – Dave Just
16. 49s – Mallie Shuster
17. 17 – Sam Reakes
18. 33w – Michael Walter II
19. 44 – John Braim
20. 1W – Eric Tomecek
21. 79 – Jordan Thomas
22. 35 – Jared Zimbardi
23. 25g – Tyler Graves
24. 39 – Eric Parker
25. 54jr – Scott Just
26. 76 – Larry Kelleher
27. 67 – Steve Collins