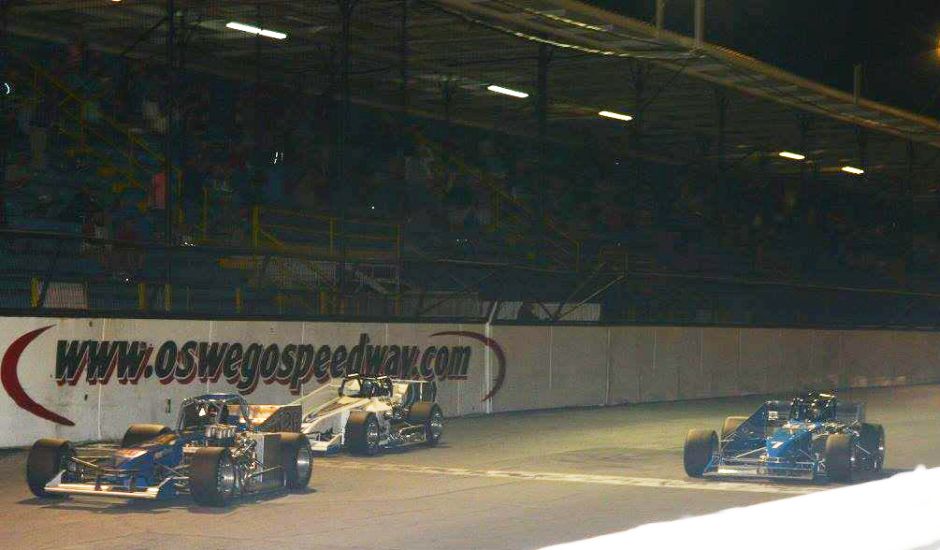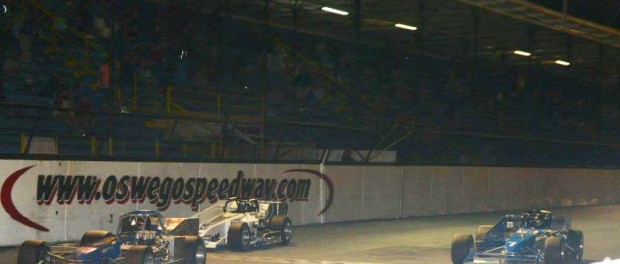 Oswego, NY — (June 20, 2015) — For only the second time in Oswego Speedway's 65 years of operation a main event finish was declared a dead heat, with Michael Muldoon and Otto Sitterly sharing Novelis Supermodified Twin 35 main event wins on Saturday at the 'Steel Palace' presented by Burke's Do-It-Best Home Centers and A&P Auto Parts.
For the fourth event in a row at Oswego, fans were forced to their feet on the final circuit of a main event.
After running away with the win in Twin 35 number one, Sitterly started 12th in Twin number two and reeled in race leader Muldoon late in the going, then dived to the bottom of the Speedway off turn four, crossing the line with Muldoon in a dead heat finish.
The tie was only the second in Speedway history, dating back to June 28, 1997 when Doug Didero and Ed Bellinger Jr. ended as co-winners.
In 1969 Jack Greedy and Jim Shampine ended in a photo finish, with Greedy eventually declared the outright winner after a full week of debate.
With his two victories, Sitterly now has four wins on the season at Oswego.
Muldoon, who nearly won his first main event at Oswego on June 6, is now officially a feature winner at Oswego Speedway, driving to Turning Stone Resort Casino Victory Lane for the first time in his career which dates back to 2011.
Ray Graham, Brandon Bellinger, Bob Bond, and Joe Gosek followed Sitterly across the stripe in the first five positions in Twin 35 number one while Pat Lavery, Dan Connors Jr., and Tim Devendorf trailed Sitterly and Muldoon to victory in Twin 35 number two.
"The first race, starting position was key," said Sitterly, who started outside of the front row due to a heat race inversion for feature number one. "The second race the goal was just to finish, but when we made it through traffic like we did I thought I might as well go for it. The car was a handful, I nearly lost it once. Michael ran a great race, I got a run on him there and I decided to gas it up. I wasn't sure if I was going to make it into one, but we went for it. It looked to me like I got it, but that is how it goes and we will take it."
Young Muldoon wished his father, former Classic and Track Champion Mike Muldoon, a Happy Father's Day with his first career Oswego win.
"This is great, Happy Father's Day to my dad," said Muldoon. "The car honestly was not that great tonight, but we had just enough. We've been working at this for a long time, and it feels good to finally be here."
The first Novelis Supermodified Twin 35 main event saw Bellinger and Sitterly bring the field to green with Sitterly jumping to the advantage with the No. 7, after a lengthy rain delay just before the race's green flag.
An early incident in the third corner would see several cars involved, resulting in a red flag due to the racing lane being blocked. Drivers involved included Brian Sobus, Keith Shampine, Hal LaTulip, Aric Iosue, Tim Snyder, and Dave Danzer.
Only Sobus was unable to continue as his machine was hooked off the Speedway.
Danzer piloted his backup Supermodified the entire night as a broken torque arm and drive shaft sidelined his primary ride.
Back to green, Sitterly would control the entire distance of the first Twin main with the Bond No. 47 making moves further back in the field.
Methodically working his way through the pack, Bond moved into the top five by lap 20 and eventually worked by Gosek for the fourth position on lap 23.
Gosek was behind the wheel of his own No. 00 for the first time this season and battled hard within the top five for the entire opening 35-laps.
Nobody was going to touch Sitterly in the first Twin main as he drove away from Ray Graham, Bellinger, Bond, Gosek, Muldoon, Devendorf, Lavery, Danzer, and Jeff Abold in the top ten.
Bellinger's third place podium finish was an impressive drive for the No. 02 team, as they continue to turn around their 2015 season.
A total of 22 Supermodifieds took the green in the first feature, as Lou LeVea Sr. suffered a stuck throttle in the main event warmup laps, sidelining him for the remainder of the night. LeVea was uninjured.
Stephen Gioia III and Dave Gruel were involved in separate heat race accidents, with neither starting the first main event.
The second Twin main event of the evening was a 35-lapper that will be discussed for years to come, and it was Gosek and Connors leading the field off turn four.
Connors blasted to the point early, but it was Muldoon charging from outside row two to the lead by lap four.
Gosek, who started pole position, seemed to miss the setup in the No. 00, falling from first to fifth by the races fifth circuit.
On lap six yellow lights came on for a multi car tangle on the back stretch involving Bond, LaTulip, Abold, and Michael Barnes.
Hard chargers Bond and Barnes would be sidelined for the evening with damage.
The restart order showed Muldoon leading Connors, Lavery, Devendorf, Shampine, Ray Graham, Abold, Sitterly, Kody Graham, and Danzer.
On the restart Lavery wasted little time diving under Connors for second, and began to reel in Muldoon out front.
With the two leaders running away, Sitterly settled into his zone.
From lap 12 to lap 29 Sitterly picked off five cars to move to the runner-up position by lap 30.
The No. 7 made high side moves on Graham and Shampine before diving under Devendorf, Connors, and Lavery.
Now the race was on for the point with Muldoon trying to hold Sitterly off for his first career Speedway victory.
As the laps ticked to 35, lapped traffic began to approach and as Muldoon closed in on the No. 26 of Shaun Gosselin, Sitterly made his move on the final corner.
Sliding to the low side, Sitterly gassed up the No. 7 crossing the line with Muldoon in an amazing photo finish ahead of Lavery, Connors, Devendorf, Shampine, Kody Graham, Danzer, Snyder, and Ray Graham.
Racing at Oswego Speedway continues on Saturday, July 4 with the Speedway's annual Grand Prix main events and Christmas in July. The night will feature a 75-lap Novelis Supermodified main as well as a 35-lap Pathfinder Bank SBS feature.
Pit gates will open at 2 p.m. on July 4 with grandstands opening at 4 p.m. Racing will go green at 6:30 p.m.
Kids 16 and under with paid adult and active military with I.D. are free.
Price Chopper Tickets to Go will also be available for only $14.
For more information on Oswego Speedway visit online at www.oswegospeedway.com or call (315) 342-0646. Visit the Speedway on social media @OswegoSpeedway or on Facebook at www.facebook.com/OswegoSpeedway.
Oswego Speedway
Oswego, NY
Saturday, June 20th, 2015
Supermodified Twin 35's
presented by Burke's Do-It-Best Home Centers and A&P Auto Parts
BOX SCORE:
Novelis Supermodifieds
Novelis Supermodified Twin #1 (35-laps): 1. 7 – Otto Sitterly, 2. 91 – Ray Graham, 3. 02 – Brandon Bellinger, 4. 47 – Bob Bond, 5. 00 – Joe Gosek, 6. 51 – Michael Muldoon, 7. 5 – Tim Devendorf, 8. 22 – Pat Lavery, 9. 52 – Dave Danzer, 10. 05 – Jeff Abold, 11. 21 – Kody Graham, 12. 26 – Shaun Gosselin, 13.0 – Tim Snyder, 14. 01 – Dan Connors, 15. 11 – Aric Iosue, 16. 56 – Hal LaTulip, 17. 18 – Howard Page, 18. 06 – Dave Cliff, 19. 83 – Lou LeVea Jr, 20. 68 – Michael Barnes, 21. 55 – Keith Shampine, 22. 79 – Brian Sobus, 23. 66 – Lou LeVea Sr
Lighthouse Lanes Up and Comer: #02 Brandon Bellinger
Lighthouse Lanes Hard Charger: #11 Aric Iosue
Radical Racegear Lap Leader: #7 Otto Sitterly
Novelis Supermodified Twin #2 (35-laps): 1. 51 – Michael Muldoon, 1. 7 – Otto Sitterly, 3. 22 – Pat Lavery, 4. 01 – Dan Connors, 5. 5 – Tim Devendorf, 6. 55 – Keith Shampine, 7. 21 – Kody Graham, 8. 52 – Dave Danzer, 9. 0 – Tim Snyder, 10. 91 – Ray Graham, 11. 05 – Jeff Abold, 12. 02 – Brandon Bellinger, 13. 26 – Shaun Gosselin, 14. 18 – Howard Page, 15. 83 – Lou LeVea Jr, 16. 56 – Hal LaTulip, 17. 06 – Dave Cliff, 18. 00 – Joe Gosek, 19. 11 – Aric Iosue, 20. 47 – Bob Bond, 21. 68 – Michael Barnes, 22. 9 – Stephen Gioia III
Lighthouse Lanes Up and Comer: #51 Michael Muldoon
Lighthouse Lanes Hard Charger: #7 Otto Sitterly
Radical Racegear Lap Leader: #51 Michael Muldoon
Heat #1 (12-laps): 1. 5 – Tim Devendorf, 2. 7 – Otto Sitterly, 3. 55 – Keith Shampine, 4. 05 – Jeff Abold, 5. 21 – Kody Graham, 6. 9 – Stephen Gioia III, 7. 0 – Tim Snyder, 8. 56 – Hal LaTulip
Heat #2 (12-laps): 1. 51 – Michael Muldoon, 2. 00 – Joe Gosek, 3. 91 – Ray Graham, 4. 02 – Brandon Bellinger, 5. 52 – Dave Danzer, 6. 79 – Brian Sobus, 7. 68 – Michael Barnes, 8. 11 – Aric Iosue
Heat #3 (12-laps): 1. 22 – Pat Lavery, 2. 47 – Bob Bond, 3. 01 – Dan Connors, 4. 26 – Shaun Gosselin, 5. 06 – Dave Cliff, 6. 18 – Howard Page, 7. 83 – Lou LeVea Jr, 8. 50 – Dave Gruel, 9. 66 – Lou LeVea Sr