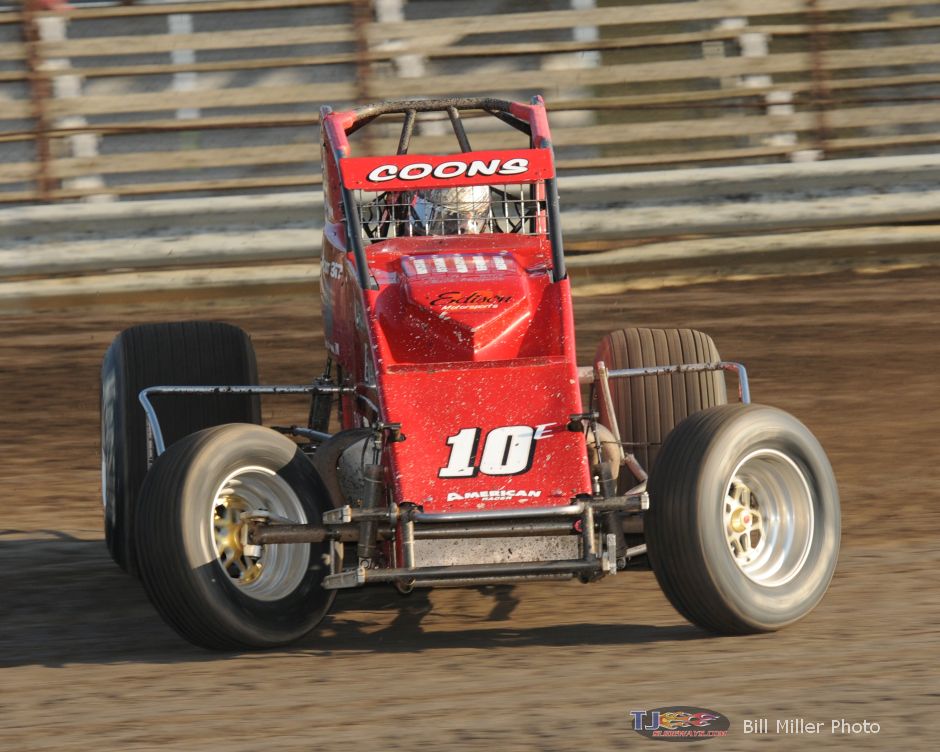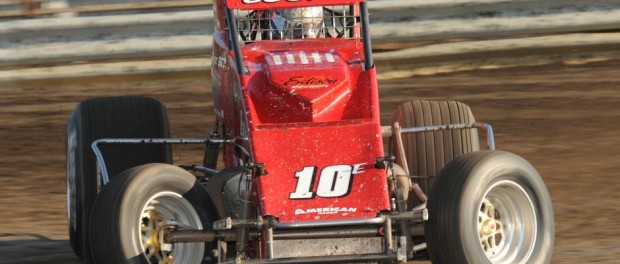 From USAC
Putnamville, IN — (July 4, 2015) — Jerry Coons, Jr. returned to right where he spent Independence Day last year, parked in victory lane at Lincoln Park Speedway, this time as the winner of the finale of the inaugural "Bill Gardner Sprintacular." The former series champion's 17th career victory came in wire-to-wire fashion as he was flawless in the Edison Motorsports – Crume Evans Insurance #10E Spike/Chevy.
"It's always a lot of fun to win with this group of guys. They're as laid-back as they come and were still happy with me last night even after I went backwards and was frustrated. We've struggled a little bit with the slick stuff especially, and a lot of things fell in line for us tonight, but we were really good tonight. You'd think as long as we've been doing this that we wouldn't still be learning, but I'm real happy with what we picked up tonight," Coons said.
Coons took the early lead with Chad Boespflug in pursuit on the high side, as series point-leader Robert Ballou made his early move from row-three to throttle around the high side for the third spot. Those three broke away from the field, but on lap nine, Ballou had problems on the left-rear and spun in turn-three to bring out the yellow. He went to the work area, but was unable to rejoin the field in time for the green.
After another caution a lap later, the race went green the rest of the way with Coons opening up a comfortable lead while Boespflug still tried to run the high side, but to no avail. Kyle Cummins came on to take the second spot from him, but behind them were cars dicing for the balance of the top-ten spots with Chase Stockon and Jon Stanbrough the big movers, along with Dave Darland.
Coons' lead shrunk with less than ten laps to go, but he pulled away to a 1.057-second win over Cummins, who matched his best career finish in the Rock Steady Racing – Greenwell Auto Body #3R Mach-1/Chevy.
"We've got ourselves a race car now that we can work with and try to race with these guys. We've struggled and been frustrated for the most part this year, to the point I even pulled off during the feature last night, and the major changes we made to bring this thing to life a little had some instant success tonight. I was reeling him in a bit at one point for the lead, but he was stuck on the bottom and just didn't ever mess up," Cummins said.
Stockon finished off his spirited run to take third from 14th in the Superior Tank & Trailer – Crescent Electric Supply #32 DRC/Fisher, re-taking the point lead over Ballou in the process.
"If this thing was a 40-lap race, I think we had a chance to win it. We got a tough draw and didn't qualify all that well, so that put us in a spot from behind where we had to pass cars. We were able to roll up through the middle and make up most of our ground there, but even on the bottom I think we were a tick quicker than the top-two. Matt Hummel of FK Indy has gotten our shocks tuned and running really well in the slick, and (crew chief) D.J. (Ott) gave me a great car tonight that could move around to pass cars," Stockon said.
Boespflug wound up fourth in the Amati Racing – Marion Underground Construction #66 DRC/Dynotech, and Jon Stanbrough earned the B&W Auto Mart "Hard Charger Award" for his drive from 17th to finish fifth in the MP Environmental Services – AED Motorsports Products #81 Spike/J&D.
Carson Short started the night by taking the ProSource "Fast Time Award."
AMSOIL USAC NATIONAL SPRINT CAR RACE RESULTS: July 4, 2015 – Putnamville, Indiana – Lincoln Park Speedway – Inaugural"Bill Gardner Sprintacular"
QUALIFYING: 1. Carson Short, 21, Short-13.282; 2. Robert Ballou, 12, Ballou-13.485; 3. Kevin Thomas Jr., 17RW, Dutcher-13.491; 4. Tyler Courtney, 23c, Eberhardt-13.626; 5. Casey Shuman, 21k, Krockenberger-13.684; 6. Kyle Cummins, 3R, Byram-13.703; 7. Shane Cottle, 57, Hazen-13.704; 8. Hunter Schuerenberg, 2E, Epperson-13.742; 9. Chris Babcock, 35x, Babcock-13.749; 10. Tracy Hines, 4, Hines-13.773; 11. Chad Boespflug, 66, Amati-13.773; 12. Cole Smith, 29x, Smith-13.778 13. Jerry Coons Jr., 10E, Edison-13.780; 14. Lukas Smith, 26, Smith-13.821; 15. Dave Darland, 71p, Phillips/Curb-Agajanian-13.844; 16. Chase Stockon, 32, 32 TBI-13.847; 17. Aaron Farney, 15F, Farney-13.885; 18. Brady Bacon, 69, Dynamics-13.939; 19. Jimmy Light, 23, Two-Three-13.980; 20. Jon Stanbrough, 81, Stanbrough-13.984; 21. Max McGhee, 17, McGhee-14.021; 22. Landon Simon, 24, LSR-14.024; 23. Brandon Mattox, 28, Mattox-14.039; 24. Chris Gurley, 12G, Team Automotive-14.116; 25. Brent Beauchamp, 34. Olson-14.153; 26. Scott Hampton, 4J, Ottinger-14.278; 27. Jeff Bland Jr., 04, Burton-14.319; 28. Shelby VanGilder, 22V, VanGilder-14.413; 29. Mike Gass, 17G, Gass-14.418; 30. Jarett Andretti, 18, Andretti-14.462; 31. Logan Jarrett, 29, Jarrett-14.462; 32. Kurt Gross, 1x, Gross-14.465; 33. Kevin Studley, 57x, Studley-14.526; 34. Matthew McDonald, 5M. McDonald-14.568; 35. Riley VanHise, 96, VanHise-14.704; 36. Chris Phillips, 6, Phillips-14.776; 37. Robert Bell, 71, Bell-14.859; 38. C.J. Leary, 5, Baldwin-19.551; 39. Kyle Wissmiller, 3, Simmons-NT; 40. Josh Hodges, 74x, Hodges-NT.
FIRST HEAT: (8 laps) 1. McGhee, 2. Coons, 3. Beauchamp, 4. Farney, 5. Short, 6. Shuman, 7. Babcock, 8. Gass, 9. Bell, 10. Studley. NT
SECOND HEAT: (8 laps) 1. Ballou, 2. Simon, 3. Cummins, 4. Bacon, 5. Hines, 6. Leary, 7. Andretti, 8. Hampton, 9. L.Smith, 10. McDonald. NT
THIRD HEAT: (8 laps) 1. Boespflug, 2. Darland, 3. Cottle, 4. Mattox, 5. Thomas, 6. Jarrett, 7. Light, 8. Bland, 9. Wissmiller, 10. VanHise. 2:23.29
FOURTH HEAT: (8 laps) 1. Stockon, 2. Stanbrough, 3. Hodges, 4. C.Smith, 5. Courtney, 6. Phillips, 7. Gurley, 8. VanGilder, 9. Schuerenberg, 10. Gross, NT
SEMI: (12 laps) 1. Short, 2. Thomas, 3. Schuerenberg, 4. Shuman, 5. Babcock, 6. Courtney, 7. Hines, 8. Light, 9. Jarrett, 10. L.Smith, 11. Leary, 12. Bland, 13. Andretti, 14. Gurley, 15. Hampton, 16. Gass, 17. Phillips, 18. Studley, 19. VanGilder, 20. Wissmiller, 21. Bell, 22. VanHise. 2:44.81
FEATURE: (30 laps) 1. Jerry Coons Jr., 2. Kyle Cummins, 3. Chase Stockon, 4. Chad Boespflug, 5. Jon Stanbrough, 6. Tyler Courtney, 7. Casey Shuman, 8. Dave Darland, 9. Shane Cottle, 10. Tracy Hines, 11. Kevin Thomas Jr., 12. Josh Hodges, 13. C.J. Leary, 14. Cole Smith, 15. Max McGhee, 16. Carson Short, 17. Brady Bacon, 18. Chris Babcock, 19. Brandon Mattox, 20. Brent Beauchamp, 21. Landon Simon, 22. Hunter Schuerenberg, 23. Robert Ballou, 24. Aaron Farney. NT
—————————-
FEATURE LAP LEADERS: Laps 1-30 Coons.
NEW AMSOIL NATIONAL SPRINT POINTS: 1-Stockon-988, 2-Ballou-976, 3-Darland-951, 4-Stanbrough-887, 5-Bacon-852, 6-Hines-795, 7-Thomas-791, 8-Leary-715, 9-Chris Windom-575, 10-Justin Grant-571.
NEXT AMSOIL NATIONAL SPRINT RACE: July 10 – Gas City (IN) I-69 Speedway – "Indiana Sprint Week"