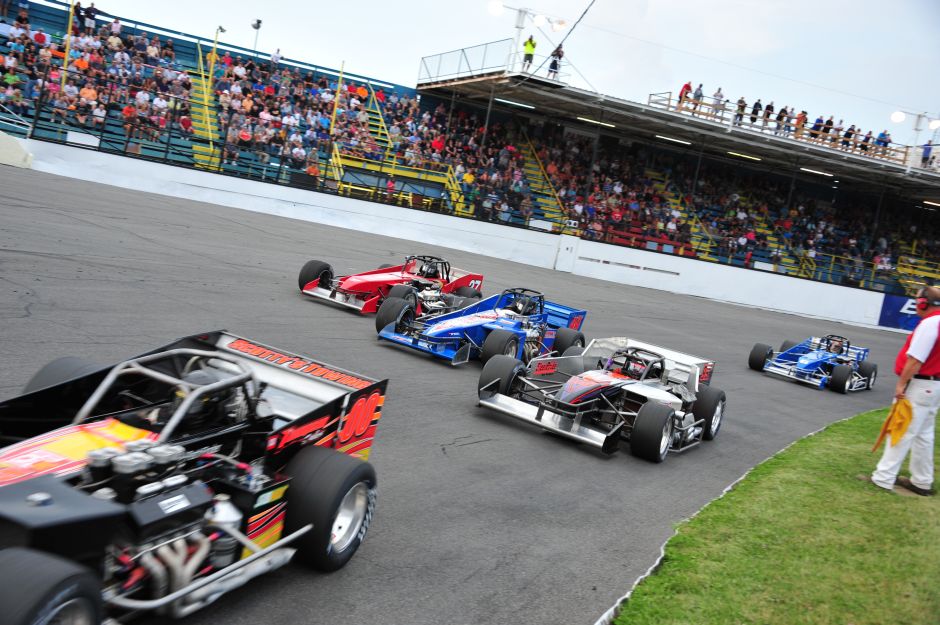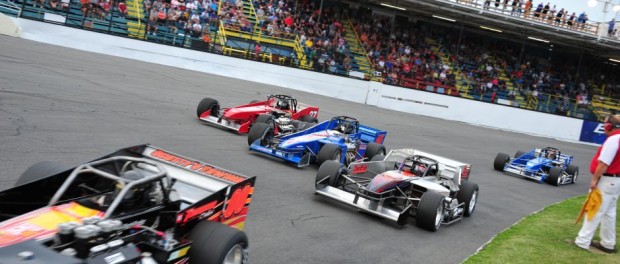 From Oswego Speedway
Oswego, NY — (July 21, 2015) — As the countdown begins toward Budweiser International Classic Week at Oswego Speedway, the month of August at the 'Steel Palace' will provide four consecutive weeks of fast paced entertainment.
The month kicks off on Saturday, August 1 with the 29th annual $10,000 to win Mr. Novelis Supermodified title event, won last season by 2015 Summer Champion, Dave Danzer.
The second richest paying race of the season at Oswego is a fan favorite, and always provides memorable moments and battles.
Since 1987, a total of 15 different drivers have had the honor of being Mr. Supermodified, with four previous winners expected to be in the field come August 1 including Otto Sitterly, Kody Graham, Ray Graham, and Danzer.
Sitterly and Ray Graham, each two-time winners of the $10,000 shootout, are part of an elite list of multiple winners including the all-time Mr. Supermodified Mike Ordway, Greg Furlong, Mike Muldoon, Pat Abold, Bob Goutermout, and Bob Magner.
Kody Graham, 2012's Mr. Supermodified, made himself the fourth different driver to make his first career Supermodified victory at Oswego worth $10,000. Gene Lee Gibson and Mike Muldoon were the first two drivers to turn that trick in the first two Mr. Supermodified events in 1987 and 1988, followed by Tim Gareau in 1997.
Joining the Novelis Supermodifieds on August 1 will be the $1,500 to win Mr. Pathfinder Bank Small Block Super championship, with defending champion Russ Brown once again expected to be in the lineup.
One week following Mr. Supermodified will be the event several fans have had marked on their calendars since the Speedway's schedule debuted in November.
The 65th Anniversary night special, with only $5 admission to the grandstands, will take place on Saturday, August 8 – featuring a throwback racing card, as well as several former Oswego Speedway drivers and owners including the legendary, Bentley Warren.
With the Gary Witter Memorial rear grandstand also open, plans are in place to fill the Speedway with fans, memories, and outstanding racing action.
The racing itself will feature the Novelis Supermodifieds with an old school 45-lap main event, as well as Supermodified Semi-Final features to go along with heat races, a potential consi, and the main event.
The Pathfinder Bank SBS will also be on the card with a 30-lap feature.
Before the racing begins the annual Oswego Speedway Old Timer's Reunion will take place at Lighthouse Lanes, across from the Speedway, at 10 a.m. with former drivers and racecars on hand.
Legends Warren, Todd Gibson, John Spencer, Norm Mackareth and more are all expected, with each then making the trip to the 'Steel Palace' for the night's racing action.
Warren will also set time aside for a book signing of his recently published piece, 'Wicked Fast.'
General admission seating on August 8 will be only $5, with padded reserved seating available for $10.
A pit party will follow after the night is complete, with historic racing reels playing into the evening.
Following those two specials the Speedway will return on August 15 to paint the 'Steel Palace' Teal for Ovarian Cancer Awareness, as well as the second driver autograph session of the season. The Novelis Supermodifieds and Pathfinder Bank SBS will once again be the main divisions on hand.
Then on August 22, the Pathfinder Bank SBS will take center stage with Twin 20 feature events as well as a 50-lap Novelis Supermodified main.
As summer quickly ticks away, mark your calendars for a full month of August at Oswego Speedway, the Home of the Supermodifieds.
For more information on Oswego Speedway visit online at www.oswegospeedway.com, follow on Twitter @OswegoSpeedway, or like on Facebook at facebook.com/OswegoSpeedway.