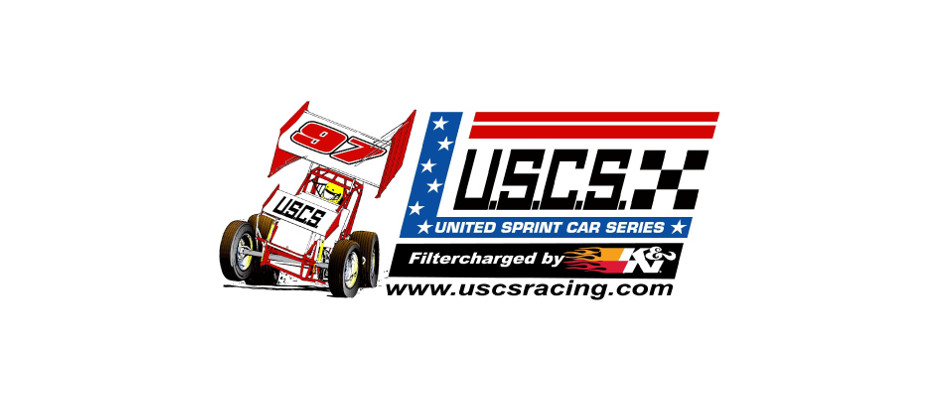 By Pete Walton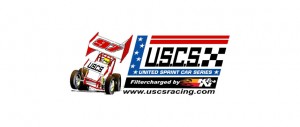 Atlanta, GA – July 22, 2015 – The United Sprint Car Series presented by K&N Filters (www.uscsracing.com) winged sprint cars invade Fayetteville Motor Speedway this SATURDAY night July 25th. The winged sprint car invasion is during the Speedway's "Wet and Wild" Night of Speed special event that promises plenty of high speed racing action.  The event features the USCS winged sprint cars during their Round #5 of the USCS Southern Sprint Speedweek mini-series that includes five races over ten days in Tennessee, Georgia and North Carolina. The Atlanta, Georgia based United Sprint Car Series (USCS) is in its nineteenth season of competition.
Saturday night's racing action features a full program for the 700+ horsepower USCS winged outlaw style sprint cars plus racing in four of of Fayetteville Motor Speedway's most popular weekly racing divisions. Additionally the action packed racing card features the winged www.rockauto.com USCS 600 Sprint Car Series mini sprints. The speedway's Late Model, Diet Mountain Dew Modifieds, Pure Stock and U Cars divisions will join the two USCS sprint car divisions with special events of their own.
The USCS Outlaw Thunder Tour and USCS 600 Sprint Car Series will contest a full racing program including their Hoosier Tire Speed Dash, Qualifying Heat races and Main Events. All four other divisions will also contest a full program of qualifying races and main events as well.
The Fayetteville Motor Speedway USCS event expects to bring top winged sprint car drivers from at least five states to the track from as far away as Florida and Mississippi. The exotic fire breathing, alcohol burning, 700 horsepower open-wheeled USCS sprint cars weight just 1,300 pounds, and are pound for pound the World's most powerful short track race cars.  The cars will literally fly around the track surface at speeds over 130 M.P.H.  It is not uncommon to see the USCS sprint cars popping "wheelies" or doing wheel stands because of the brute force of their engines and their huge 17-inch wide Hoosier rear race tires.
The only female in the field and the 2010 National "Rookie of the Year", 22 year-old Morgan Turpen from Cordova, Tennessee currently leads the series 2015 National point standings as well as the USCS Mid South regional series standings. Turpen has won at nearby Carolina Speedway in Gastonia, NC and at Cherokee Speedway in Gaffney, SC Driver,  She has six career USCS main e vent wins to her credit.
Eleven time USCS National Champion Terry Gray from Bartlett, Tennessee  is Morgan Turpen's team-mate. He is also her car owner. Gray trails her in the chase for the National title by only one point coming into this weekends' racing action race. Gray who has 89 career visits to the www.rockauto.com USCS Victory Lane is familiar a familiar nake to area race fans and has wins at nearby speedways.
20 year-old Eric Riggins, Jr. from Charlotte, North Carolina leads the point standings in the USCS Southern Thunder regional series that races in Florida, Georgia, Eastern Tennessee and the Carolinas. Riggins, who was the 2010 USCS Southern Thunder Roiokie of the Year has been to the USCS victory lane 11 times and has multiple wins at Carolina Speedway and Cherokee Speedway in Gaffney, South Carolina  He swept thr 2013 North vs.South Sprint Car Challenge at both Carolina and Cherokee Speedways.. He is very familiar to Charlotte metro area fans and will have plenty of fans in the stands on Thuersday to cheer for his #47 sprint car. Riggins already has three 2015 USCS victories and comes to East Lincoln Speedway as one of the hottest drivers in the series.
Familiar entries include Johnny Bridges from Cherryville, North Carolina who is a past USCS regional series Champion and Rookie of the Year. Bridges has 14 USCS victories on his scorecard. Bridges won twice in 2014. He is expected to be one of those drivers to beat.  Bridges cousin Lance Moss from Cherryville also is expected to enter as well, Moss had a win at Lancaster Speedway in SC last season.
Other entries include 2012 USCS Outlaw Thunder Tour regional series Rookie of the Year, Jeff Willingham from Ripley, Mississippi and 2014 USCS Rookie of the Year, Brandon McLain from Indian Trail, North Carolina.  Sixteen year-old USCS Rookie of the Year point's leader, Nick Snyder from Marco Island, Florida will be shooting for his second USCS win of the season at East Lincoln,. He is in third place in the National point standings.
Other North Carolina area sprint car drivers expected to enter include Shawn Mott from Rockwell, North Carolina  Johnny Petrozelle from Lexington, C.J. Miller from Mooresville, Greg Smyre from, Hickory Bobby Komisarski from Lake Wylie, South Carolina and Matt Hope from York, South Carolina are also on the pre-entry list.
Other entries include sprint car Jay Dunham from Augusta, Georgia and veterans Brian Thomas from Pendergrass, Georgia, Joe Larkin from Suwannee, Georgia and Bob Auld from Largo, Florida
Fayetteville Motor Speedway is located at 3407 Doc Bennett Rd. Fayetteville, NC  The track's website is www.fayettevillemotorspeedway.com For USCS information, please visit the USCS web site at www.uscsracing.com or call the USCS presented by K&N Filters at 770-865-6097.